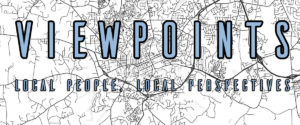 "Viewpoints" is a place on Chapelboro where local people are encouraged to share their unique perspectives on issues affecting our community. If you'd like to contribute a column on an issue you're concerned about, interesting happenings around town, reflections on local life — or anything else — send a submission to viewpoints@wchl.com.
How the UNC Medical Center Helped Give Rise to a College Basketball Dynasty
A perspective from Roberto Blanco, M.D.
Without UNC Medical Center, UNC might have never become a College Basketball dynasty. This is the story of how some of the best and brightest in the Hospital Center contributed to attracting the best basketball minds and brightest stars on the basketball court to the University of North Carolina at Chapel Hill.
Dr. Roberto Blanco is an Associate Professor at the UNC School of Medicine in the Department of Psychiatry. He is a Child and Adolescent Psychiatrist who works with Adults and Children with Autism Spectrum Disorder and Intellectual and Developmental Disabilities.
Growing up in Maryland, love of basketball and disdain for Duke Athletics were always easy emotions for me to access. And when I applied for General Psychiatry Residency from Medical School in Middle Tennessee, the idea of being closer to home at a place with incredible basketball (and a heated rivalry with Duke) was very appealing. And the medical training wasn't too bad either.
I was a sports nut growing up and unbeknownst to me, my habit of memorizing baseball and football stats on the back of cards would be good practice for Medical School. While I received excellent Undergraduate and Graduate educations, I had grown tired of being at institutions either without a Football team or without a chance in the formidable SEC. So, I was fortunate to match at UNC. It was 2005 and UNC went on to win Roy Williams' first ever National Championship. I was hooked.
17 years later, I reflect on the passing of the torch of excellence from that legendary UNC coach to one who has already made his mark in 1 year at Carolina, Hubert Davis. I can't help but think of how all of this began. And with the recent passing of Lennie Rosenbluth, one of the greatest basketball players ever to play at UNC, I am reminded of how I learned about this history – at the Levin Jewish Community Center in Durham.
As I was leaving the gym one day, I saw a Men's Club flyer invitation to a talk given by former UNC basketball player Lennie Rosenbluth. It was the mid-2010's and having been to many basketball games by this point, I knew of Lennie Rosenbluth. I knew he played a long time ago and had his number 10 in the rafters at the Dean Dome. Intrigued and with a rare free morning off, I decided to attend the meeting.
Along with around 15 other attendees, mostly of Lennie's generation, I listened to Lennie Rosenbluth talk about his basketball career which ultimately ended up being UNC Basketball's origin story. He discussed how "a Jewish kid from the Bronx ended up in Chapel Hill". He talked about how UNC's first National Championship was won. It was his Senior season which ended up being the undefeated 1957 season that culminated in the greatest game ever played – a triple overtime 54-53 victory over Wilt Chamberlain's Kansas team in the Championship game. He had told his teammates prior to the season they would go undefeated. And prior to the championship game, he had told his teammates "We aren't going to let Wilt beat us." In short, the strategy was to double, triple, and quadruple-team Wilt. As that televised game put college basketball on the map, it also put UNC on the basketball map.
Not only did that season establish UNC as a basketball power, it would also help to later cement that legacy. A little-known Air Force Assistant from Kansas named Dean Smith was invited to the Final Four in 1957 and roomed with UNC Head Coach Frank McGuire. A year later, he would be invited to be an Assistant Coach for Coach McGuire at UNC and a few years after that, take over the team as Head Coach. Coach Smith would go on to coach at UNC for 36 years, win 2 National Championships, and become the winningest coach ever at UNC. Dean Smith would also play a pivotal role in the integration of Chapel Hill, North Carolina (with trips out to eat with fellow members of Binkley Baptist Church), and ultimately the Atlantic Coast Conference with his recruitment of Charles Scott.
However, it wasn't Kansas that played the most prominent role in UNC's origin story, but another rival school. It was the memorable story of Lennie's recruitment by NC State's legendary head coach, Everett Case. Prior to Mike Kryzyzewski's hiring at Duke, UNC's main rival was not Duke, but NC State. NC State was also the more dominant basketball team of the three schools at the time. As he told it, Rosenbluth came down to Raleigh for a tryout and to play some games against current NC State players and ended up forgetting his basketball shoes in New York. He had to borrow shoes from someone that did not fit him and he ended up having a terrible tryout. Ultimately, he was not offered a scholarship at NC State and had few other options.
As the story goes, Frank McGuire, who was coaching at St. John's in New York City at the time, had his eye on Rosenbluth. Rosenbluth had played few high school games as a late bloomer, but McGuire had seen him play while scouting in playground pick-up games around the city. He had been in contact with Rosenbluth and during his recruitment, had given him some valuable information: Coach McGuire wanted to move away from New York City and their cramped apartment in order to have more room for his child Frank Jr., who had Cerebral Palsy. He wanted more space for their family, a basketball program, and top-notch medical care for his son's disability and accompanying medical conditions.
Ultimately, there were few places at the time that fit these criteria and UNC ultimately became the landing spot for Coach McGuire. McGuire also had been stationed in Chapel Hill during previous military training during World War II and had fallen in love with it. Lennie Rosenbluth came with him as one of his first UNC recruits and the rest is a history rich with All-Americans, multiple National Championships, Hall of Fame coaches, The Carolina Way, and now Hubert Davis taking the baton from Roy Williams.
What Rosenbluth neglected to mention during the talk, in his humility, was that he was the best player on the best team in 1957. It was not until years and a few trivia questions later that I learned that Rosenbluth still holds records for points per game in a season and points per game in a career for the UNC Basketball program. This is a basketball program that can legitimately say it has had the best player ever to have played in Michael Jordan. Without the UNC Medical Center which helped lure both Frank and Frank McGuire Jr. and family (and in turn, Rosenbluth, Dean Smith, and other excellent players and coaches), it's possible that none of what followed would have ever happened.
---
"Viewpoints" on Chapelboro is a recurring series of community-submitted opinion columns. All thoughts, ideas, opinions and expressions in this series are those of the author, and do not reflect the work or reporting of 97.9 The Hill and Chapelboro.com.