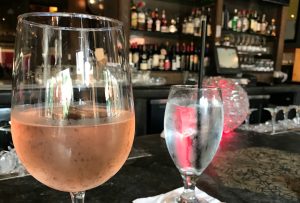 It's not quite white and it's not exactly red. It's rosé, the subject of today's Thirsty Thursday.
When it comes to drinking wine in the summertime, your best bet is a rosé. It's ability to be paired with anything from cheese and charcuterie plates to seafood and poultry makes it a versatile wine, and the easy drinking nature of rosé makes for a good aperitif.
This wine wasn't always the le grande dame of the ball, however. Rosé was, for a long time, seen as the illegitimate stepchild of white zinfandel. But zinfandel is much sweeter and closer to the South's staples of muscadine and scuppernong.
When it comes to rosés, I prefer them to be of Italian or French origin. Both these regions have been making wine for centuries, and generations of expertise has led to the process being well-understood and perfected all the way from vine to barrel. Large sections of these regions also possess the ideal climate and the ideal soil for the cultivation of grapes. After all, 90 percent of winemaking is about the grapes and the terrior.
I procured my glass of wine from the bar at City Kitchen, which is part of restaurateur Giorgio Bakatsias' food empire. My VillaViva Cotes de Thau was pale red in color with a flavor featuring variations on the tart side of fruit: think cherries, raspberries and currants, with a slightly acidic finish. "Cotes de Thau" refers to the region in France where the grapes are grown. While rosés can be consumed any time of the year, they are generally considered to be a seasonal offering.
City Kitchen just happens to be located right next to the offices of 97.9 The Hill in University Place. Once known as University Mall, this piece of iconic Chapel Hill real estate has been given a facelift and a new lease on life in recent years. The mall was struggling with vacancies for a spell, but now has seen an influx of businesses with several restaurants and a movie theater being added. The once quiet mall is now bustling with activity – and still home to the ever-present mall walker.
It's #thirstythursday and we want to know what you are drinking! Leave a comment, post a photo or send a tweet!