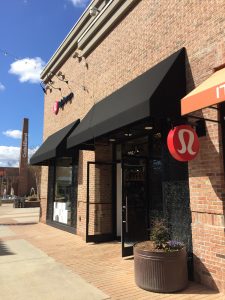 If you'd asked me a few years ago what I knew about Lululemon, I probably would have responded, "I like their yoga pants" with a smirk like I was the first guy to make that stupid joke.
Honestly, I don't think I'd even set foot in one of their stores. But when I started working at Sync Studio in Durham, the assistant manager Sam worked part time at the Lululemon in Southpoint Mall and invited some of her coworkers to take my class. I had personally trained Sam for a few weeks and she thought the Lulu team would love to have a "Sweat Session," as they call it, at one of my classes.
Sweat they did, as I made sure to put together an awesome class for them. Afterwards, they asked if I wanted to teach some bootcamps in front of their store on Saturdays before the mall opened. They offered free classes as a potential draw for weekend customers. This was at the height of finishing my movie, Raise Up, about freestyle calisthenics, and I took any chance I had at spreading the gospel of fitness.
We spent the next couple months supporting each other like this. They'd come to class; I'd teach bootcamps outside the store. They even hooked me up with a few "metal vent tech" shirts, which felt amazing and fit even better.
One week in October 2016, Sam kept bugging me about teaching another early bootcamp at the store, but this time it would be after their team meeting and inside the store. I agreed, somewhat reluctantly, because I would just be getting back from a work trip late the night before. But these folks had become my friends, and it's hard to let friends down.
When I got there, they whole staff was huddled up and smiling at me. I felt weird.
"What?" I asked.
"We have something to ask you," Sareena, one of the girls I knew best, said.
Someone pressed a button on a projector.
They had compiled a slideshow of my top fitness moments from the Raise Up Instagram page, and added silly and sweet little cartoon captions on them. I teared up immediately.
At the end of the slideshow, text came up on the center of the screen that read:
"Will you be our Ambassador?"
I didn't really know what that meant at the time, but I accepted and we joined in for a 30 person group hug.
Many clothing brands have "ambassadors" but typically the relationship is something like this: company gives influencer free clothing; influencer posts pics on social media wearing said clothing.
Lululemon's company culture, and therefore its ambassador program, is all about community. They care less about someone's digital following and more about what one is doing, in real life, in his or her community. They had been following the health events I'd been hosting and I'm still honored they thought fondly enough of me to consider me ambassador material.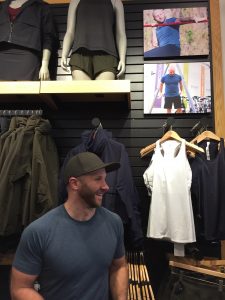 The ambassadorship isn't all feel-good moments and community involvement. Clothes are definitely involved in the exchange and I can only hope I am giving them equal value as an ambassador as I am getting in clothing because it is legitimately some of the best I've ever worn. To be honest, I didn't even know Lululemon carried men's clothes. I'd been missing out all along.
My style is pretty simple. I'm a t-shirt and jeans kind of guy. I do like to dress up when the occasion calls for it, but my training days usually find me in either soccer shorts or sweatpants.
The makeover my wardrobe got from Lululemon changed everything. With a stocky, athletic build, I've always struggle to find nice, form-fitting clothing that didn't suffocate me. Clothes were either too tight on my chest, shoulders, and thighs, or so loose that I just looked like a block from head to toe.
What surprised me the most was the Oxford shirts, polo shirts and dress slacks. All my nice clothes are now Lululemon, too! These had the same effect as the athletic wear — it was all form fitting, breathed nicely, and felt incredible. I've never received more compliments (or maybe any) about my clothing until I started wearing Lululemon.
But as nice as the clothing is, it's not what keeps me swinging by the store on my way to the movies at Southpoint. It's the people, it's the camaraderie, and it's the community.
Many men think like I used to about this company, and even the yoga culture, but you'd be blind if you haven't noticed that that is changing. The world is changing — along with it the ideas of what is masculine and what is feminine.
Our team at Lululemon is focusing on this exact conversation of what makes a man in 2018. We gather together to discuss how to reach out to our fellow men and offer them support — emotional or physical — and let them know that they're not alone. We aim to lift them up and let them know that we all can be better versions of ourselves and leave legacies that make the next generations of men even more confident, more capable, and more compassionate.
This Saturday at 8:30am, I'm hosting a bodyweight bootcamp at the Lululemon store at Southpoint. We'll have a little workout, break bread, and talk about how we can be better men.
Sorry, ladies. This one's for the fellas.
And gentlemen, there may be a sweet discount involved! 😉
---
Rain Bennett is a two time Emmy-nominated filmmaker, fitness professional, public speaker, and writer. His mission is simple: to help people realize that they too can be great, no matter where they come from or what they start with. It just takes passion, persistence, and a plan.
Bennett directed and produced his first feature length documentary in true indie fashion by traveling the world with only a backpack and a Canon DSLR camera. That film, Raise Up: The World is Our Gym won "Best of the Fest" at the Hip Hop Film Festival NYC and received global distribution through Red Bull Media House. He's been featured in publications like Men's Health and Sports Business Global and is a regular contributor to Breaking Muscle. When he's not making movies or training clients at Sync Studio in Durham, he's hosting a new webseries called The Perfect Workout Show.