Tonight, I'll be boarding a plane to Nashville.
It's the first work trip I've had since November 2020. 
I'll be speaking at the Middle Tennessee REALTORS® Convention at the world famous Music City Center. This one is extra special to me because I am hosting an continuing education course, fully accredited by the Tennessee Real Estate Commission. 
That means my storytelling course, "Turn Your Tragic Flaw into Your Superpower," will be listed in a long list of CE options, for 1 credit hour for REALTORS®.
That also means my mom, an agent for 20 years, will be very proud of me.
But let's talk about how we got here.
I didn't set out to be a continuing education instructor for real estate agents. 
Over two years ago, when my speaking career was just getting going, I booked a keynote speech at the National Association of REALTORS® Communication Directors Institute, helping communication directors of local and state organizations learn how to use storytelling to grow their memberships.
It went very well. I got tremendous feedback and even made friends I still have today.
But the next year, in 2020, you can probably assume what happened to my speaking gigs. Live events stopped, and so did my bookings. Which was okay, because it was only 10% of my business and I quickly supplemented that with one-on-one coaching.
As live events started to come back this year, I began revitalizing my new speaking career and booking gigs once again. One day in May, I got an email from an old contact from the communication director's conference back in 2019—which felt like a lifetime ago.
He was booking speakers for his convention in Nashville which would host continuing education hours and his theme was storytelling! He'd remembered the job I did in 2019 and wanted me on the docket. With other storytelling experts I looked up to planning to speak there also, plus REALTORS® being a community I liked to serve, I happily agreed.
But the best part is that now that I have an officially approved course, I can shop it around to other associations, which I have. And they are booking it, giving me a whole new line of speaking engagements that I didn't expect.
If you follow this column, you know I often talk about the different paths up the mountain—how there's not just one way to be successful in any field, and how your chosen path is most often determined by your unique qualities and perspectives as a person.
But also, you should consider that while along that path to leave yourself open to new, unexpected opportunities.
Sometimes while climbing that mountain, you have an optional detour. 
It will eventually lead to the same place you're going, but has a different path, with different features, and a different view.
It's not that you need it, per se. It's that if you're keeping your eyes open for the opportunities, they will reveal themselves. And then you can choose whether they'll add to your experience or not.
Often, however, people get so hyper-focused on being successful the way they envisioned, that they get tunnel vision trying to stay the course, causing them to miss these doors of opportunity that may open themselves up along the way.
I didn't set out to be an educator for REALTORS® and I won't continue to only educate them for the rest of my career.
But for now, I've established a good source of income and a great source of fulfillment that allows me to do what I love to do in a field that I am also passionate about.
There is more than one way up the mountain.
And as you go, you may see the opportunity to branch off and check out the view from another perspective. 
But only if you take those blinders off.
---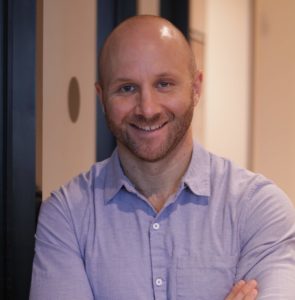 Rain Bennett is a two-time Emmy-nominated filmmaker, writer, and competitive storyteller with over a decade of experience producing documentary films that focus on health and wellness. His mission is simple: to make the world happier and healthier by sharing stories of change.
You can read the rest of "Right as Rain" here, and check back every Wednesday on Chapelboro for a new column! 
---