By David Bradley, Chatham News + Record Staff
The "door dulcimer" greets the Violin and Fiddle Shop customer with music as the door opens, revealing the fresh aroma of pine resin in the air and maple shavings on the floor at the shop on Hillsboro Street in Pittsboro.
The shavings are from the carving tools used by Shay Garriock, a violin maker — or luthier, as the trade is traditionally known — at his second-floor business near Virlie's Restaurant. On this day, he's planing a piece of tiger maple wood that will become the back piece of a Stradivarius-style violin he's building. In the eight years he's has been in business making and repairing violins, he's also provided the resources for violinists and fiddlers needing supplies like strings and rosin.
Garriock's adept at building violins, having made more than 25 instruments in the short time that he's been in business.
But the story about this place is not told just in the retail products, the hand-made violins, or the lessons that are available. It's what music provides; what has been a life-changing experience, for himself and his customers. For Garriock, the owner of the store, the new life-experiences at the store have opened new doors in an extraordinary way.
"Being a luthier, what I really like about it, why it makes me just so happy, is it's deeply rewarding," Garriock said. "Not just the work itself, which can be therapeutic; it's my isolation time. I'm so inwardly focused on the work that I do, it relaxes me, it's almost like therapy. Of course then when you've finished the product, if it turns out to be a good instrument, that's really rewarding, and if you sell it, and you have a happy customer that's going to play one of your violins for maybe the rest of their life. That means a lot to me."
His business has a goal of working with peoples' needs, being friendly all the time, and working hard to keep prices affordable and fair for the work that is done, he said. In his business, he offers everything the violinist may want, from hand-made instruments to strings to lessons.
Using manuals and workshops, Garriock is a self-taught luthier who's learned the craft of making and repairing quality violins. His repairs are on a variety of instruments, some more than 100 years old. One violin, made in a German factory of its time, needed work to open up the resonance of the wood. Opening the body of the violin, Garriock used chisels to reduce the thickness of the wood on the back plate, creating a more pleasant tone.
And Garriock put to rest the age-old question for this writer: there is no difference between a fiddle and a violin. It's the same instrument.
"A fiddle is a violin, just a violin instrument for dancing, folk music, a lot for dancing, a lot from memory and not reading music directly," he said.
The classic violinist plays music that is written down, and they follow that as they play. The fiddler does not. Garriock doesn't read music, but he doesn't have to.
"Learning to play without music and by ear has allowed me to just be so more expressive when I play and also to create my own versions of tunes, to have a just more individualistic approach to my music and develop a style of my own," he said. "It hasn't been a hindrance to me."
"Fiddle is a lot different than classical," he continued. "It's a lot more open to interpretation, as opposed to just reading notes from sheet music and playing as written, so it makes it easier in that regard … Once you learn how to play, you can copy sounds you hear, copy melodies and create even your own melody variations. Its a slow process, it takes a long time. But if you keep at it, work hard, listen to a lot of good fiddlers, and try to emulate them, you'll slowly progress over time. It's a much different atmosphere, than say classical violin. Its a lot more laid back, not as competitive, it's easier, the music is much more free spirited. Free expression is part of my personality, if feel if I can't work independently, if I can't do what I really feel, I feel stifled."
He continues this free-form idea with the final steps in his construction of violin bodies. When creating the body of each violin, he's following the Italian classic styles, such as the Stradivarius. But the varnish, the finishing touch on the body of the instrument, is where he again uses his freedom of expression. He uses oil pigments and his fingers for applications, rather than a brush. Garriock says you don't really see the dark colors and the shading he paints on the canvas of the wood in contemporary makers. He's creating his own personal touch.
His experience playing the instrument goes back to when he was 18, when he was really into the bluegrass and country western styles of music. His mother had a violin she wasn't using. He picked it up, took it to college and fell in love with it, he says. His first career was in the environmental industry, but fiddling was an ever-present hobby.
One day, he made the decision to do something different.
"I became a luthier because I wanted to change careers," Garriock said. "The job that I had previous to this, I started working part time, working slowly into teaching myself about violins and violin repair. Then I started taking workshops to learn formally how to do repairs."
He slowly got into the retail business and discovered that he couldn't work at home.
"People were coming to my house, for repairs and to look at violins, and pretty quickly I realized that I need a storefront, and then I found this place in Pittsboro, at just the right time in 2010," he said. "I opened the doors, and the first two or three years were pretty rough. But it picked up after that, I found a nice niche for myself work in the student world, and the folk music world, with lots of fiddlers around, they're everywhere."
He was repairing violins back in 2008, but he also developed the concept of buying instruments to repair and resell for a profit.
"It turned out to be so successful, and because I knew so many musicians, that was a real benefit. I knew a lot of other fiddlers," Garriock said.
"Do you make violins?" became a common question at the store.
In 2011, he started to answer, "Yes."
Garriock's first two fiddle customers were old-time musicians he knew through his connections playing the instrument.
The way his business works is multifaceted. He makes and repairs instruments and bows, sells supplies, and rents space for music teachers. When he puts it all together, it makes for good business. As he has continued with the shop, he's been able to expand his business footprint over the years, Garriock said, because of his location. If the store was just in a standard small town, it wouldn't work. Garriock says the difference in Pittsboro is that within a 50-mile radius there are many musicians and several universities, and so there's plenty of business to keep him in business.
Bart Urbanski, an instructor who uses space in Garriock's store, agrees. The variety of musical styles represented in the area keeps them busy with fiddlers and violinists playing bluegrass and mountain music, Celtic from Asheville and other locales, old time, and pop and rock. It's mainly folk in this area, he said.
The shop serves the community and violin and fiddle players who aren't professionals, but have the highest standards, Garriock says.
Having an instrument is another piece of the story. But getting the lessons to learn the instrument is how you really get the idea of how to create music. The shop offers lessons to take the musician further than they could by themselves.
"I wanted to find passion in a new way," said Amanda Byrne, a student at the shop. The passion she had felt at her job at Carolina Tiger Rescue in town needed a new outlet. "I did try to teach myself, but I needed help."
Urbanski is an experienced musician on piano, violin and other instruments, and he praises learning a new instrument as something that could be life-changing.
"Someone can always teach you something. So I think that's the biggest thing. Even the first starting lessons can put you in the right direction" Urbanski said. "I've had people who came in who have worked and studied off the internet for about a year, and they come in and some of their techniques really aren't the best, and unfortunately they think they are sounding OK and I have to go through and really readjust some of the things that they integrate into their bad playing."
It helps his students "develop good self-confidence, when they start to get to get good qualities in their music, its one of those things where it's like; if you are standing on the edge of a cliff, if you feel uncomfortable, you feel like you're going to fall," Urbanski said. "But if you feel you've experienced climbing for awhile, you're on the edge of a cliff it's no big deal. It's like speaking in front of someone, if you've rehearsed your script, you know what to say, it's no problem. Music is actually a little farther than speaking, because you're expressing your emotions."
Byrne wanted to relive the joy that music had given her on the piano, but with a smaller instrument. Lessons at the shop gave her a new way to access the joy of music without having to lug a piano around. She said that she was excited to come back for lessons, and to revisit those memories.
"I've always used music as healing, and I wanted to get as proficient at violin as I am at the piano," Byrne said. "I want to fiddle in my yard in the evenings."
Similarly, Garriock now has the new freedom to enjoy the music at festivals and summertime gigs because of his achievement of a dream. As a luthier, he builds violins through shaping and carving the maple and spruce wood in front of him. The shop itself, and his pursuit of a dream, has built a new life for him. For him, the unplanned and unstructured freedoms that music provides has changed his life.
"It's my whole lifestyle outside of work," Garriock said. "Music has given me good friends that are just really talented, thoughtful, smart people, artistic, creative, and just a bit out there sometimes. It's always given me somewhere to go, some people to be around, something to work on, as a hobby, not necessarily as a career, and a community of friends and musicians that focus on music. It's my whole lifestyle outside of work. Not just this business, it's my life outside of work, where I play music. Almost all my friends are musicians. One of the things I do for fun is go out and play music, I do gigs with friends, and go to festivals in summertime, that's a big part of my life. It's been my life for over 30 years now."
---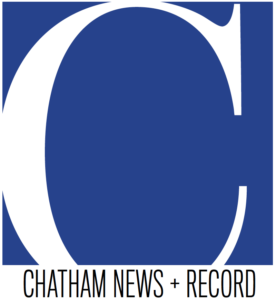 Chapelboro.com has partnered with the Chatham News + Record in order to bring more Chatham-focused stories to our audience. 
The Chatham News + Record is Chatham County's source for local news and journalism. The Chatham News, established in 1924, and the Chatham Record, founded in 1878, have come together to better serve the Chatham community as the Chatham News + Record. Covering news, business, sports and more, the News + Record is working to strengthen community ties through compelling coverage of life in Chatham County.