Does a happy marriage make a better writer?
Specifically, did the late great writer Pat Conroy's late-in-life marriage to fellow writer Cassandra King make him a better writer?
Just in case you don't remember, Conroy — who died in 2016 — was the best-selling author of "The Great Santini" (1976), "The Lords of Discipline (1980)," "The Prince of Tides" (1986), and "Beach Music" (1995).
All of these were dark, compelling stories filled with angry characters and sad family conflicts.
Conroy had what every writer, or aspiring writer, longs for — he was a great storyteller and had a gift for writing moving prose.
His storytelling gifts were intertwined with a life that was filled with turmoil and with unhappy and abusive family situations. Most memorable was his relationship with his father, Marine Corps Col. Don Conroy, who became the iconic and central figure in "The Great Santini."
Conroy said that his dysfunctional family and abusive father were gifts that fueled his moving fiction.
All that began to change in February 1995 when Conroy met Cassandra King at a party during a literary conference in Birmingham, Alabama. Their friendship began around a buffet table and conversations about food. But when the conversation turned to King's book, Conroy told her to have the publisher send him a copy. "If I like it," he said, "I'll give you a blurb. If not, I'll pretend it got lost in the mail."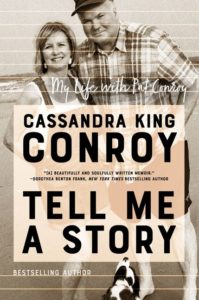 King, now Cassandra King Conroy, tells the rest of the story in "Tell Me a Story: My Life with Pat Conroy," to be released October 29.
I will hold most of the details for a later column, but will share some of the story as it relates to the question in this column's opening paragraph.
After a long and mostly long-distance friendship, one that only gradually turned to romance, Conroy and Cassandra wed in 1998 and settled down in Conroy's house at Fripp Island, near Beaufort, South Carolina.
Conroy's close friends worried about the gossip Cassandra would hear about his former wives and girlfriends. But when they learned that Cassandra's first marriage had been to a minister, she joked, "From a holy man to Pat Conroy. Talk about a leap of faith."
Cassandra's writing benefited from Conroy's encouragement. Talking with author and Conroy friend, Anne Rivers Siddons, Cassandra said she was writing a book about a group of her women friends, "real-life friends I've had for years."
Siddons was alarmed and asked if Conroy had "urged you to do that."
When Cassandra nodded, yes, Siddons cautioned, "Tread carefully. You know what that very thing has cost Pat. Beneath his tough shell he suffers more about the stuff he's written than he'll ever let anyone see."
In 2013, Conroy appeared with me on North Carolina Bookwatch to discuss his non-fiction book, "The Death of Santini" (2013), a memoir that centered on the death of his father. He was calm and relaxed as he talked about his writing routine. In the early part of the day, he and Cassandra would each spend several hours writing alone, then lunch together, and have afternoons to relax. He radiated happiness. (You can see the interview here.)
And his writing did change. He published only one more long book of fiction after his marriage, "South of Broad" (2009), which got a mixed critical reaction. In his New York Times' review Roy Hoffman, while acknowledging that "Conroy remains a magician of the page," wrote that his traditional themes "have simply been done better — by the author himself."
On the other hand, his non-fiction books such as "My Losing Season" (2002) and "Death of Santini," although they show some of Conroy's fiery spirit, the tone is moderated and sustains an authoritative command of his narrative. These books are two of my all-time favorites.
So did marriage make Conroy a better writer? Certainly it made him a happier one. And, I think it made him a better one, too.
When Judge Chess was asked how he was able to get beyond the Jim Crow situations of his youth and early law practice, he said, "You treat people the way you want to be treated, not the way you are treated. I didn't let them set my standards. If a Klan member can bring you to his level, then you are not well rooted."
D.G. Martin hosts "North Carolina Bookwatch," Sunday 11:00 am and Tuesday at 5:00 pm on UNC-TV. The program also airs on the North Carolina Channel Tuesday at 8:00 pm and other times.