With New Belgium's release of Old Tuffy for NC State, I can't help but ask the question, "What beer style represents (insert college here)?
I could do this ALL day, but I have to limit it somehow. I'm going to start with ACC schools in NC. If I don't get in too much trouble, maybe I'll try some other schools later…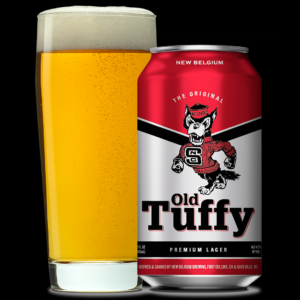 NC State: There's actually a beer that represents NC State now. Old Tuffy, a product of New Belgium, is a Lager in name, but it's a little different than what you may associate with the term "lager." Most people assume you mean Pilsner when you say Lager, but they aren't the same thing. A Pilsner is a type of lager, which is to say it's a beer made with a particular type of yeast that likes cooler fermentation temperatures and is cold-stored a bit before distribution. Unlike a Pilsner, this lager's base malt is Pale malt (famous mostly for use in English Pale Ales and their offshoots), and also uses Munich malt. Traditionally citrusy American hops are used for this beer, making it a true mix of Old World and New World. But what does all that mean?
Old Tuffy is an American lager, tarted up to be special, but is really an attempt at lowest common denominator with quality ingredients. Another way to say this is it is relatively special, but it would rather you think it's not.
What about the rest of the state's ACC schools?
UNC: I think UNC would be an American Dortmunder. A Dortmunder is like if a Pilsner (bitter lager) and a Helles (malty lager) both were genetically engineered to be perfect and had a baby. It's the best version of a Euro lager. In other words, UNC's beer would be pretty much like NC State's, but just better.
Duke: Easily, Duke's beer would be a Flanders Red. Opaque, unattractive, sour, and not really appreciated outside of its strange orbit, it's a perfect match.
Wake Forest: A Berliner Weisse is a tiny little tart golden beer, made to offer a tiny little bit of alcohol. Traditionally you have to add a syrup to it to make it palatable. It's small, it's yellow, it's missing something. There ya go.
If I hurt your feelings, I'm sorry. This was all in fun. I'm a Tar Heel and I understand my bias. If you want to give me some alternatives that aren't as silly, feel free.