"Make it Snappy" is presented by Goldfish Swim School of Chapel Hill. With recipes that only take 45 minutes or less to prepare, Christy helps you stay afloat at dinner time! 
---
A lazy Sunday is one of my favorite indulgences. A slow morning with a hot cup of coffee and a long afternoon in the kitchen preparing a meal from scratch. But let's be honest, how often does that really happen? Even though I'm usually short on time, I still like to serve my family meals that taste like I've spent all day working and creating in the kitchen just for them.
I have an entire section on my food blog called "Make the Most of It" designed to help you find ways to use up all of the left over odds and ends in your refrigerator and pantry. It's full of flexible recipes that allow you to make use of what you've got on hand. Nothing represents the Make the Most of It spirit quite like a good old fashioned Sunday Sauce. I love to slowly simmer a large Dutch oven full of made-from-scratch marinara sauce because it can truly hold just about anything I want to toss in it. It's a chance to use up any meats, veggies, herbs or cheeses I have lingering in the fridge that may soon need to be thrown out.
Though you may be short on time and busy making holiday magic this time of year, you can still prepare a beautiful and hearty meal that tastes like you spent hours in the kitchen. Just take some help from the grocery store! There is a reason there is an entire aisle dedicated to jarred pasta sauces: companies are really good at making them. Many of the red sauces are made from excellent ingredients and have very well-balanced flavors. Go with it! Use a jarred sauce as your base and you can still make use of what you have on hand. If you have veggies on their last legs, feel free to rough chop and toss them in to sauté with the sausage. This weekend, I had leftover fresh herbs from Thanksgiving, and in they went!
This recipe features another of my favorite kitchen hacks – introducing vegetables to my kids in a way that doesn't scare them. I nearly always try to incorporate spinach or another nutrient-packed veggie into my recipes, not to hide them, but to get my kids accustomed to the flavors. If I can layer veggies into what they're already eating, hopefully those flavors will become normal to their palates. If they know they eat (and enjoy) veggies on a regular basis, then hopefully they will always be a normal part of their diets.
Pro tip: Try this hack on yourself! There will never be another time when you enjoy eating spinach this much.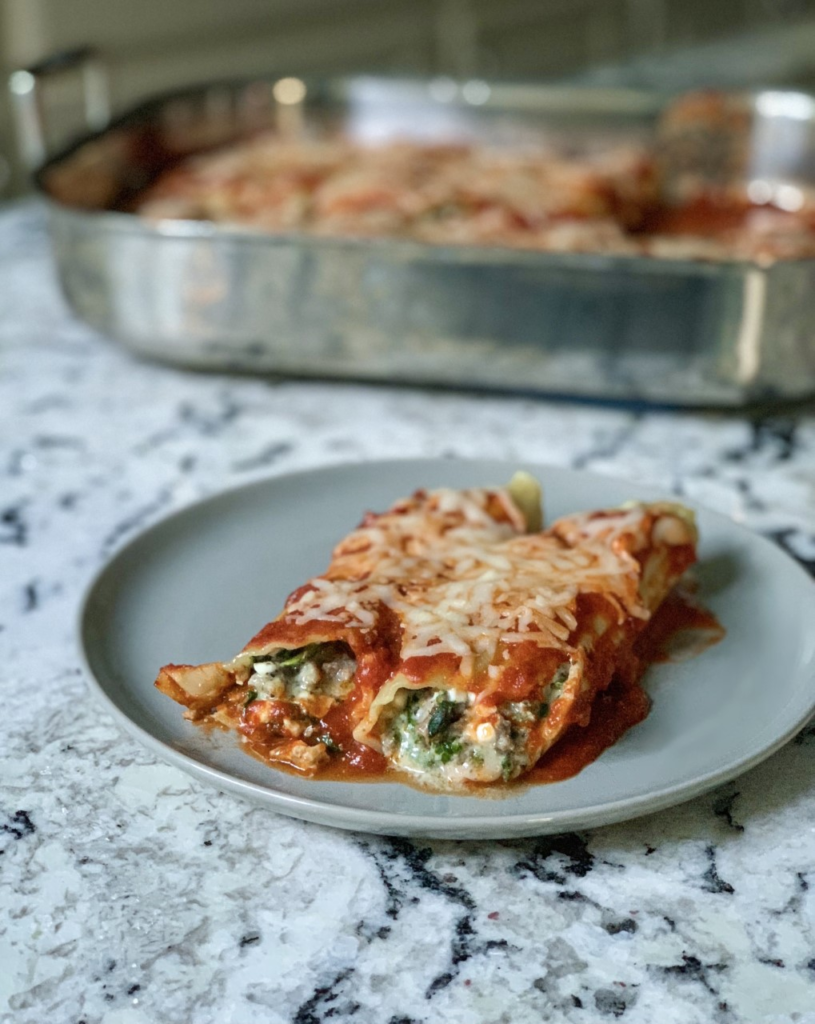 SAUSAGE AND SPINACH MANICOTTI
By: Christy Bray Graves
SERVES: 6
INGREDIENTS
12 Large dried manicotti shells
1 lb. ground Italian Sausage* (Hot or Mild, whatever you prefer)
1 – 5 oz. bag fresh baby spinach*, chopped
4 cups mozzarella cheese, shredded, divided
1 cup ricotta cheese**
1 cup cottage cheese**
6 TBSP fresh basil, chopped (or 2 tbsp dried basil)
1 – 26 oz. jar of spaghetti sauce
INSTRUCTIONS
Preheat the oven to 350°F. Spray a 13 x 9-inch baking dish with nonstick cooking spray or line with foil (dull side up).
Cook the manicotti shells according to the package directions. Drain and rinse with cool water. Set the shells aside to dry on paper towels.
As the shells cook, brown the sausage in a pan, adding any extra veggies you may be adding.*** Once the sausage is almost completely browned, wilt in the chopped spinach and remove from heat.
To make the filling, combine sausage mixture, 3 cups mozzarella, ricotta, cottage cheese, and basil in a large mixing bowl.
Spoon the filling into a large zip top bag and snip off a corner. The bag opening should be a bit smaller than the opening of the pasta shell. Carefully pipe the filling into the pasta shells until just filled.
Spoon 2 cups of the jarred spaghetti sauce into the prepared baking dish. Nestle the stuffed pasta shells into the sauce and pour the remaining sauce over the top.
Sprinkle the shells with the remaining 1 cup of mozzarella. Bake Manicotti for 15 minutes and serve warm.
NOTES
*Substitute the sausage for ground beef, chicken, or pork instead!
**If you're a fan of ricotta, feel free to skip the cottage cheese and use 2 cups of ricotta instead. Or vice versa! Just be sure to have 2 cups of cheese total.
***Stir in any rough chopped veggies or herbs you have on hand. We like onions, carrots for sweetness, bell peppers, celery, sage, thyme and even rosemary. Be sure to add these as you brown the sausage so that they have a chance to soften in the rendered fat.
---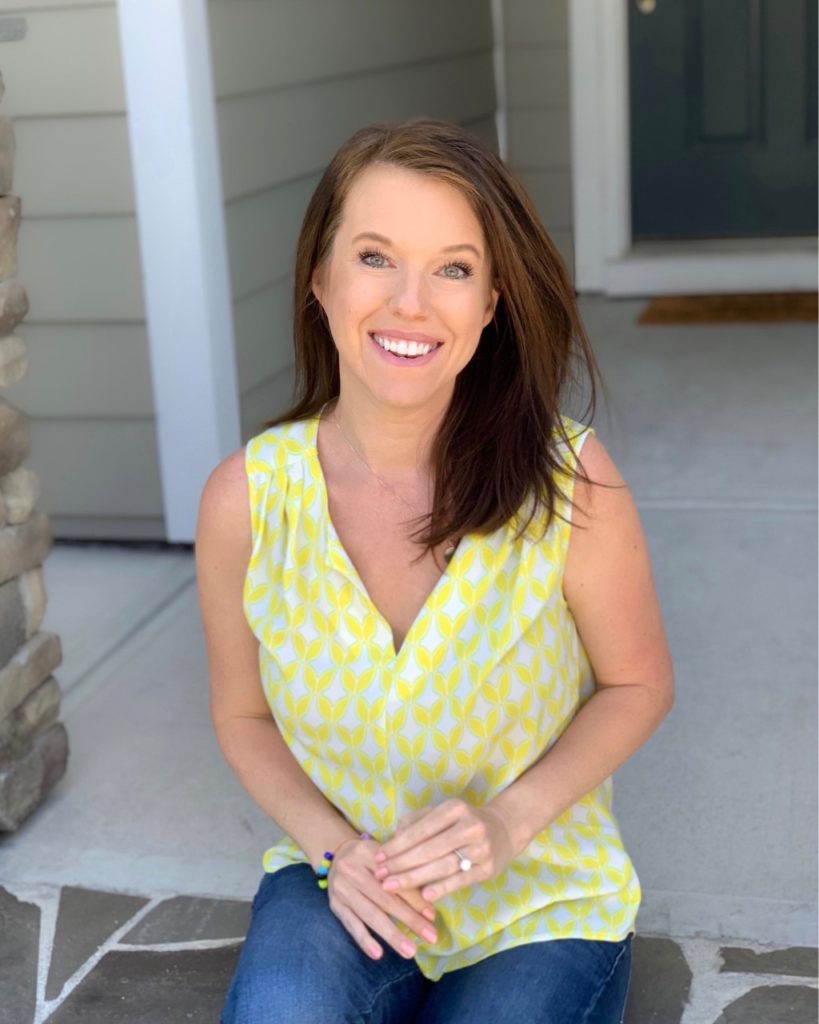 As a wife and mom of three young boys, I often consider myself a master "chaos coordinator." Between running our family business, Chapel Hill Toffee, managing our household and balancing busy schedules, I love to create quick and simple recipes that I know my family will enjoy – and my kids will actually eat!
My recipes are more of a guide than a perfect plan. I will always encourage you to use what you have on hand and make substitutions to suit your tastes. I invite you to share your own ideas, questions and final products with us on Facebook  and on Instagram by tagging @christybgraves and @wchlchapelboro.
---
Chapelboro.com does not charge subscription fees. You can support local journalism and our mission to serve the community. Contribute today – every single dollar matters.