Join Aaron Keck Tuesday through Friday at 6:00 p.m. for "Live & Local," where you'll hear music from artists close to home, and even get the chance to listen in as local musicians talk about where they've been, where they're going, and what's happening in the local music scene.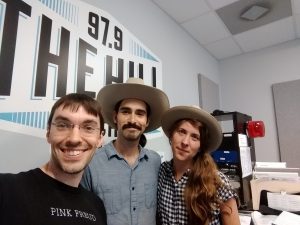 Blue Cactus is a modern country duo made up of Steph Stewart and Mario Arnez that bridges the gap between dramatic rock and rich traditional harmonies, staying firmly in the territory of honky-tonk while experimenting with elements of modern Americana.
Hailing from Chapel Hill, Stewart and Arnez released their self-titled debut album as Blue Cactus in 2017 and have since been touring their unique brand of twangy, gritty music that somehow always sounds like how. One of their recent stops put them in the WCHL studio, where they dropped in for Aaron Keck's "Live and Local" segment to play a few songs!
Part 1: "So Right (You Got Left)"
Part 2: "Radioman"
Part 3: "Come Clean"