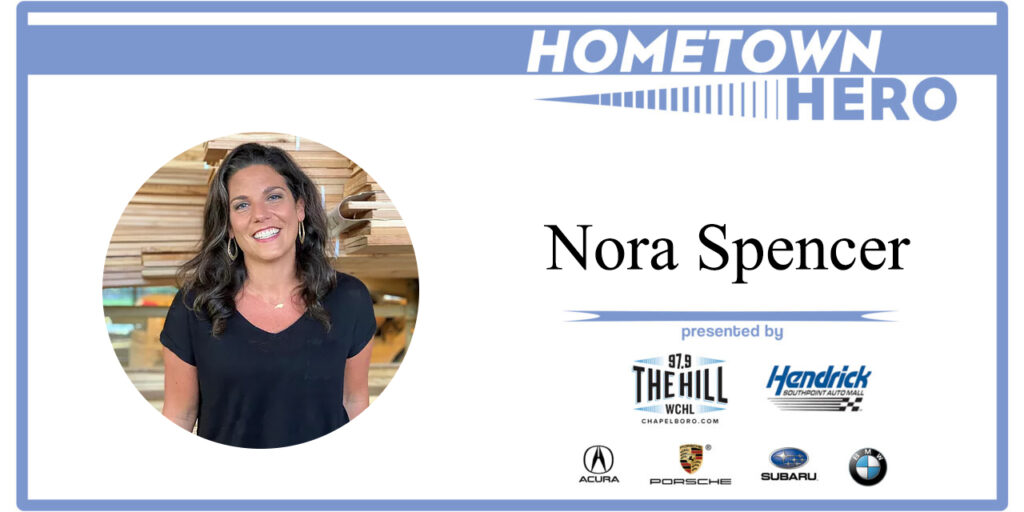 This week's Hometown Hero, presented by Hendrick Southpoint, is Nora Spencer — who founded the nonprofit Hope Renovations, providing skilled trades training for women! You've seen her in the winner's circle and heard her on 97.9 The Hill before, she's a past Hometown Hero and Woman Crush Wednesday guest, but this week what's landed her in the spotlight once more is recognition as one of CNN's "Heroes of the Year!"
"We have a whole world to build."

Nora El-Khouri Spencer and her nonprofit, Hope Renovations, train women in North Carolina for well-paying careers in construction while helping seniors age safely in their own homes. #CNNHeroes pic.twitter.com/9CgiBCv1dj

— CNN Heroes (@CNNHeroes) December 12, 2022
"I am a self-taught trades person. Pretty much taught myself by YouTube," said Spencer in a interview with 97.9 The Hill. "Over the years, as I taught myself how to do that, I met a lot of women who were really interested in the trades, but I never actually saw women in the trades."
Spencer said she realized there was an opportunity for women in trades and decided to create what did not exist. Thus began Hope Renovations — a new nonprofit in the community that specializes in skilled trades education for women and finds them employment opportunities in those skilled trades as well.
"We just got launched … right in the middle of a pandemic," she said. "I don't recommend that if you're ever thinking about starting up a nonprofit, but in a weird way, COVID was a silver lining for us because the trades have been essential from the start. And there are so many opportunities out in the skilled trades right now. … Situations are getting worse for people. So a lot of what we do is urgent repairs, modifications, accessibility, tight needs for seniors and for adults with disabilities."
More information about Hope Renovations can be found on its website.
Listen to this week's Hometown Hero segment below, and check in next week for another recognition of someone who is making a difference in our community!
---
Chapelboro.com does not charge subscription fees, and you can directly support our efforts in local journalism here. Want more of what you see on Chapelboro? Let us bring free local news and community information to you by signing up for our biweekly newsletter.