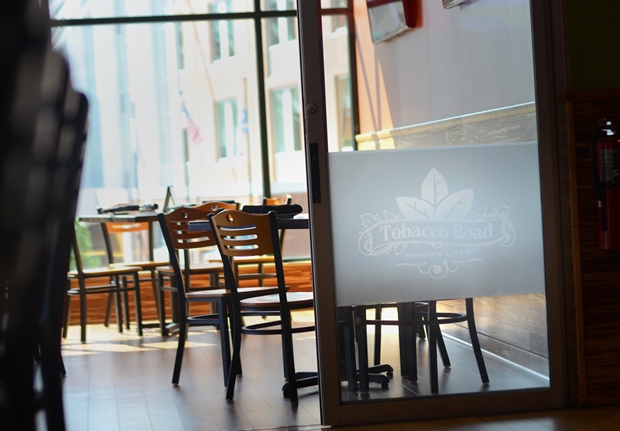 There's a reason why they call it "bar food." Sports bars tend to place an emphasis on their accessories rather than their eats: cheap beer, big screens, high tech HD — maybe even extra skimpy orange shorts for the wait staff. Unfortunately, the menus of cheap frozen wings and pre-made appetizers are usually just along for the ride.
But Tobacco Road Sports Cafe is trying to change all of that. Of course, anyone who has been to either of the three locations in the Triangle knows the place has everything a sports fan could want (HDTVs, premium sports channels, beers, bar space), but executive chef Patrick Cowden is ensuring that they stay true to their name, as a sports cafe, where fresh food is still the centerpiece of what they do.
It all starts with Cowden's philosophy. He not only calls for everything in the restaurant to be scratch-made, but that the ingredients come from nearby as well. "Local" is certainly the chic term right now, but it's something Cowden takes seriously. The list of local and North Carolinian ingredients that populate his menu changes so often that its reprinted online almost weekly, and it's nearly a job in itself just keeping his staff updated on all the restaurant's farm-to-fork eats (Cowden even keeps a map of NC in all three locations so servers — and therefore customers — are informed of where their ingredients are coming from.)
The chef gets his bison from Carolina Bison in Asheville, his eggs from Latta's Eggs in Hillsborough, and most of his herbs from Chef Patrick's Garden in Raleigh. The stone ground grits, cornmeal, and flour used in the restaurant all come from Lindley Mills in Graham, and that's just the tip of the North Carolina-sourced iceberg.
Perhaps the coolest aspect of Cowden's locally-driven strategy is using already finished products from locally-owned businesses. He gets pita bread from Med Deli right on Franklin Street, egg roll wraps from Weichen Noodle Company in Charlotte, ice cream from Lumpy's in Wake Forest, cream and dairy from Maple View Farms in Hillsborough, and honey from Busy Bee Apiaries. The obvious benefits here are the taste buds of Tobacco Road's customers, but what might be even more important are the benefits for Tobacco Road in general — the region itself. By using local ingredients and local businesses, Cowden is helping to foster a network that keeps the local economy growing.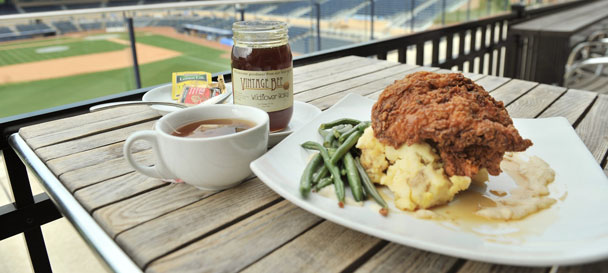 The whole idea behind the local approach is that it's supposed to be "simple." And in theory, that will one day be the case. But with old, cheaper, ways of making food still the prevalent infrastructure available to most restaurants, doing what Cowden does isn't easy. Though, TRSCs are perfectly fine blazing their own path (a theme here), and they're looking to change the status quo.
"I made it clear early on with our national distributor that if they wanted our business, they were going to have to pick up local ingredients that we wanted," said Cowden, who's actions are igniting a change that benefits everyone who deals with major food distributors. Chefs like Cowden are helping them become more focused on improving local networks and the farm-to-fork mentality.
It's important to note that none of this is for show or publicity, or Tobacco Road wouldn't use five different locations alone just for their dairy products: Chapel Hill Creamery, Elodie Farms in Rougemount, Milko in Asheville, Maple View Farm and Lumpy's. It does make a great story, but most importantly, it just makes for great food. The menu is one of the more interesting you'll ever see, made up of simplistic ingredients that still form fantastically creative dishes. The genius of Cowden's menu is that he's found a way to supply his diners with all of their southern favorites while somehow feeling like they're trying something new, or even inventive.
The Hoppin John, Southern Caviar, Tobacco Onions, Buffalo Chicken Egg Rolls, Ranch Style Beans, and Sweet Potato Mash are just a few of the familiar but unique sides and starters that keep the customer feeling like they're in an Iron Chef competition — but homestyled. Country Frizzled Chicken, the Black Eyed Pea Burger,  and Georgia Peach BBQ are entrees that demand to be not just savored, but appreciated — turning every customer into a professional Foodie for the evening. The Arrogant Burger even forces one to consider the attitude of their beef — it's an experience.
Of course the key to all three locations is that despite the gourmet food, Tobacco Road still remains a high tech sports bar in every sense of the word. At the Chapel Hill location there are too many HDTVs to count, every sports channel imaginable, a 100-inch projection screen for big events, two outdoor patios, private dining, and a huge domestic, foreign, and craft beer selection, all immersed in the East 54 community.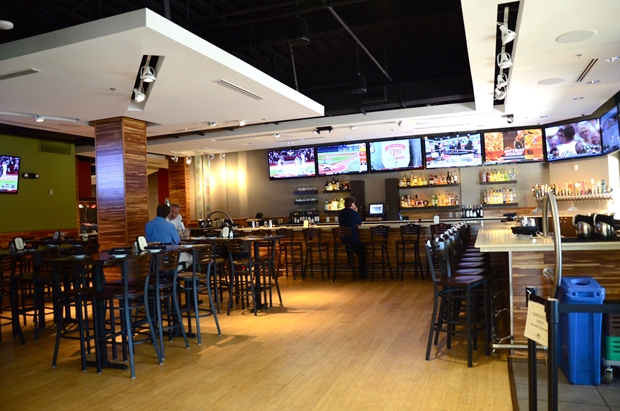 There's a cliche in the sports world—especially on Tobacco Road—about doing things "the right way." It implies doing something not for profit or self gain, but simply because it's the right thing to do, for everyone. That seems to be the philosophy at Tobacco Road Sports Cafe; fostering a community of good eats, good sports and good times while bringing local businesses together instead of worrying about competing.
In a way, Tobacco Road feels like an experiment — an attempt to mesh delicious food in an environment more known for high definition technology, all while staying locally sourced even as they remain efficient with their business model.
And with the success of the recent expansion into Chapel Hill, it's safe to say the experiment is working.
Photos by Tobacco Road Sports Cafe and Christin Hardy