By Zachary Horner, Chatham News + Record Staff
A quarter of a century ago, Byron and Diana May — still a few years away from parenthood and looking to make a move from their home in Durham to a place in the country — zeroed in on an attractive property off Martha's Chapel Road, just east of Jordan Lake.
"There was an old 1860 farmhouse," Byron said. "It was a nice piece of property."
And — though they weren't in the market for one — the Chatham County property included a working tree farm.
"The previous owners had started it," Byron said, "and it had been going for a few years."
Though it was really only land on which to build a home they sought, the farm held appeal.
"We said, 'You know, maybe it would be easier to buy an old house and fix it up,'" said Byron. "And it's got the tree farm. Something new. We didn't know anything about tree growing."
They bought the 24-acre property.
Fast forward 25 years and the Mays — now parents of a 19-year-old daughter, Khoury — know a lot about farming and trees and growing them. With help from previous owners Mike and Jane Harrell during the May's inaugural farming season in 1994, Byron and Diana kept Jordan Lake Tree Farm running their first year and have since. And Khoury, away now for college, grew up on the farm.
"It's really become a family affair for us," Byron said.
"The first year was easy and fun and we were learning," Byron said. "Now it's our 25th year, yeah. We're excited about celebrating that anniversary."
But any parties marking the occasion will have to wait.
For the moment — it's, of course, peak season for the Christmas tree farm — there's a lot of work to tend to.
Though maintaining the farm is a year-round endeavor — "between planting and weed control, disease management, pest control, trimming, shaping," Byron said — the brief window between Thanksgiving and Christmas is, certainly, the busiest time of year for the Mays and their farm.
But there's a reward. Jordan Lake Christmas Tree Farm is an annual destination for their returning customers and the many new ones the business attracts year after year as folks shop for the perfect tree for their holiday decorating.
When it comes to Christmas trees, there is, after all, no substitute for the real thing.
"It's the smell," allowed Laura Dejesus of Durham, who with her husband, Rafael, was browsing the farm's selection of pre-cut Fraser firs last Thursday afternoon.
"It creates a nicer ambiance in your home than you get with an artificial tree," she said. "And you get the experience of going to a place like this. The fact that this is a working farm kind of adds to it."
In addition to the popular Fraser firs — since Fraser firs don't grow well in this part of North Carolina, but prosper in the state's mountains, the Mays purchase their supply from a grower in Alleghany County with whom they've done business for years — ­ the Mays also offer customers a "choose and cut" option of their own Chatham County-grown trees, varieties including Virginia Pine, Leyland Cypress, Carolina Sapphire, Blue Ice. About half of the 24 acres of their farm is used for growing trees.
"We decided after the first year to keep it going and see how it goes," said Byron. "One thing led to another and it just kept growing."
They've unofficially tracked the growth of their agribusiness through the physical changes in their sales shop — it's filled with Christmas and Christmas tree-related items for sale — which originally was an old barn.
"It was kind of a disaster," Byron said of the original building. "It was about to fall down. I think it was after the first year or two we realized if we were going to keep doing this, we'd have to expand. Now we've added on to this building four times."
They also employ several people to help, some of their seasonal helpers returning year after year, some "maybe close to 20 years; they're really part of our family," Byron said, "our seasonal family."
He calls the business a "full-time hobby."
And he's not exaggerating.
For Byron and Diana, both of whom continue to work their "real jobs" as pharmacists (Byron also teaches at Campbell University's School of Pharmacy) Jordan Lake Tree Farm — though requiring their care and attention year-round — remains a part-time pursuit.
"It's a great respite from our other jobs," he said. "And we're fortunate that our real jobs allow us some flexibility to take time off in December, otherwise I don't think we could manage the farm and do the other stuff."
For the next couple of weeks, the Mays will continue to be busy as the Christmas holiday draws near.
"During the season, we suffer a little from lack of sleep," Byron said good-naturedly. "But when it's over, you look back and hopefully people enjoyed the experience. They've gotten a good tree and we've been part of somebody's holiday tradition."
(photos by David Bradley)
---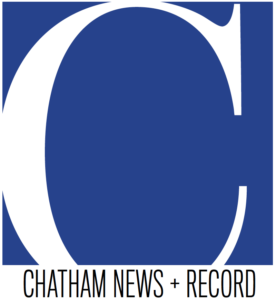 Chapelboro.com has partnered with the Chatham News + Record in order to bring more Chatham-focused stories to our audience. 
TheChatham News + Record is Chatham County's source for local news and journalism. The Chatham News, established in 1924, and the Chatham Record, founded in 1878, have come together to better serve the Chatham community as the Chatham News + Record. Covering news, business, sports and more, the News + Record is working to strengthen community ties through compelling coverage of life in Chatham County.