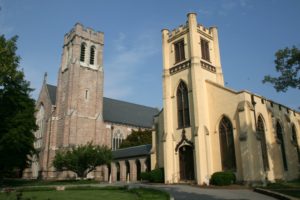 Following an expansion of its facilities in 2014, the Chapel of the Cross has opened its doors to more community members in the past years — but the reconstruction came with a cost. The 187-year-old Episcopal Parish announced the launch of a new fundraising campaign "You are the Light" in an attempt to endow the church for future goals and pay back the debt from construction.
Church members hope to raise $3.5 million to satisfy their three main goals, according to a press release: "Create an endowment to fund new and creative programming for the future. Fund ongoing needs to repair and renovate the historic church facility, including new technology tools to better serve the needs of parishioners. And to pay off remaining debt from construction in 2014 of a new 30,000-square-foot Parish Hall that allowed for expanded fellowship, teaching, ministry and community engagement."
The Chapel of the Cross serves as an early voting site and as a space for several community organizations; including English as a Second Language, substance support groups and UNC's Loreleis.
With a jump start of $1.2 million already raised internally in the church, Chapel of the Cross hopes to end the campaign by 2022.  
The campaign was kicked off on May 19 with a picnic for parish members where Rector of Chapel of the Cross Rev. Elizabeth Marie Melchionna emphasized the mission of the campaign.  
"In this time," Melchionna said, "we are called to fortify a foundation for the future of the Chapel of the Cross. We are called to use our blessings to ensure that the church will be equipped to serve our community for the years to come. We are called to steward our resources, provide steadfast footing for program that engage and serve and shore up our infrastructure."
For more information on the "You are the Light" campaign, you can contact Faith Turchi, parish administrator and stewardship manager, at (919) 442-2566 or fturchi@thechapelofthecross.org.