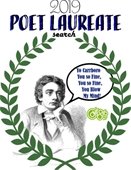 Calling all local poets and wordsmiths: the Arts Committee of the Town of Carrboro is looking for a new poet laureate to enhance the presence of poetry in Carrboro.
Applications and nominations for a term beginning March 13, 2019, and expiring on March 10 of 2021 are currently being accepted by Annette Stone, ECD Director for the Town of Carrboro, at her email address here. All application materials must be received by February 5, 2019, and nominations – with a justification of 150-200 words – are also welcome. For more information on application guidelines, click here.
The Poet Laureate of Carrboro is not a salaried position, but does offer an honorarium. The Laureate should be a practicing poet, but a record of publication and public readings are not necessarily required – though they certainly would be considered assets when applying. The position is meant to inspire residents and increase the presence of poetry in the day-to-day lives of Carrboro residents and visitors alike. Responsibilities include – but certainly aren't limited to – working with the Recreation and Parks department to plan the West End Poetry Festival, composing work for Carrboro Day, participating in poetry programs at local schools and more.