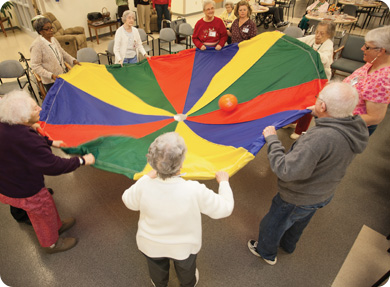 If your elder loved one needs watching or companionship, adult day care (or senior day care) may be an appropriate choice.
Senior day care centers offer daily activities for elders. They may be for-profit enterprises, or not-for-profits run with charitable intent. Since these are group settings, they offer the benefit of mental stimulation and social interaction that comes from getting out of the house and seeing other people in a different environment. Of course, when someone goes to such activities, their caregivers get a chance for a break as well. Day care often benefits the caregiver even more that the person receiving care.
Benefits include:
• Engagement and stimulation with many individuals
• An opportunity to get out of the house
• A variety of activities, including the opportunity to be an onlooker if your loved one does not feel like actively participating
• The opportunity to make friends with people in similar circumstances
• The opportunity to feel at ease with themselves because they interact with others that have similar health and mental issues
• A lower cost per hour compared to in-home care
The services provided by day care centers differ widely. Some offer meals and snacks with varying levels of quantity and quality. Some may impose limits when it comes to incontinence and aggressive behaviors. If your loved one is in day care, chances are they will decline physically and mentally. Ask management what changes in their condition will trigger different pricing or make them unfit to participate at the center.
The downside of day care vs. in-home care includes:
• Day care centers typically operate on a set schedule, like Monday through Friday, 9AM to 6PM. They rarely offer service during the off-hours.
• You may need to pay for more hours that you need; for example, you may need to pay for a full morning or afternoon, even when you just want a few hours
• Staff that may seem insufficient when many of the attendees need assistance at the same time
• Less chance of customized service or personalized attention to needs; they may offer a variety of snacks, but rarely would they custom-make a snack
• Greater risk of exposure to illness due to the number of participants
If your loved one is ambulatory, somewhat independent with personal care and enjoys the company of others, a day care environment might be an attractive option as you make care arrangements.
About the Author:
Lorenzo Mejia and his wife, Mary Lynn Ryerson, are the owners of Acorn, a caregiver registry located in Chapel Hill.

They founded Acorn based on their experiences caring for his mom, who suffered with Alzheimer's Disease.  In 2013, he became a Qualified Dementia Care Specialist.  In 2014, the Alzheimer's Foundation named him the Dementia Care Professional of the Year in the United States.
Lorenzo is the founder of Dementia Friendly Orange County an effort to make local businesses more accommodating to people with dementia.
Lorenzo speaks often on dementia and the challenges associated with caring for loved ones.  He has been interviewed by ABC News and National Public Radio.  He is an advisor to Orange County's OC-CARES Dementia Capable Community Project.