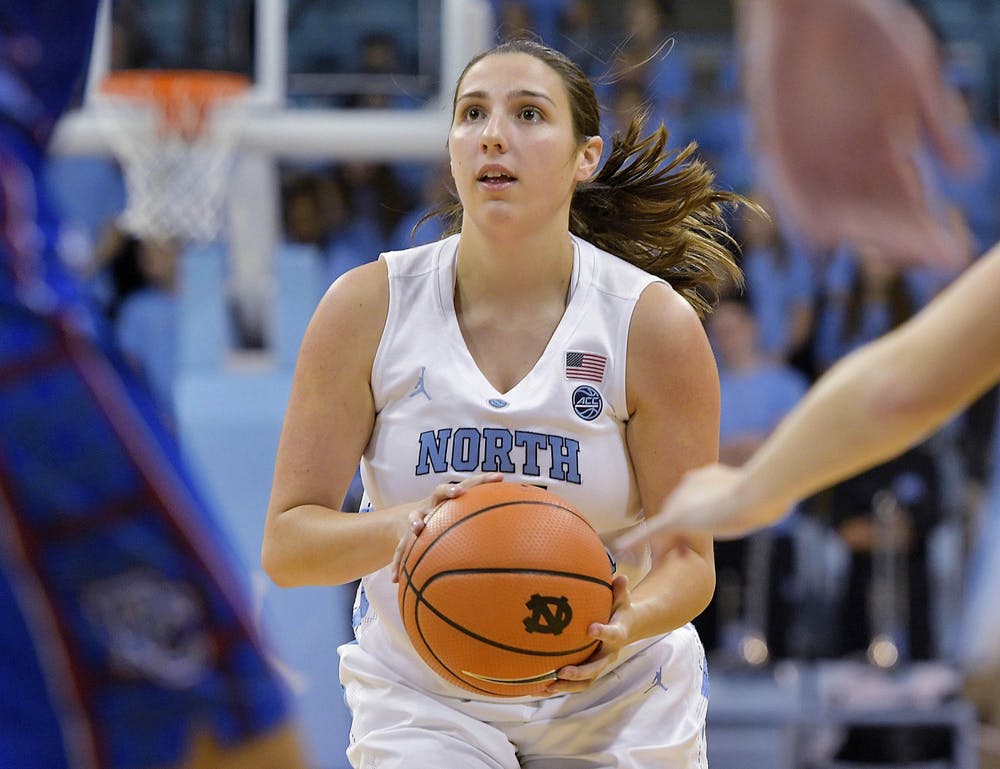 UNC women's basketball coach Courtney Banghart clearly has a soft spot for Liz Roberts. Banghart announced on Twitter Friday that Roberts, one of her former players, will be the program's new Director of Recruiting.
So enormously proud of this human.

1st one I ever gave a scholarship to.
1st grad assistant we ever had.
Today is her 1st day as a full-time employee— meet our new Director of Recruiting!!! @LizRoberts_23

Clearly has questionable fashion sense…matching on day #1 🤦‍♀️🤨😂 pic.twitter.com/QMF9iYDbZk

— Courtney Banghart (@CoachBanghart) August 20, 2021
After Banghart joined the program in 2019, her first scholarship offer went to the rising senior Roberts, who had walked on to the team during her first three seasons.
Roberts is a program favorite, and Triangle through and through: she grew up in Chapel Hill and went to high school at Durham Academy. Roberts actually made the school's varsity basketball team as an eighth grader, and by the time she left campus she had set Durham Academy's career scoring record and participated in the North Carolina Private School All-Star Basketball Game.
Though Roberts didn't see much playing time at Carolina, much of it came in her lone year playing for Banghart. While she only played in only 16 games combined over her first three years at UNC, she played in 13 during the 2019-20 season after Banghart took over.
Roberts earned Dean's List honors every semester of her time at UNC, while majoring in exercise and sports science with a minor in coaching education. After graduating, Roberts stayed around Banghart's program, serving as a graduate assistant during the 2020-21 season that saw the Tar Heels make the NCAA Tournament field for the first time under Banghart.
She will now direct recruiting operations for a women's basketball program on a recruiting hot streak, as ESPN ranks Banghart's incoming class third in the nation, behind only powerhouses South Carolina and Connecticut.
Featured image via The Daily Tar Heel
---
Chapelboro.com does not charge subscription fees. You can support local journalism and our mission to serve the community. Contribute today – every single dollar matters.