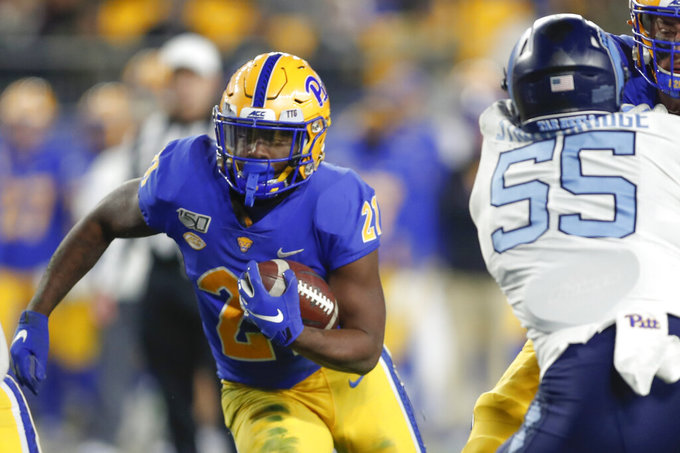 Another game, another heartbreaking loss for the UNC football team—as the Tar Heels rallied to force overtime on the road Thursday night against Pittsburgh before ultimately losing 34-27.
It was just the latest thrilling finish in a season full of them for UNC (4-6, 3-4 ACC), which must now win each of its final two games of the season in order to qualify for the program's first bowl appearance since 2016.
Trailing 24-10 heading into the fourth quarter, the Tar Heels received a pair of touchdown passes from freshman quarterback Sam Howell to tie things up. Then, after a Pitt field goal, Howell led the Tar Heels down the field with a chance to get the win.
Pittsburgh (7-3, 4-2 ACC) managed to force UNC into kicking a 32-yard field goal, which meant the Tar Heels would be going into overtime for the second time this season.
In the extra period, Pitt quarterback Kenny Pickett converted on a critical 3rd-and-14 to keep his team alive before eventually rushing for what turned into the game-winning touchdown from three yards out.
UNC still had a possession to again try and win the game, but the vicious Pitt pass rushers—who now lead the nation in sacks–were able to pressure Howell into a bad throw on fourth down to seal the victory.
As has been the case in many of these losses the Tar Heels have suffered this season, head coach Mack Brown was left to dwell on all the missed opportunities.
"We missed some deep throws, we didn't play as well on defense as we needed to and here we are in another real tight game that we lose," Brown said. "I'm proud of their effort, but we as coaches have to figure out ways to win these overtime games."
Had UNC been able to complete the comeback–and win after trailing by 14 points for the first time in the last 15 years—the focus would have been on yet another clutch performance by Howell, who did everything he could to will the Tar Heels to victory.
The Charlotte native threw for 322 yards and three touchdowns against one of the ACC's best defenses, while also saving his best for the moments his team needed him most as he's done all season long. Junior receiver Dazz Newsome was the main beneficiary on Thursday, posting a career game with 11 catches for 170 yards and a touchdown.
Those numbers ultimately ended up meaning nothing, however, with Pitt coming up huge in overtime.
This left a disappointed Tar Heel locker room afterwards, with the players knowing now that there's no more margin for error left this season if they want their season to extend into December for one extra game. Wins against both Mercer and NC State represent the only scenario where that's still possible.
"We've gotta coach better and we've gotta play better," Brown said. "And we've gotta win next week and get our fifth win, then we'll have the big game against State."
Up Next:
It's Senior Day next week for the Tar Heels, as they host Mercer on Saturday, Nov. 23 at 3:30 p.m. It is the final home game of the season for the Tar Heels.
Game Notes:
Sam Howell's streak of 10 straight games with at least two touchdown passes is the longest such streak in the nation.
Over the last 15 seasons, UNC is now 0-41 when trailing by 14 or more points at any point during the game.
The Tar Heels had won their previous six games against Pittsburgh before Thursday's loss.
Pitt tallied 498 yards of total offense in the game, while UNC was just behind with 458 of its own.
Cover photo via Associated Press