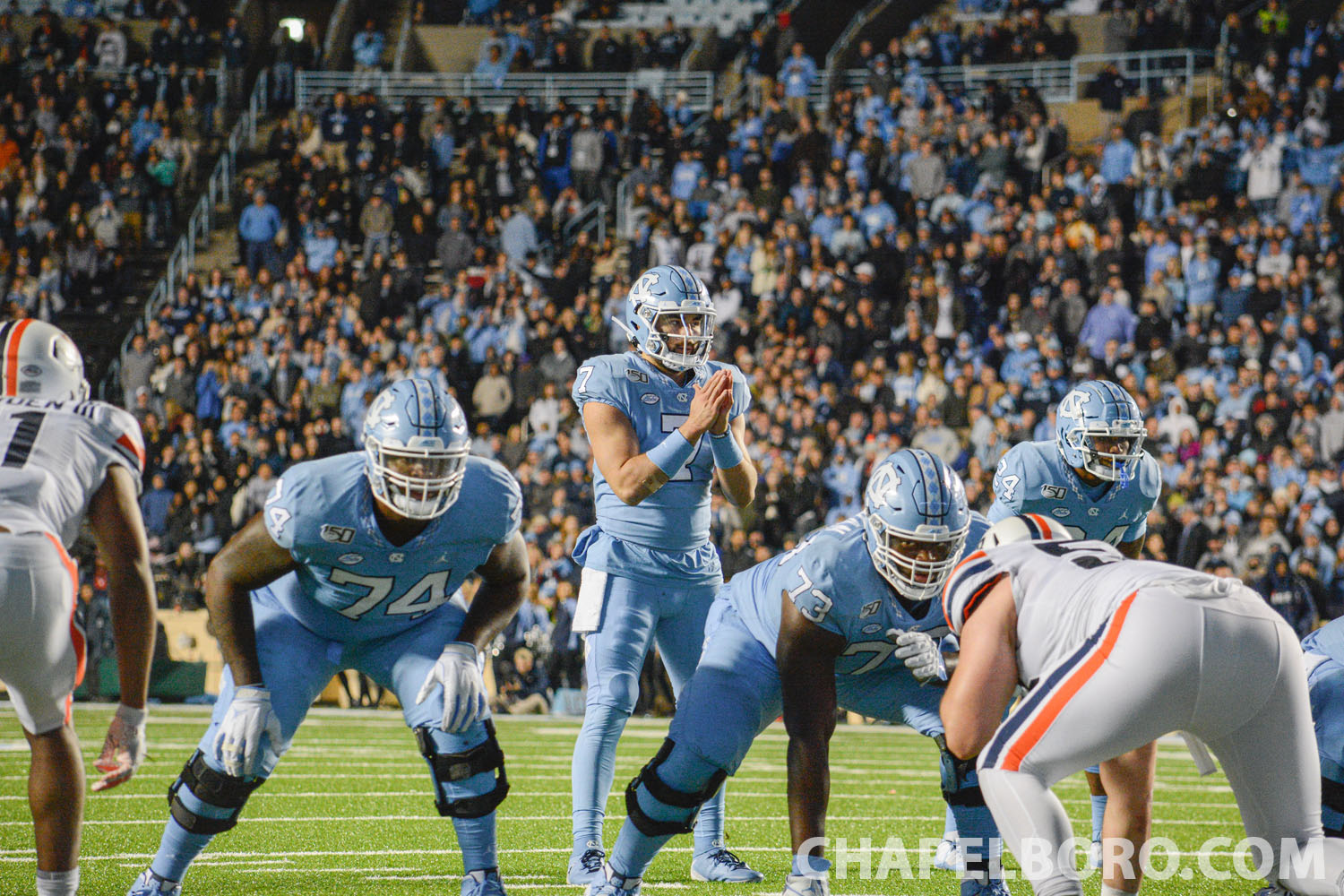 The goal is simple for the UNC football team over its final three games, beginning with Thursday night's primetime showdown on the road at Pittsburgh—win twice and qualify for the program's first bowl game since 2016.
While a close loss to Virginia in their last game essentially eliminated the Tar Heels from serious contention for the ACC Coastal Division title, there is still plenty to play for in what was supposed to be a major rebuilding year.
Heading into the season with a difficult schedule and a number of underclassmen playing large roles, expectations were small entering head coach Mack Brown's second tenure in Chapel Hill.
After winning the first two games against South Carolina and Miami, however, all of that began to change.
Freshman quarterback Sam Howell proved to be a revelation at the most important position in all of team sports, Brown continued earning commitments from top recruits and the rest of the UNC roster has shown it has the talent and toughness to compete against anyone.
The result of that has been a 4-5 record that could just as easily be 8-1 or 1-8 thanks to nearly every game going down to the wire, and the promise of a bright future.
So, while the Tar Heels won't be playing for the ACC Championship this year, the idea of winning two out of three against Pitt, Mercer and NC State to return to a bowl game should still count as significant progress.
"I'm encouraged that we keep getting better," Brown told reporters on Monday. "I'm encouraged that they fight every week and we haven't had a down game; they've been very competitive and they've tried really hard. They fight back when they get down, because they've been down a lot throughout the year. All of those things are real positive.
"We've still got to make the plays to win the game at the end" he added. "That's hopefully what we can do the next three weeks. We've got a new season. We've got three weeks to try to finish this thing strong."
The specific challenge that Pittsburgh presents for the Tar Heels is one of the best pass rushes in the country. The Panthers average nearly four and a half sacks per game, a mark that ranks second among all FBS teams.
This will put extra pressure on Howell to continue his excellence throwing the ball, specifically on deep passes to his top receivers—Dyami Brown, Dazz Newsome and Beau Corrales.
"They're gonna try to get you in 2nd-and-long, 3rd-and long and rush the passer," Brown said about Pittsburgh. "Which they're doing, with sacks, as well as anybody in the country. "And they're gonna make you beat them one-on-one some outside in the passing game."
Another potential storyline this week relates to UNC's dominance over Pittsburgh in recent years, even while the Tar Heel program was at its lowest.
UNC has a win streak of six games against head coach Pat Narduzzi's Panthers, which will surely provide plenty of motivation for the opposing side this week.
The Tar Heels should arrive at Heinz Field just as motivated, though, as they'll need that streak to continue to have a better shot at bowl eligibility.
"One of the things that really intrigues me is why universities have streaks against other universities," Brown said. "I've never figured it out. We had trouble beating Kansas State at Texas when I was there, and now, they beat them all the time. So, I don't know. That one always gets me.
"Like, we talked about the streak at Georgia Tech being very difficult for us, I'm sure Pat has brought up the streak this week," the coach continued. "And what you do if you're them, is you get tired of it and try to change it. And if you're us, you try to keep it going."
Cover photo via Dakota Moyer