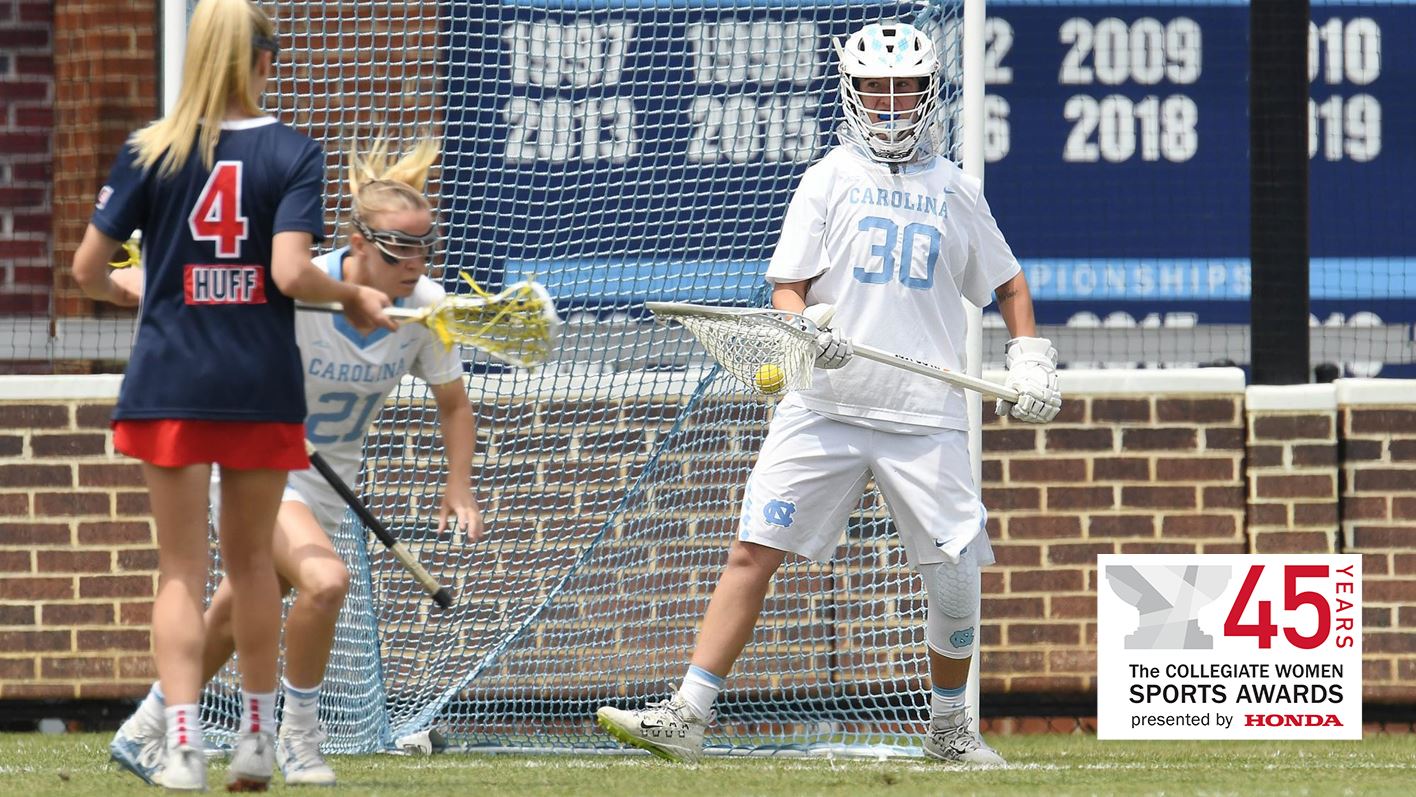 UNC senior goalie Taylor Moreno was selected Monday as one of four finalists for the Honda Sport Award in women's lacrosse, after leading a Tar Heel defense which led the country in fewest goals allowed per game.
Individually, Moreno finished second in the country with a goals against average of 6.65 and was named the ACC Defensive Player of the Year. She was also one of four finalists for this year's Tewaaraton Trophy — the lacrosse version of the Heisman Trophy — which was recently given to Boston College star Charlotte North.
Boston College defeated Moreno and the Tar Heels in a shocking upset during the NCAA Semifinals, a loss that ended a UNC program record 27-game winning streak and the Tar Heels' hopes of completing a perfect season.
UNC came into that game with an undefeated record of 20-0 in 2021 after going 7-0 during the shortened 2020 campaign.
Moreno ranks second all-time in career wins for head coach Jenny Levy in the Tar Heels, having compiled a career record of 48-6 in goal. She is also a two-time ACC Tournament MVP and three-time First Team All-American at her position.
Finalists for the Honda Sport Award are chosen by a panel of coaches and experts representing the Intercollegiate Women's Lacrosse Coaches Association.
The award is given to the top woman athlete across 12 different NCAA sports, with the winners becoming finalists for the Honda Cup — which honors the Collegiate Woman Athlete of the Year.
Other Tar Heel Honda Sport Award finalists this season in other sports include Erin Matson (field hockey) and Sara Daavettila (women's tennis). Matson was also declared the winner of the award for field hockey.
The other three women's lacrosse finalists include: Charlotte North (Boston College), Ally Kennedy (Stony Brook) and Lizzie Colson (Maryland).
Photo via UNC Athletics
---
Chapelboro.com does not charge subscription fees. You can support local journalism and our mission to serve the community. Contribute today – every single dollar matters.