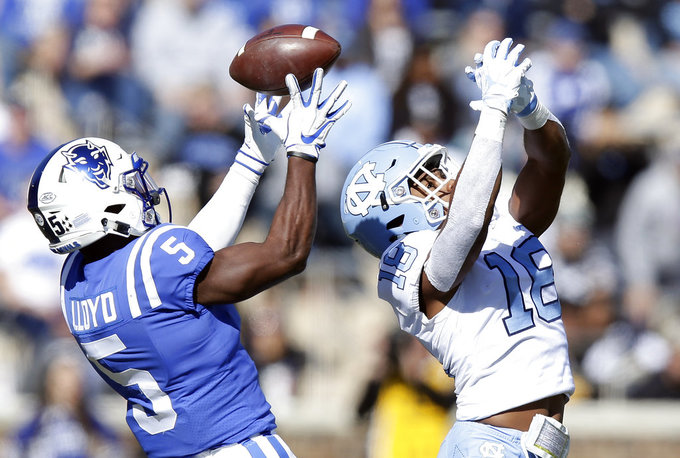 For one half of football on Saturday afternoon at Wallace Wade Stadium in Durham, Tar Heel fans were able to relive the glory days under head coach Larry Fedora—watching the scoreboard light up drive after drive.
Then, it all fell apart as Duke shut UNC down in the second half on the way to a 42-35 victory.
After the Tar Heels and Blue Devils traded touchdowns back and forth throughout a frenetic first half that saw each team rack up close to 400 yards of total offense, it appeared that only one side remembered there were still 30 minutes left to play.
Duke—which took a 35-28 lead into the break–held the Tar Heels to just 166 yards in the second half, and received a monstrous performance from quarterback Daniel Jones to help seal its third consecutive win in the rivalry.
Jones set a Duke record for individual offense by throwing for 361 yards and running for 186 more. He also accounted for four touchdowns and played a large role in the Blue Devils converting on 13 of their 20 opportunities on third down against the lifeless UNC defense.
The Tar Heels forced a pair of turnovers and largely kept Duke from scoring in the second half, but still allowed the Blue Devils to control the clock as they were unable to force a single three-and-out.
With UNC junior quarterback Nathan Elliott ineffective yet again, however, there was never any real threat of a Tar Heel comeback even though Elliott did find receiver Thomas Jackson for a touchdown with just over a minute remaining.
Instead, it was just the latest disappointment for Fedora and his team–which falls to 1-8 after losing its sixth consecutive game.
"First of all, it hurts for these seniors who will never have this opportunity again in their life," Fedora said afterwards. "Because they'll never line up and play them again. Ever. And so I hurt for them. This team hurts for them.
"But I don't worry about our guys' morale," the coach added. "They've shown what they have inside of them."
Lost amid the second half woes was what started out as a breakout game for the UNC rushing attack.
While Jones was marching Duke down the field with an aerial assault early in the game, the Tar Heels did the majority of their work on the ground.
Sophomore tailback Michael Carter racked up 40 of his team-high 148 yards on a first quarter touchdown run, and UNC also got big plays in the run game from a pair of wide receivers.
Anthony Ratliff-Williams struck first blood when he scored from 14 yards out on the game's opening drive. Then later on in the second quarter, Dazz Newsome tied the game at 28 apiece when he broke free for an 84-yard touchdown on a reverse.
With a passing game consisting only of short screen passes, though, it was only a matter of time before Duke was able to start getting stops consistently.
That, more than anything else, ultimately proved to be the difference for a UNC squad that now has just two more chances to try and get a second win.
"They made a few adjustments, nothing massive," Fedora said after the game about Duke's defense. "But we didn't adjust to it very well. And then by the time we recognized what they were doing, we were out of a situation where we could be more patient and continue to run the ball."
Up Next:
The Tar Heels will return to Kenan Stadium for their final two games of the season, beginning next Saturday when they host Western Carolina in a contest set to kick off at 3 p.m.
Game Notes:
UNC freshman quarterback Cade Fortin–who has been out with a knee injury–came into the game for Elliott on the final play to throw a potential game-tying hail mary that was eventually batted down.
The Tar Heels tallied up 80 of their 166 second-half yards on their final drive, with the outcome of the game essentially already decided.
Elliott finished the day having completed 27 of his 41 pass attempts for 221 yards, one touchdown and no interceptions.
Cover photo via Gerry Broome (Associated Press)