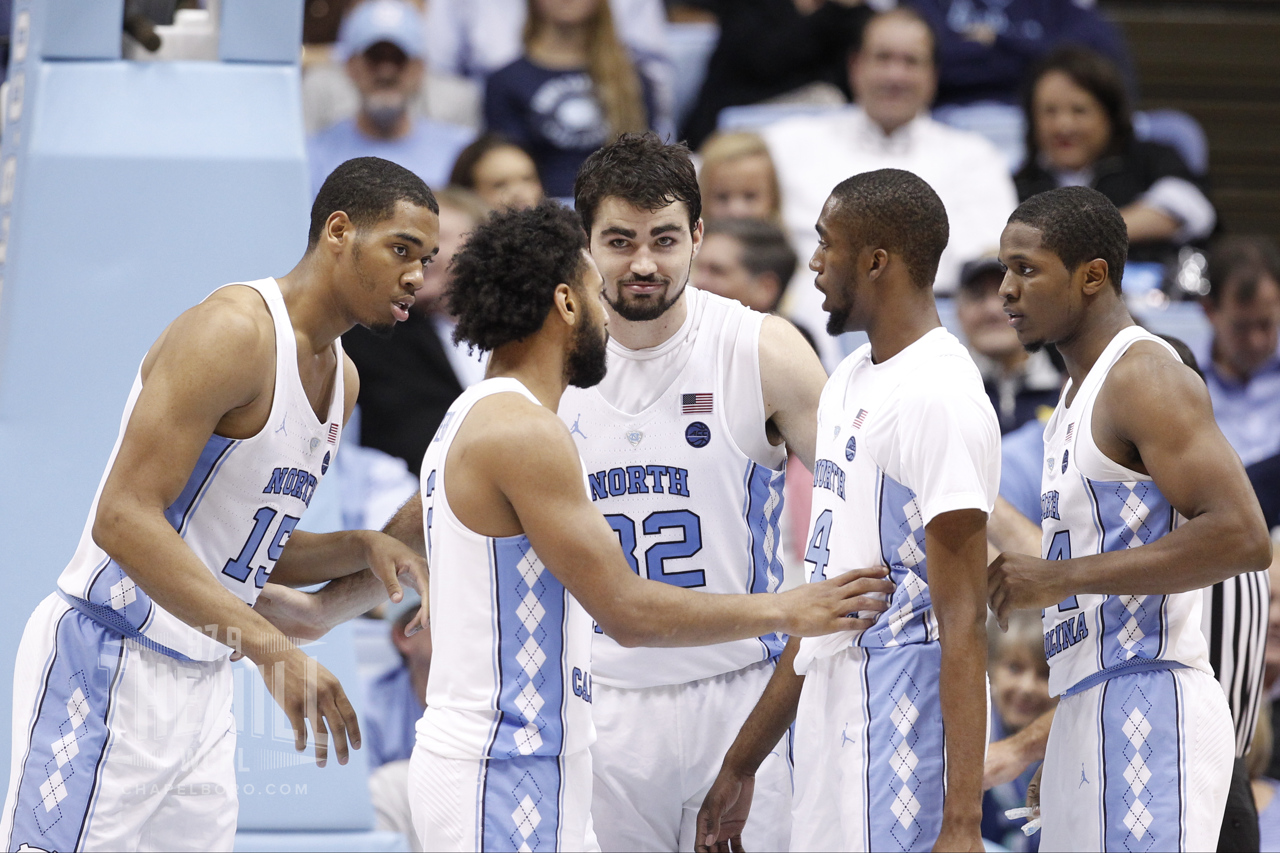 When the brackets were revealed on Selection Sunday for the 2018 NCAA Men's Basketball Tournament, UNC was selected as the No. 2 seed in the West Region and will play its first two games close to home in Charlotte.
But what does the Tar Heels' path through the bracket look like? And how will that play into the team's chances of making a trip to the Final Four for the third year in a row?
Here's a quick breakdown with what you need to know heading into each of the first four rounds, should UNC play on that far.
Spoiler alert: The Tar Heels are set up very nicely to earn a trip to San Antonio.
First Round- No. 15 seed Lipscomb
Team nickname: Bisons
Record: Lipscomb ended the year 23-10 after losing to UNC in the First Round. This comes after a 2nd place finish in the Atlantic Sun conference regular season standings and a league tournament title that earned it a spot in the NCAA tourney.
Player to watch: 6-foot-5 junior guard Garrison Mathews (22.1 points, 5.5 rebounds per game) has averaged at least 20 points in each of the last two seasons, and scored 43 points in Lipscomb's win over Kennesaw State on Jan. 6
Mathews was held to just eight points, however, on 3-for-14 shooting from the floor in the Bisons' loss to the Tar Heels.
Outlook against UNC (Lost 84-66 on March 16): The Bisons opened as 18-point underdogs against the Tar Heels for their game on Friday, and entered the tournament riding a season-high eight-game winning streak. UNC struggled with turnovers early on, but ultimately got things together behind 15 points, 10 rebounds and seven assists from Theo Pinson. Las Vegas always knows how these things are going to go, as the Tar Heels won by exactly 18 points in an 84-66 blowout.
Second Round-No. 7 seed Texas A&M
Team nickname: Aggies
Records: Texas A&M sits at 21-12 following a seventh-place finish in the SEC and a 73-69 victory over No. 10 seed Providence in the First Round of the NCAA Tournament.
Players to Watch: The twin tower tandem of forward Robert Williams and Tyler Davis will be a handful for the undersized Tar Heel lineup. Both 6-feet-10-inches, Williams had 13 points and 14 rebounds in the First Round win over Providence, while Davis added 14 points and 15 rebounds. They became the first duo to record at least 14 rebounds in the same NCAA Tournament game since Florida's Al Horford and Joakim Noah.
Outlook against UNC: Texas A&M has six players who score at least nine points per game and 10 who play at least 10 minutes per night, so there will be plenty of options should Williams and Davis struggle to produce against UNC's small lineup. The Aggies have wins over Auburn and Kentucky this season, two teams who have spent most of the year in the top 25, but they don't have much else on their resume. Still, though, there is enough talent lining the roster to give the Tar Heels a solid run for their money.
Sweet 16- No. 3 seed Michigan (Most Likely Opponent)
Team nickname: Wolverines
Record: 28-7, with a fourth-place regular season finish in the Big Ten. Qualified with an automatic bid after winning the Big Ten Tournament.
Player to Watch: 6-foot-11-inch junior forward Moritz Wagner (14.5 points, 7.1 rebounds per game). Wagner is the engine that makes the Wolverine offense run, as his ability to shoot the ball from the perimeter–while also being able to do damage inside when needed–creates exactly the type of spacing the head coach John Beilein has always preferred.
Outlook against UNC: This is a matchup that has already played out once this season, with the Tar Heels earning an 86-71 victory over Michigan at the Dean Dome on Nov. 29.
In that game, UNC led by as many 29 points in the second half. Luke Maye scored a team-high 27 points, while Joel Berry chipped in 17. On the Michigan side, Wagner's 20 points were the only consistent offense the visitors could find all night.
Since then, however, the Wolverines have only lost five times and are currently riding a season-high nine game winning streak.
Other potential Sweet 16 opponents: No. 6 seed Houston
Elite Eight- No. 1 seed Xavier (Most Likely Opponent)
Team nickname: Musketeers
Record: 28-5, regular season champions of the Big East (qualified for the NCAA Tournament as an at-large bid)
Player to watch: 6-foot-6 senior guard Trevon Bluiett (19.5 points, 5.7 rebounds, 2.5 assists per game) has averaged double figures in scoring for all four years of his collegiate career. He has long been the focal point of Xavier's offense, and is shooting a career-best 42 percent from behind the three-point line this season–with a nightly average of over three made shots from deep.
Outlook against UNC: While obviously the toughest challenge for the Tar Heels on the way to the Final Four, Xavier has been billed by most of the sport's top analysts as the weakest No. 1 seed. One thing is for certain if this matchup happens, however. Points will be scored at a high rate. The Muskeeters average 84 points a night, ranking them 11th in the nation and 15 spots ahead of UNC–which scores at a clip of 82 points per game.
Other potential Elite Eight opponents: No. 4 seed Gonzaga (UNC defeated the Bulldogs in last year's NCAA Title game) and No. 5 seed Ohio State (the Tar Heels defeated the Buckeyes 86-72 on Dec. 23).
Photo via Todd Melet