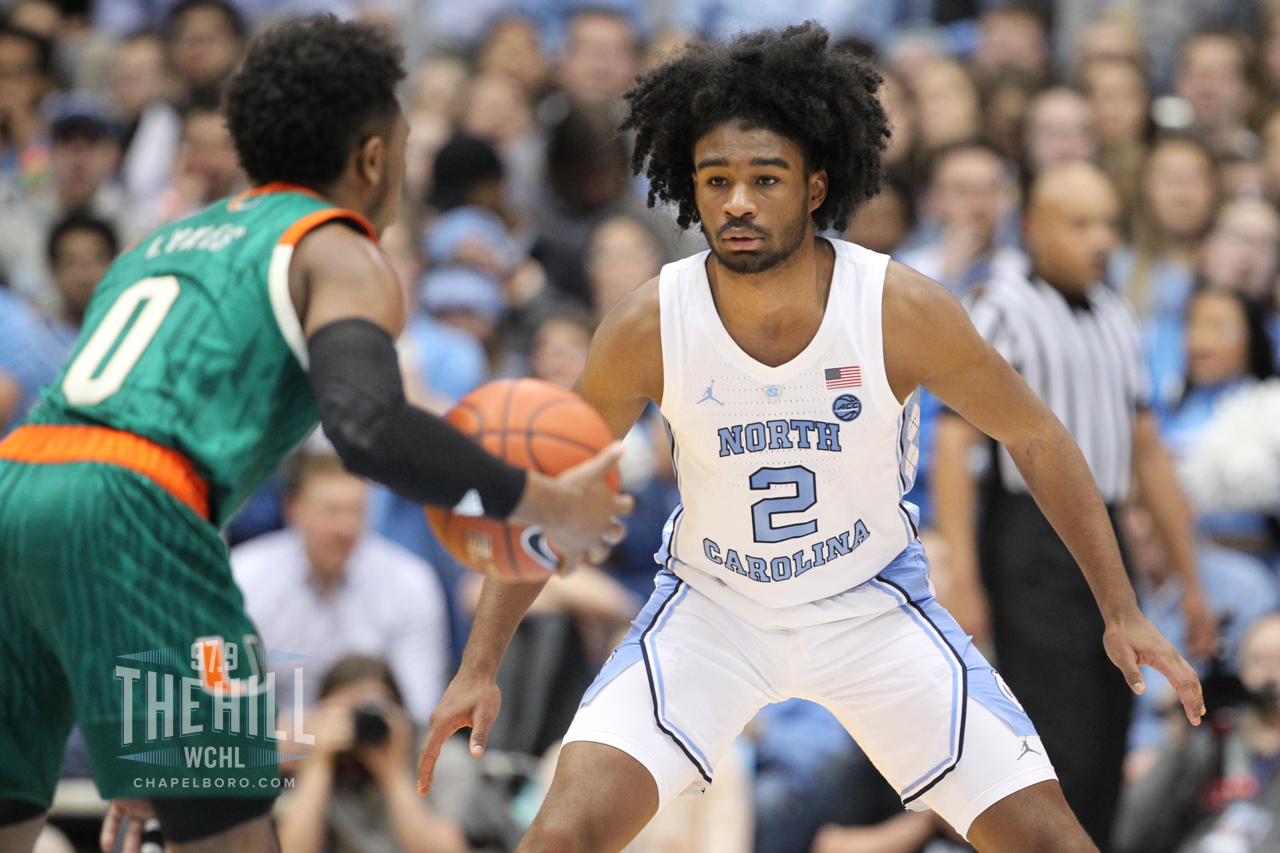 A furious rally in the last seven minutes of regulation on Saturday at the Dean Smith Center helped the No. 8 UNC men's basketball team force overtime and ultimately avoid a huge upset—as they defeated the Miami Hurricanes 88-85.
Down by seven points late in the game, the Tar Heels (19-4, 9-1 ACC) managed to claw their way back to tie things up behind freshman point guard Coby White and senior forward Luke Maye.
White had 17 of his career-high 33 points over the final seven minutes of the second half and then overtime, while Maye hit a clutch three-pointer to tie the game at 77 with just 12 seconds remaining on the game clock.
Maye also ended the day with 20 points of his own, as UNC narrowly escaped what would have been a monumental upset by a Miami team which has a record of just 10-13 this season (2-9 ACC).
Thanks to the late heroics, however, the Tar Heels have now won seven straight games and improved their record against ACC opponents to 9-1 for the first time in 16 seasons under head coach Roy Williams—a man that compared the game afterwards to a round of golf.
"If I play poorly on the front nine, that doesn't mean I'm gonna play poorly on the back nine," Williams told reporters. "If you beat me on the front nine, I'm gonna be more motivated to beat your butt on the back nine.
"You can change," the coach added. "You can't just say, 'Oh it's a bad day.' That's a bunch of junk. What you gotta do is keep playing every possession. And if you struggle, then you gotta play better. It's a pretty simple thing."
It was a performance that UNC would likely prefer to forget, but somehow it was able to scrape out a win despite not bringing its best effort for a full 40 minutes.
Miami made 14 shots from behind the three-point line, outrebounded the Tar Heels 39-32 and received an impressive 27 points from 5-foot-7-inch point guard Chris Lykes–but it still wasn't enough to steal the victory.
On most days, that would be the recipe to success for a big-time upset. Not only that, it usually means Williams would have trouble finding positive things to say about his team after the game.
With a crunch-time performance like the one he saw on Saturday, however, the coach's post-game message was more focused on the toughness displayed by his team.
"I feel very fortunate to say the least," Williams said. "I was questioning our kids' toughness the whole game—and still was doing it at the end—but I think they answered it pretty well down the stretch."
Up Next:
UNC will take on No. 3 Virginia at the Dean Dome this Monday at 7 p.m.
Game Notes:
The Tar Heels were once again without sophomore forward Sterling Manley (knee) and freshman guard Leaky Black (ankle).
UNC had four players score in double figures, with Cameron Johnson (12) and Nassir Little (10) joining White and Maye on the list.
This was the first time UNC has won all season when being out-rebounded.
Cover photo via Todd Melet