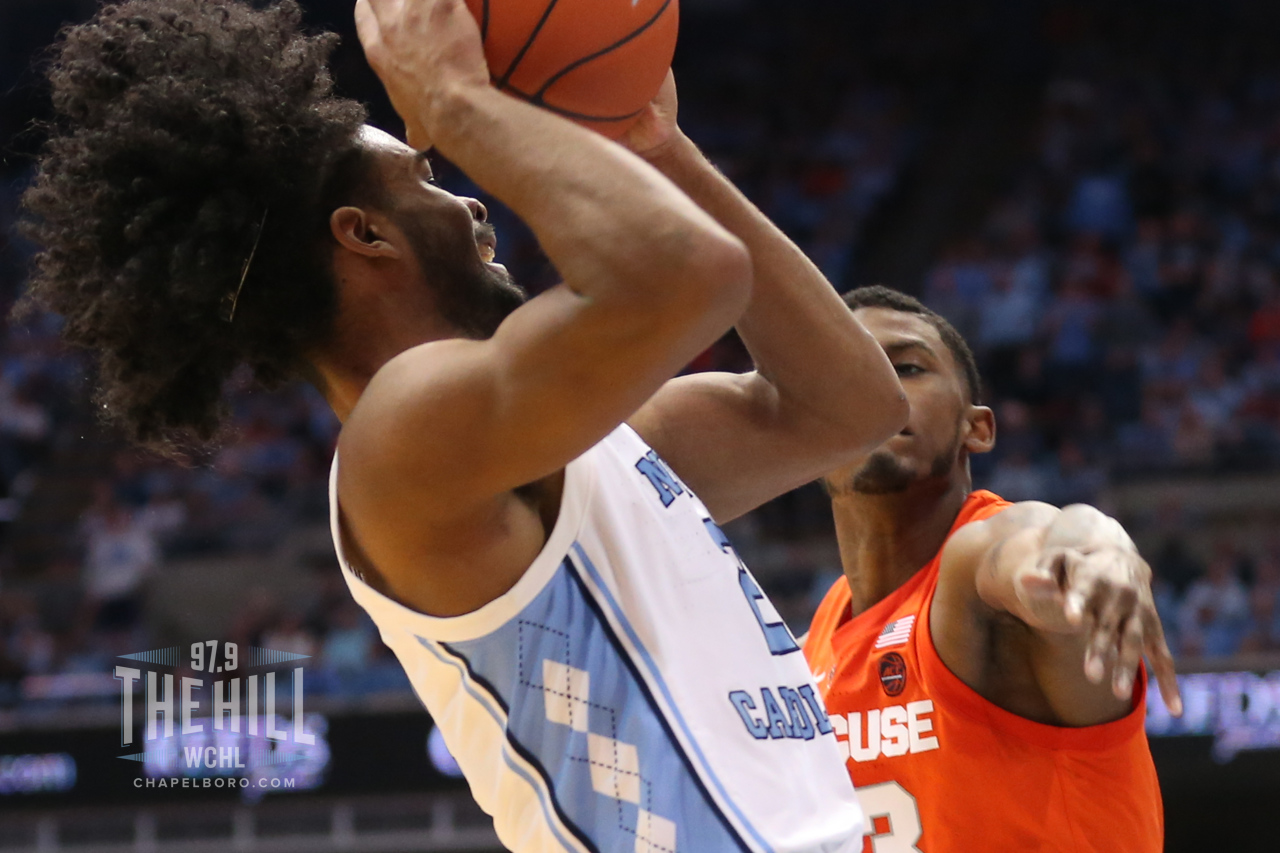 UNC freshman point guard Coby White broke out of his recent mini-slump in a big way on Tuesday night at the Dean Dome, scoring a career-high 34 points as the fifth-ranked Tar Heels held off the upset-minded Syracuse Orange down the stretch in a 93-85 victory.
Coming into Tuesday against Syracuse (18-10, 9-6 ACC), White had shot just 29 percent and scored 29 points in his last three games combined. With Syracuse playing as well as it did, though, UNC (23-5, 13-2 ACC) desperately needed White to regain his form to pull out the victory.
The Orange led for the majority of the first half thanks to a seemingly endless barrage of three-pointers.
White then scored five points in the last minute and change of the first half to shrink UNC's halftime deficit to just three, and followed up by exploding out of the locker room with nine points in the first three minutes of the second half to give the Tar Heels a lead they would not relinquish the rest of the way.
For the game, the Goldsboro native connected on nine of his 14 attempts from the floor—including a 6-for-11 mark from three-point range. White also became the first UNC freshman since Tyler Hansbrough to go 10-for-10 from the free throw line.
Needless to say, head coach Roy Williams had plenty of praise for his point guard after the game.
"I've said before, he's the best scoring point guard that I've coached," Williams told reporters. "Ty Lawson got to that stage later where he could really score.
"But Coby's a scorer, and I've never minded a scoring point guard" the coach added. "I knew he was bound to make some because he hadn't made any the last three or four weeks."
Syracuse had all the necessary ingredients for a big-time upset on the road, but wasn't quite able to get over the hump due to White's heroics ,of course, and also its own problems with fouling.
The Orange made 14 of their 31 three-pointers, which tied Miami for the most by a Tar Heel opponent this season. They also made 48 percent of their shots overall, while holding UNC to just 40 percent on the other end.
Other than White's career night, however, the Tar Heels mainly lived on the free-throw line—making a season-high 34 of 37 attempts from the charity stripe. It was the first time since last year's upset loss to Wofford that UNC made more free throws than it did shots from the floor.
Senior wing Cameron Johnson, who was second on the team with 16 points on Tuesday, attributed that statistic to the Tar Heels going into attack mode when their shots weren't falling as much as they'd like them to.
"You kind of gotta change things," Johnson said. "You know, approach them a little differently when things aren't working. And I thought free throws were big for us today."
With Duke losing to Virginia Tech prior to UNC's win, the Tar Heels now find themselves a half-game ahead of everyone else in the ACC standings at 13-2.
UNC has also won 11 of its last 12 games, and done so in a wide variety of ways—whether it be blowouts, overtime thrillers or wins like this one that require 34 free throws.
As the regular season approaches its conclusion, Johnson said this group understands their potential and is doing anything they can to make the most of it.
"We're excited," Johnson said. "We feel like we've got some momentum right now and we kind of want to take advantage of it and just enjoy it.
"For me, Kenny [Williams] and Luke [Maye], this is our second-to-last game in this building," he added, in reference to the team's other two seniors. "We're just taking it one day at a time, enjoying it along the way and just trying to win as many games as we can."
Up Next:
The Tar Heels will hit the road for their next game this Saturday, as they head south to take on the Clemson Tigers. Tip-off for that game is set for 6 p.m.
Game Notes:
Coby White became the first freshman in UNC history to score at least 30 points three times. He previously scored 33 against both Texas and Miami earlier this season.
Luke Maye's six assists represented a new career-high. He also added nine points and 12 rebounds.
The Tar Heels had 46 rebounds compared to just 25 for Syracuse.
Freshman wing Nassir Little was the only Tar Heel besides White and Johnson to score in double figures. Little shot just 2-for-9 from the field, but made seven of his eight free throws to finish with 11 points.
Cover photo via Todd Melet