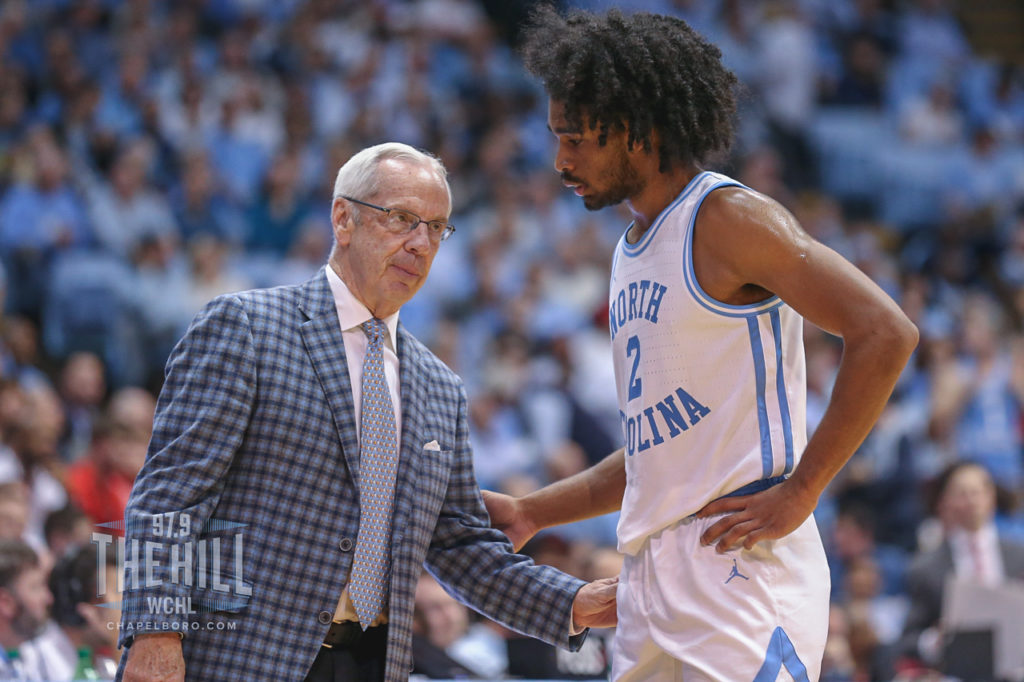 When Coby White was struggling with his shooting, he turned to his old college coach for inspiration.
White — who was selected with the No. 7 pick in the 2019 NBA Draft — got off to a hot start with the Chicago Bulls. He scored 42 points in his first two professional games while shooting 54% from the field.
However, the former UNC star has struggled as of late. White scored one point in the Bulls' game earlier this month against the Indiana Pacers and shot 31% over a three-game stretch.
Seeing this, Carolina head coach Roy Williams made the decision to take a flight to Chicago to be in attendance for the Bulls' game against the New York Knicks. It wasn't a recruiting trip, but rather a visit to encourage his former star point guard.
Roy Williams is in Chicago because he felt like he needed to give Coby White a hug and encouragement as he hasn't been shooting the ball very well recently. He is not recruiting. He's solely there to support his former point guard.

— Gregory Hall (@gregoryhall_) November 13, 2019
✈ The staff made it up to the @nyknicks 🆚 @chicagobulls game and caught up with a Coby and Wayne pregame 🏀#CarolinaFamily #ProHeels pic.twitter.com/65TglK4DW8

— Carolina Basketball (@UNC_Basketball) November 13, 2019
With Williams in attendance at the United Center, White had the best game of his career.
White scored 27 points, including seven three-pointers in the fourth quarter of the game. He became the first NBA rookie to hit seven threes in a quarter and the only Bulls player in franchise history to achieve that same mark.
7 threes in the fourth quarter alone. @CobyWhite WENT OFF.

Check out his game against the Knicks: pic.twitter.com/qdRanPWoGH

— Chicago Bulls (@chicagobulls) November 13, 2019
After the game, White shared how special it was for him to have Williams in the stands.
"He just told me to go out there and be Coby," White said. "That's all I got to do. It's a blessing to have him come all the way out here to watch me play in a regular season game. That just shows you how big of a family Carolina is and any recruit that's missing that, they're missing out."
White also joked that Williams needed to be in attendance for more of his games.
"If it's possible," White said, "can you come to more games? Because I haven't shot like that in a long time."
"I love you! Our relationship goes past basketball."@CobyWhite (23 PTS in 4Q) shares a moment with his college coach Roy Williams after setting a @chicagobulls record with 7 threes made in a quarter! #NBARooks pic.twitter.com/jwFXwavAnx

— NBA (@NBA) November 13, 2019
After sharing a hug with Williams on the court, White shared a heartfelt sentiment about his relationship with his former head coach.
"I appreciate you for coming. You know I love you," White said. "Our relationship goes past basketball. I love you."
Featured image via Todd Melet