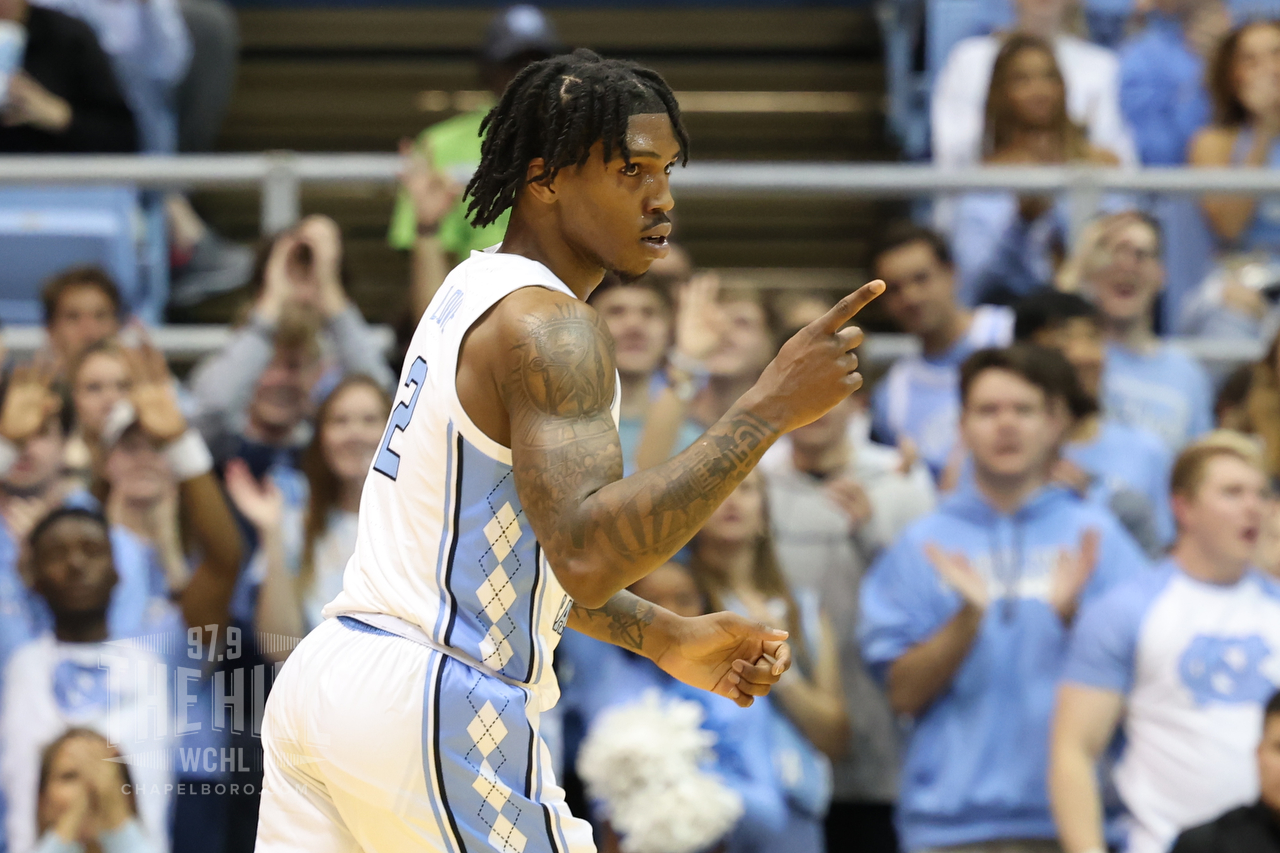 The No. 1 UNC men's basketball team flexed its muscles all night in an impressive exhibition 101-40 win against Johnson C. Smith. Carolina took control from the outset of the game and never looked back.
Final.#CarolinaFamily | @WellsFargo pic.twitter.com/s40tIPeKQo

— Carolina Basketball (@UNC_Basketball) October 29, 2022
Here are some takeaways from the Carolina win:
---
Caleb Love showed why he can win National Player of the Year. It's just an exhibition, and Love's backcourt-mate R.J. Davis wasn't playing, but Love's aggression off the dribble and court vision stood out. Head coach Hubert Davis challenged Love to lead the ACC in assists, and Love displayed great skill with long skip passes on the fast break. He finished with eight assists. Oh, and he scored, too. Love ended the night with 20 points on 7-14 shooting. One highlight saw Love dive to the floor for a loose ball, pass to a teammate, and then knock down a three-pointer on the same possession.
"That just shows his growth as a player," Davis said. "Not only can he score, can he defend, can he distribute, but those energy and effort plays, those are the things that are difference-makers when you're out there on the floor."
---
Tyler Nickel and Seth Trimble can both contribute as freshmen. Trimble, the younger brother of former Tar Heel J.P. Tokoto, showed off his fraternal similarities with a soaring, two-handed dunk in the first half. He also displayed great quickness and skill around the rim on a breakaway layup in the second.
"He's so explosive," Leaky Black said of Trimble. "That dunk looked just like his brother."
Nickel, meanwhile, staked his claim to quality minutes with a pair of three-pointers. The development of Trimble and Nickel would give Carolina the depth at guard it sorely missed last season.
---
Armando Bacot is still a load inside. The preseason ACC Player of the Year had a double-double in just one half of play with 10 points and 10 rebounds. He finished with 12 points and 20 rebounds. Just another day at the office.
---
Pete Nance is hyper-efficient inside. Though the graduate transfer struggled with his outside shot at times, he showed veteran savvy in the paint. Nance only missed one two-point shot in 27 minutes of action.
---
Buy stock in D'Marco Dunn. Though the sophomore guard played only sparingly in the 2021-22 season, he got the start Friday night in place of R.J. Davis (more on that later). Dunn showed why he can play even more during the regular season: he played solid defense, knocked down three-pointers and committed just one turnover in 23 minutes.
"I'm very proud of him," Love said of Dunn. "I know how much work he puts in. He's always in the gym."
"One of the things I've talked to the guys about is stacking good plays and good practices," Hubert Davis said. "And that's something that D'Marco has done. Giving him the start tonight was not anything that was given to him. He earned it."
---
There were a surprising amount of injuries to report. Four Carolina players didn't play Friday night: Justin McKoy (non-COVID illness), Puff Johnson (knee soreness), Jalen Washington (ACL recovery) and R.J. Davis (sprained hand). Before the exhibition, the program confirmed Davis would play in UNC's regular-season opener against UNC-Wilmington in November, but made no such promises for the other three.
McKoy likely will be available, but Johnson and Washington's absences are concerning. Washington dressed out and participated in warmups and is still recovering from the high school knee injury that caused him to miss all of his senior year. Earlier this summer, Hubert Davis had expressed confidence Washington would be ready for the regular-season opener. Johnson has dealt with numerous injuries during his time in Chapel Hill, but the team is hopeful he can put together a full season of work as a junior.
"They'll all be back for the opener," Davis said. "All four of them."
---
UNC will open the regular season on Monday, November 7 at 9 p.m. against UNC-Wilmington in Chapel Hill.
Featured image via Todd Melet. For a photo gallery of the game, click here.
---
Chapelboro.com does not charge subscription fees, and you can directly support our efforts in local journalism here. Want more of what you see on Chapelboro? Let us bring free local news and community information to you by signing up for our biweekly newsletter.