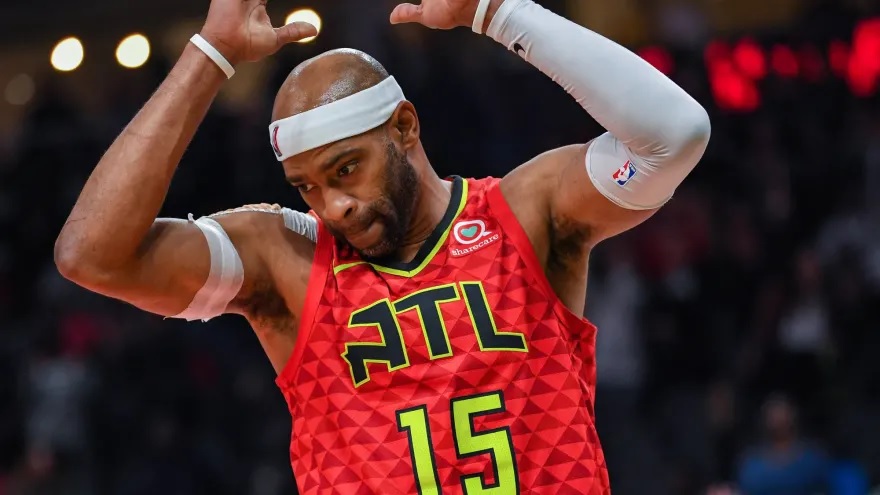 It appears Vince Carter's storied NBA career will have its final stop in Atlanta.
Carter agreed late Monday afternoon to a one-year deal with the Hawks, according to ESPN's Adrian Wojnarowski, as he prepares for his 22nd season in the league.
The former UNC star previously announced that this will be his final season before finally enjoying the spoils of retirement, and eventually earning a spot in the Naismith Memorial. Basketball Hall of Fame.
Originally selected fifth overall in the 1998 NBA Draft by the Golden State Warriors before having his rights traded to the Toronto Raptors, Carter is an eight-time All-Star who has spent time with a total of eight teams.
After being traded by the Raptors to the New Jersey Nets during the 2004-05 campaign, he would go on to play for a list of teams including: the Orlando Magic, Phoenix Suns, Dallas Mavericks, Memphis Grizzlies, Sacramento Kings and the Atlanta Hawks–where he spent last season as well.
Carter was also a part of the 2000 U.S. Olympic team, which won the gold medal at the Summer Olympics that year in Sydney.
Although he was known at the beginning of his career for his high-flying style–winning the 2000 NBA Slam Dunk contest with one of the most memorable performances in the event's history–the Daytona Beach native has taken his game to the perimeter more as he's aged.
His 2,229 career three-pointers rank sixth in NBA history, while his 25,430 career points rank 20th all-time.
Over the course of his 21 seasons in the league, Carter has averaged 17.2 points, 4.4 rebounds and 3.2 assists per game. Last season with the Hawks, he served as a veteran presence in a young locker room while still averaging 7.4 points in just over 17 minutes per game off the bench.
In a bit of fun trivia, the 42-year old is older than the father of the Hawks' star point guard Trae Young. Atlanta also selected Duke freshman Cameron Reddish in the first round this past June, a player who was just five months old when Carter won the 2000 Slam Dunk Contest.
Photo via Associated Press