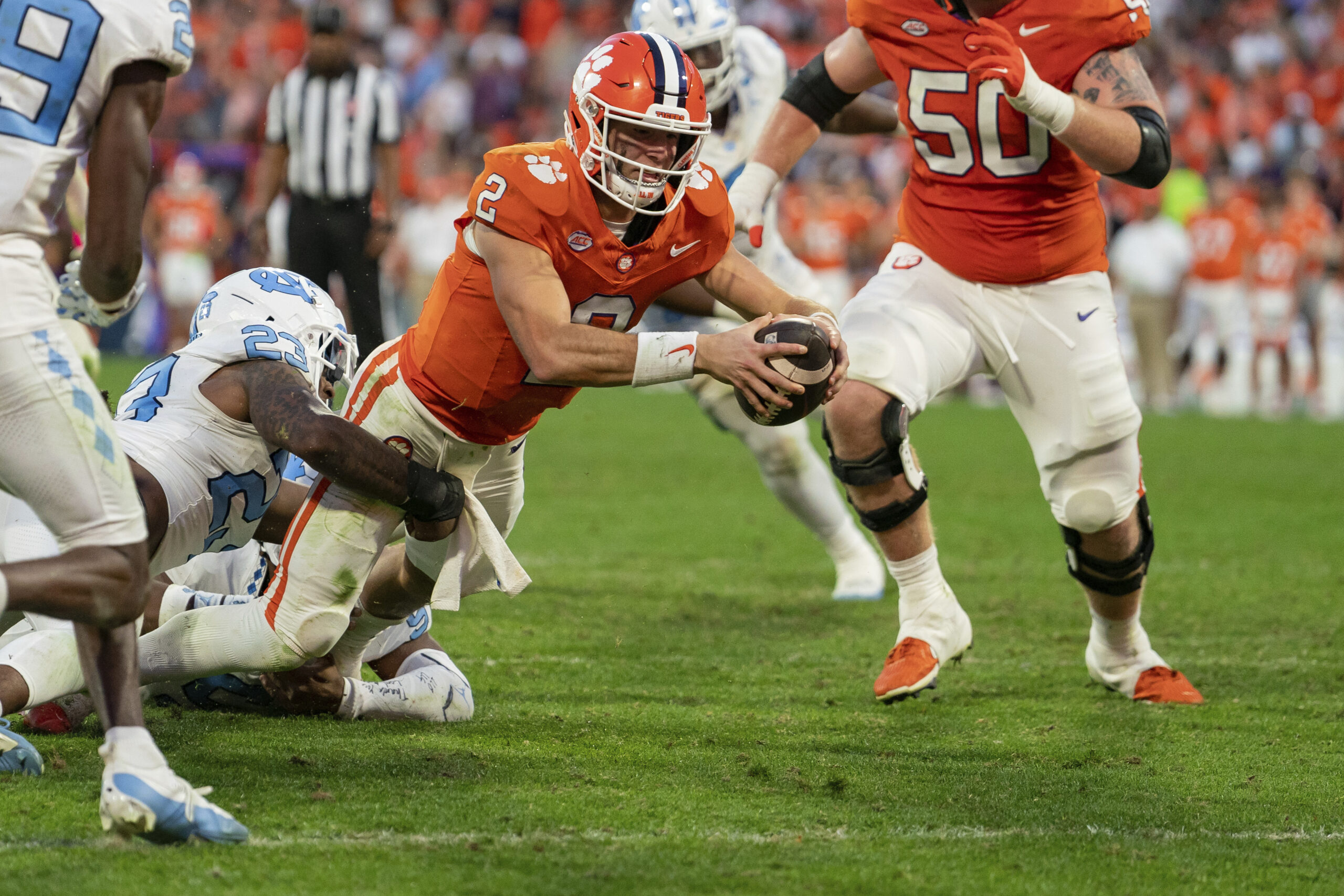 Blunder after blunder sent the UNC football team to a 31-20 loss at Clemson on Saturday. The Tar Heels haven't won in Death Valley since 2001.
Running back Omarion Hampton put up gaudy numbers with 178 yards and a pair of touchdowns, but it was two touchdowns Hampton didn't score which served Carolina with an early gut punch. Hampton, who came into Saturday's game without a single fumble on the season, fumbled twice inside Clemson's five-yard line in the first quarter. That included a play which appeared to be a long touchdown run, only for Hampton to be chased down by Clemson's Nate Wiggins and have the ball punched out just before he crossed the goal line. The ball rolled out of the end zone for a touchback, giving the ball back to the Tigers.
Clemson followed that momentum swing up with an 80-yard touchdown drive, tying the game at 7-7. The Tigers would score two more unanswered touchdowns – including one with just a second to go in the first half – to put Carolina in a deficit which proved too steep to overcome.
Carolina's offense as a whole stalled in Tiger territory all night long. Seven Tar Heel drives entered the Clemson half of the field, but only three of them ended in points. Of the four that didn't, two were the Hampton fumbles and the others were turnovers on downs. UNC, which entered the game converting half of its 4th down attempts on the season, ended the night just 2-5 on 4th down conversions. Clemson posted a 2-4 mark, though one of its two failed attempts was a fake punt. The two successful conversions led to a pair of touchdowns.
Tiger quarterback Cade Klubnik, who won ACC Championship MVP honors Carolina last December, played well once again at the expense of the Tar Heels. Klubnik completed 21 of 32 passes for 219 yards and a touchdown, but his biggest play came on a three-yard touchdown run as the clock expired on the first half. With the clock running and Clemson out of timeouts, Carolina could have stopped the Tigers and sent the game to halftime even at 7-7 by tackling Klubnik, but he fought through a pair of tacklers and scored by the absolute nose of the football to give Clemson the lead. That drive included a roughing the passer penalty on linebacker Cedric Gray which negated an interception in the end zone.
It was all part of a 247-yard performance on the ground from Klubnik, Phil Mafah and Will Shipley. Carolina had no answer for that trio, with Shipley averaging seven yards per carry. The Tar Heels have allowed 100 or more yards on the ground in five straight games, and at least 179 in their last four against Power 5 teams.
The loss drops Carolina to 8-3 on the season going into the season finale at NC State next weekend.
Featured image via Associated Press Jacob Kupferman
---
Chapelboro.com does not charge subscription fees, and you can directly support our efforts in local journalism here. Want more of what you see on Chapelboro? Let us bring free local news and community information to you by signing up for our biweekly newsletter.