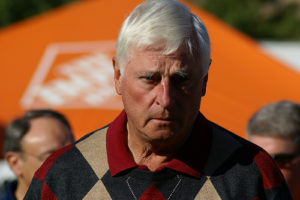 The "30 for 30" on Bob Knight is compelling in its insanity.
If it wasn't for the current president of the United States living in his own alternate reality, the ESPN special on Bob Knight would have seemed even worse than it was. And it was very, very bad for Knight — who apparently now lives in seclusion somewhere, hunting and fishing.
Perhaps ESPN, which employed Knight as an analyst for seven years, wanted to put lots of distance between Knight's last game on the network. Why would it air a docu-drama that occurred almost 20 years ago, which nevertheless was riveting because Knight was a singular character, at best boorish and at worst criminal.
Besides Knight refusing to be interviewed for the piece, which relied on footage of his in-game and extra-curricular activities, the loyalty of his coaching brethren spoke volumes in its silence. Yes, coaching is a close fraternity of guys who compete hard and snipe at each other off the record, but few of them ever criticize colleagues like Knight and Rick Pitino when they break the rules of law, sport or society.
Two hours chronicled a borderline madman who despite being an aggressive and violent coach still became the most powerful employee at Indiana University, where administrators turned their heads for as long as they could and students protested and threatened those who told the truth about the tyrannical coach.
The Last Days of Knight began when he was exposed for choking one of his players and eventually verbally and physically abusing other players and even some employees at IU. And it had a sad subplot – the shortened life of Neil Reed, the player who ratted on Knight for grabbing him by the neck in practice.
While Knight was contrite during press conferences when his job was in jeopardy, he showed none of that remorse in his senior years. He has long held the Indiana brass, most of whom have died or retired, responsible for his firing and has refused every invitation to return to Bloomington and celebrate some of his greatest team accomplishments.
He told radio talk show host Dan Patrick that he hopes all who participated in his eventual ouster are dead or will die in short order. Knight may not realize, in this here and now era of news, that fewer people remember him . . . and compared to this particular legacy his 902 victories and three NCAA titles don't mean that much.
Podcast: Play in new window | Download