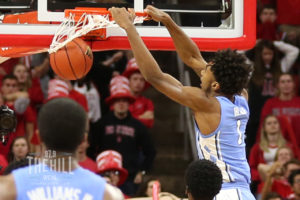 Photo by Todd Melet
I guess you could call Carolina's win at State pretty ugly.
The Tar Heels continued their six-straight dominance over N.C. State in Raleigh by using almost everything they had in their tank to hold off the Wolfpack and overcome their own mistakes. For example:
Turn the ball over 23 times against a good team on the road, and you are not going to win very often. But Carolina only gave up 11 points on those turnovers after hustling on defense that stole the ball back or forced difficult finishes for State.
Lose leading scorer and best outside shooter Cameron Johnson for the last 12 minutes could be fatal in a close game with young players coming off the bench. However, bullet man Coby White put his pedal to the medal, Leaky Black came in for two big baskets, a steal and a block when he could have been intimidated, and even Nassir Little bounced back from a horrible first half to make a big bucket along the baseline.
Luke Maye only had 21 points and 11 rebounds after his two 30-plus games against State last year, but looked like he was playing as hard as he possibly could to keep the team on his back and with Kenny Williams leads the third straight senior class never to have lost at the PNC Arena.
While Williams hasn't shaken his  offensive woes, he continues to grab critical rebounds, draws charges and still makes a big shot when the Heels absolutely need one.
Despite losing 12-0 and 16-4 leads early in the game, Carolina allowed State to tie the score but never go ahead. The turnovers continue to kill Roy Williams, who nevertheless loved the 51-33 domination on the glass that his team should have against a smaller opponent. And just when Sterling Manley's loss seemed critical, Garrison Brooks had one of his best college games with 11 points, 7 rebounds, 5 assists and no turnovers, playing stronger with the ball than perhaps he ever has.
Williams played 10 men, eight of them at least 10 minutes. That won't be the regular rotation in most games, but the subs out there scrapping and hustling got the Heels to the final buzzer without Johnson, who thankfully only had leg cramps when it at first looked at lot worse. A true team win is everyone who plays putting it all on the line every minute they're out there and not letting mistakes deter them. The turnovers must be fixed, but 2-0 on the road is a dad-gum good ACC start.
Podcast: Play in new window | Download