See what happens? The General Assembly comes back in session for one week and now we've got a Congressman living in somebody else's district, two different dates for two different primaries, a whole new filing period for an election cycle that began months ago, and a new set of Congressional district lines that resolves almost none of the problems that started this whole fiasco in the first place.
Isn't it time for North Carolina to end gerrymandering forever?
In case you haven't been following the saga – or in case all the rapid developments have left you utterly confused – here's where we are today.
Earlier this month, a three-judge panel ruled that state lawmakers had violated the U.S. Constitution when they redrew North Carolina's Congressional district lines in 2011. Trying to maximize the number of GOP-controlled districts, lawmakers "packed" black voters together into two districts, the 1st and the 12th. That's a violation of the 15th Amendment, which bans racial discrimination.
The judges ordered lawmakers to redraw the district lines before the next election – namely, the March 15 primary. Because the primary was barely a month away, the judges gave lawmakers a two-week deadline: the districts had to be redrawn by February 19.
Lawmakers asked the judges for a stay – arguing, in essence, that it would be better to have an unconstitutional election than to go through the chaos of a last-second redraw. (Especially since some voters have already mailed in their absentee ballots.) But the judges said no: unconstitutional elections are unconstitutional elections, and they can't be allowed to proceed, chaos or no chaos.
Lawmakers appealed to Supreme Court Chief Justice John Roberts for a stay. Roberts waited more than a week to respond, but on Friday he denied the appeal. (The full Supreme Court could still decide to hear the case – though that's not likely – but either way, Roberts' denial means the lower court ruling must be followed for now.)
Facing a rapidly approaching deadline, Governor Pat McCrory called the General Assembly back into session this week for a last-second redraw. After two days of hearings, lawmakers unveiled a new map on Thursday – drawn, this time, by officials who were purposely ignoring racial statistics – and officially approved it on Friday.
But the new map does, indeed, create chaos. The 12th district, which used to snake down I-85 from Greensboro to Charlotte, is now just a block of Mecklenburg County, with an entirely different set of voters. Republican Congressman George Holding represents the 13th district, but his home got reassigned to David Price's district, the heavily Democratic 4th. (Technically Holding could still run in the 13th district – you don't have to live in the district you represent – but the redrawn 13th is so far away from his home that it actually makes more sense for him to run in the 2nd district, which would pit him in a primary against fellow Republican Renee Ellmers.) Numerous other candidates now no longer live in the districts they've been campaigning in – and nearly all the candidates are upset because they've wasted time and money trying to win over voters who've just been abruptly moved to some other district.
And although officials did meet the court's deadline, lawmakers realized there's not enough time to print new ballots, re-educate residents, and take care of absentee voters in time for a March 15 primary – so the GA also passed a bill creating a second primary on June 7, just for the U.S. Congressional races. (Congressional candidates will have to re-file for office, beginning on March 16.)
Oh, and by the way, all the old Congressional races are still going to be on the March 15 ballot too – just in case the Supreme Court steps in and overturns the lower court between March and June. So have fun with that.
So, to sum up: you now have two primaries to vote in, not just one. There's a good chance you just got moved to a new district, for the second time in five years. Candidates who've already spent thousands of dollars running for office now have to go back to square one and start again. One incumbent who represents District A now lives in District B and is planning to run in District C. Naturally lawmakers blamed the judges for all this, but the court wouldn't have stepped in at all if the GA hadn't drawn the map in such a cockamamie way in the first place.
Oh, and there's almost certainly going to be another lawsuit challenging this map too, so we may have to do this all over again in two years.
Here's what the old map looked like. Check out that ridiculous 12th district! You could throw a bowling ball in district 8 and it would land in district 5.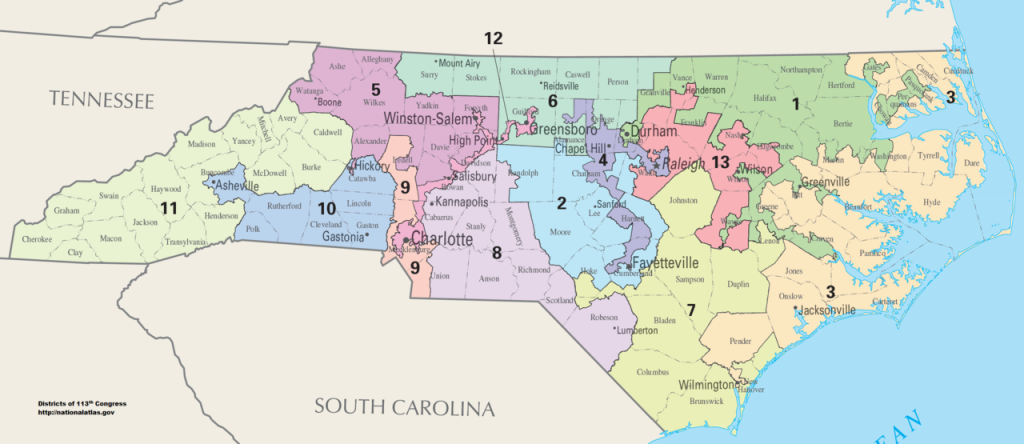 Here's the new map, looking better with a revised 12th…but still a crazy-shaped 4th, and a 13th that's magically leaped from east of Raleigh to west of Greensboro. There are two sitting members of Congress who now live in the 13th, and neither one of them is the guy who actually represents that district.
Still with me?
Ready for the best part?
For all the scurrying and last-second maneuvering this week, lawmakers did absolutely nothing to fix the one problem that caused all this chaos in the first place.
In fact they explicitly went out of their way to avoid doing so.
On Friday, while details were still being finalized, I spoke with NC Central School of Law professor (and Carrboro Mayor) Lydia Lavelle. Here's our conversation.
The issue that started this whole mess is partisan gerrymandering. Why, in 2011, did the General Assembly vote to approve a plan that packed black voters into two districts? Because the GA was controlled by Republicans, and they were trying to create as many Republican-majority districts as possible. This is not speculation: we know this is true because they said it was true. (And Democrats did the same thing when they controlled the GA. We've been through this exact same fiasco three decades in a row.)
The 15th Amendment bans racial gerrymandering, but the Constitution doesn't explicitly forbid states from privileging one party over another – so naturally, just about every state does it. If Party A controls the state legislature, lawmakers draw the district lines to "pack" Party B's voters together into as few districts as possible. They're really good at it, too. When Republicans got to redraw North Carolina's lines after the 2010 census, they packed Democrats together so effectively that in 2012, the GOP won nine of the state's 13 Congressional seats even though Democrats got more votes overall.
Partisan gerrymandering makes an absolute mockery of democracy. Everybody knows it and everybody freely admits it. But as long as there's no law against it – and as long as state lawmakers are in charge of drawing their own district lines – they have every incentive to keep doing it, in order to keep themselves and their party in power.
And because partisan lines are often racial lines too – blacks tend to vote Democratic, whites tend to vote Republican – then every time the GOP tries to pack Democrats into one or two districts, they're going to end up packing black voters into one or two districts as well. Which means more lawsuits, more uncertainty, and more chaos. Every. Single. Time.
(This is true no matter which party controls the process, by the way. Democrats ran the show when the 2000 census came in, and the resulting legal fight didn't wrap up until 2009.)
Did the GOP learn its lesson? Good Lord, of course not. This week, when the GA asked lawmakers to draw a new map, they also directed those lawmakers to make sure to preserve that 10-3 Republican majority. (Seriously, they took a vote on it and everything.) One Republican this week said he was only supporting a 10-3 GOP majority because there didn't seem to be a way to make it 11-2. (Seriously, he said that in public.)
This is completely bonkers.
Is there a way to fix it?
Yes, as it turns out. It's actually really easy: partisan gerrymandering exists because state lawmakers have the power to draw their own district lines – so the way to fix the problem is simply to give that power to somebody else.
There is a proposal on the table to create an independent, nonpartisan redistricting commission. Every ten years, after each new census, this commission would be in charge of redrawing the boundaries for North Carolina's State House, State Senate, and U.S. House districts.
No partisan bias. No inadvertent racial discrimination.
Fourteen other states already do it this way.
In North Carolina, the push for independent redistricting is being led by the NC Coalition for Lobbying and Government Reform. Earlier this week, I spoke with the Coalition's director, Jane Pinsky.
Do North Carolinians support this plan?
Yes, they do. A survey from Public Policy Polling, just released this week, found that 59 percent of North Carolina voters support an independent redistricting commission – compared with only 9 percent who oppose it. Voters across the political spectrum are all in favor: 65 percent of Democrats, 56 percent of independents, and 54 percent of Republicans all approve this plan. (Only 6 percent of Democrats, 12 percent of independents, and 11 percent of Republicans are opposed.)
Just how unpopular is partisan redistricting? Last year, PPP found that more North Carolinians actually approve of man-eating sharks than the current redistricting system.
Okay, so how about state legislators? Do they support this plan?
Yes they do too, as it turns out. Even though it would mean they'd have to give up power, there's actually fairly strong support for independent redistricting in the General Assembly, among Democrats and Republicans alike. Naturally support for reform is always greater among the minority party – Democrats tend to be more in favor of it today, while Republicans were more supportive back when the Dems were in control. But high-ranking Republicans, including Skip Stam, joined high-ranking Democrats together on the podium last year at a much-ballyhooed press conference to renew the push for redistricting reform – and in 2011 the State House actually approved a reform bill.
How about think tanks? Liberal? Conservative?
Yep, they all support it too. That press conference last year had people together from NC Policy Watch (liberal), the Pope Foundation (conservative) and the John Locke Foundation (conservative/libertarian). All in favor.
So why don't we have an independent redistricting commission?
This guy:
This is State Senate President Pro Tem Phil Berger. He's in charge of deciding which bills get brought up for a vote on the Senate floor – and he has made it clear that he has no intention of letting the Senate vote on this.
(And after this week? He said he hasn't changed his mind. But you knew that already.)
So after all that, here's where we stand: total electoral chaos in North Carolina that's only just now beginning to subside…two primaries scheduled in the next four months…a completely redrawn Congressional map for the second time this decade…candidates scrambling to file to run in all new districts…the looming prospect of another round of lawsuits…and an easy solution that North Carolinians overwhelmingly want, which lawmakers flatly refuse to consider.
It's good to see, when it comes to legislative incompetence, Raleigh is still managing to keep pace with Washington.
If you want to know more about the fight to end gerrymandering (partisan, racial, or otherwise) and enact real redistricting reform, visit EndGerrymanderingNow.org.