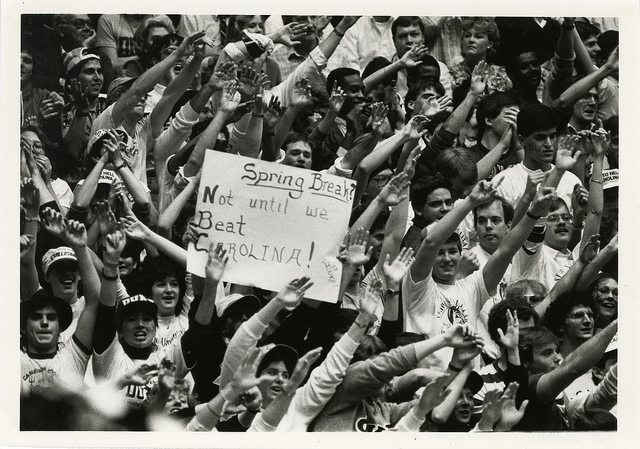 I am glad I waited until after the Duke game to write this column. I'm not sure I would have known what to say about the Miami game! Even though we lost at Duke, that was much more of the Carolina team we've all been used to seeing for years.
Wasn't it interesting to watch two hall of fame coaches matching wits, going against each other with strategies and counter strategies? I wasn't surprised when Coach Williams started P.J. because it's a good match up against Duke. Give Coach credit for realizing that and putting his best players on the floor to start the game.
It worked against Duke because of the match-up with their big forward, but it won't work against every team. In fact, we might not have done it if Ryan Kelly was still playing for them.
Most times in the NBA, when one team goes small, the other goes small, that's what happened throughout the game and especially when Coach K took out Plumlee with three fouls in the second half. The game turned when they made a couple of shots, like Thornton's 3's, that really gave them confidence. When Duke is making those threes, they're awfully tough to guard.
On the other hand, we missed some shots and we could have won the game. Missing shots, you can correct that. You never want to be happy with the loss, because a loss is a loss, but when it's the bounce of the ball, or you missed some and they made some, that's going to happen. The losses where you leave something on the floor when it's over, that's where you have to be concerned as a coach and a player . We did not leave anything on the court at Duke.
Both teams really battled, and both didn't play as well as they could. But it was like a heavyweight championship match, the intensity was there from opening tip. As Carolina fan, you wanted more, but basketball purists watching across the country had to love that game.
I had hoped we'd be ready to play after what happened at Miami but, even as a coach, I could never tell whether a team was ready during warm-ups They could be looking like they weren't concentrating and then set world on fire. Or the other way around.
Coach Smith used to say you can scout teams all you want but you don't know until first four of five minutes of the game what both teams are going to do. That's really your scouting report, like our small line-up probably surprised them a little.
We got much better shots in the first half because we were able to get into the seams of their defense and make it react or draw support from other defenders. Too many bad things can happen when you allow penetration. We got better looks, offensive rebounds and got them into foul trouble. I think Duke knew at the half that they had to stop our penetration.
There are two ways to do that. You can take the pressure off just to keep your man in front of you, which is what Duke did, or you can be so tight on your man the catch. They gave up some open jump shots, but we couldn't get them to go down. And they got a couple of key offensive rebounds that they turned into baskets.
Going down the stretch, sometimes ill-advised shots are going to come from inexperienced players who want to make something happen. That gets better with experience and the only way you get through that is to go through it. And some of our younger guys are going through it now.
The Virginia game Saturday will be interesting. On one hand, I wouldn't be surprised if P.J. started again at the 4 because they are small and it's a good match-up in that regard. But Virginia has a different style than Duke, they walk the ball up and try to get into a physical game with you. So, for that reason, Coach might go back with the size.
It's a big game for sure, and our guys need to come ready to play again.

Image by The Duke Yearlook