Welcome to Woman Crush Wednesday!
This week, join 97.9 The Hill's Ali Evans for a conversation with Raenia Agostino, Founder and Executive Coordinator of Friends with Benefit Charity Events.
If you are from North Carolina, attended high school before 2012, or even if you have a Netflix or Hulu account, there's a good chance you've heard of the TV Show One Tree Hill. Filmed in Wilmington, NC for 10 years, One Tree Hill is a show with a little something for everyone. What you probably didn't know, however, is even though it's been eight years since the final episode aired – the show is still changing lives. Raenia Agostino is a big reason why.
In 2016, after learning all about the amazing work St. Jude's hospital does, Raenia wanted to find a way to give back. Feeling a deep connection to One Tree Hill and knowing she wasn't alone led her to the answer, Friends with Benefit Charity Events. Fans of the show can travel to Wilmington and not only see the sights where the show was filmed, but meet members of the cast as well. Raenia has created a one-of-a-kind experience full of compassion and inclusivity by connecting the show's cast and it's dedicated fans in a way that others have tried, but didn't succeed.
Connor Kerkowski from Scranton, PA is one of those dedicated fans. He turned his love of One Tree Hill into a twitter diary, creating the most popular fan-based community along the way. @OTHdiary is a little touch of One Tree Hill nostalgia sprinkled into everyday life. Connor and Ali chatted about the impact the show has had on the city of Wilmington, and how it's shaped Connor into who he is today. Listen here:
---
Also eager to sing Raenia's praises was Skyla Makay, from Charleston, SC – one of the volunteers who worked tirelessly throughout the weekend in Wilmington to be sure the cast and attendees had the best time possible. Skyla was surprised by the genuine connections formed through a TV show, and said the fans "elevated my view of humanity." Listen to Ali's and Skyla's conversation here:
---
Ultimately, none of this would be possible without the woman in charge, Raenia. Friends with Benefit Events is a dream that Raenia had for over a decade, that fans from all over the world are so thankful she never gave up on. That's not to say there weren't challenges along the way. The initial response from Raenia's friends to her goal of a One Tree Hill fan event? "You're never going to do this. "You're dreaming." Last we checked, dreaming is a good thing. Luckily, Raenia never gave up on that dream, and she now has hundreds of dreamers right along with her.
Raenia's philosophy sounds like something right off the pages of a One Tree Hill script: "Never stop dreaming, and those dreams can come true."
Listen to Ali and Raenia's full conversation below – recorded straight from Wilmington! Check back next Wednesday for another introduction to some of the most amazing women in our community!
---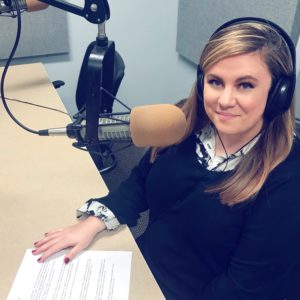 Join 97.9 The Hill's Ali Evans every Wednesday for another edition of "Woman Crush Wednesday," a three-minute weekly recurring segment made possible by Mosaic Comprehensive Care that highlights motivated women and their impact both in our community and beyond. If you'd like to nominate someone to be featured on WCW, email ali@wchl.com