Welcome to Woman Crush Wednesday!
This week, join 97.9 The Hill's Megan Sweeten, General Manager of Goldfish Swim School in Chapel Hill!
Megan has been with Goldfish Swim School for four years, and continues to grow more dedicated to swim safety each day. Megan says the most gratifying part of her job is "seeing the kids come in on their first day, scared of the water, to that first day that they'd put their face under water, or master a skill that they've been working on for a while – just how proud they are of themselves."
While swimming is a fun activity when it heats up in the summer, Goldfish Swim School's mission is teaching swimming to kids, first and foremost, as a life saving skill. "Drowning is the leading cause of death for children under the age of four, and the second leading cause of death for children under the age of 14, so the first thing that we focus on is comfort in the water and water safety." Teaching kids how to dial 911 and locate the life ring at any pool they visit can even develop water safety techniques before kids ever enter a pool.
While we wait for Goldfish Swim School to reopen, you can visit them on Facebook and Instagram for fun photos and great tips for keeping kids safe in, and around, the pool.
Listen to Ali and Megan's full conversation below, and check back next Wednesday for another introduction to some of the most amazing women in our community!
---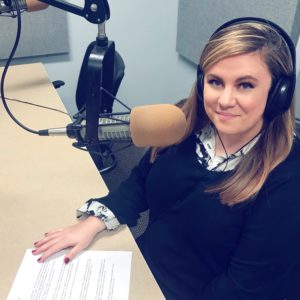 Join 97.9 The Hill's Ali Evans every Wednesday for another edition of "Woman Crush Wednesday," a three-minute weekly recurring segment made possible by Mosaic Comprehensive Care that highlights motivated women and their impact both in our community and beyond. If you'd like to nominate someone to be featured on WCW, email ali@wchl.com