Welcome to Woman Crush Wednesday!
This week, join 97.9 The Hill's Ali Evans for a conversation with Lysandra Weber, owner and founder of Geek Chic Clothing.
When Lysandra continued coming up short when shopping for clothing that fit her personal style & body shape, she decided to start creating her own. After trying out her sewing skills creating a pencil skirt she wore to work, Weber found her coworkers were asking where she got it, saying "it was cool to see that the things that I've made for myself, other people want it."
When asked what message she wants people to receive when they find her brand, Lysandra shared she wants "women and female identifying people to accept their body no matter what shape they're in. Women have been fed so many negative messages about our bodies, and I just want to be the opposite of that in an industry where that's the norm."
View this post on Instagram
Be sure to check out Geek Chic Clothing's website full of beautiful and comfortable hand-made clothing, and follow Lysandra's journey as a fashion designer and business owner on Facebook and Instagram.
Listen below for the full conversation between Ali and Lysandra, including what she means by "no woman is an island," and tune in next Wednesday for the next WCW introduction to another amazing woman in our community!
---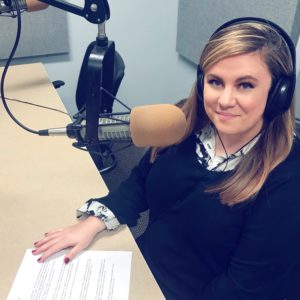 Join 97.9 The Hill's Ali Evans every Wednesday for another edition of "Woman Crush Wednesday," a three-minute weekly recurring segment made possible by Mosaic Comprehensive Care that highlights motivated women and their impact both in our community and beyond. If you'd like to nominate someone to be featured on WCW, email ali@wchl.com.
---
Chapelboro.com does not charge subscription fees. You can support local journalism and our mission to serve the community. Contribute today – every single dollar matters