Welcome to Woman Crush Wednesday!
This week, join 97.9 The Hill's Ali Evans for a conversation with Jenny Schwade, owner of RosieGlow Skin Studio in Chapel Hill. RosieGlow offers Facials, Microdermabrasion, Chemical Peels, and more.
Jenny has been a certified aesthetician for 16 years, and is committed to helping women and men find their glow inside and out. While the instant gratification we see on the outside thanks to aesthetic care is great, it's the inside feeling that is more important to Jenny, especially in an industry that places so much focus on how we look. "So much about the beauty industry and self care can actually turn into self doubt. When we see all the filters and the pressure to look perfect all the time, it's so unrealistic and it permeates our self-esteem."
Schwade also shared that she wants to change the conversation around facial treatments, shifting them from being seen as a luxury, to something that is part of our regular routines. "I wish more people knew that it can be simple and accessible, that it isn't something that is a rare luxury. It's really for anyone who wants to cleanse their skin, have a healthy glow and create a beautiful result. It isn't something that you have to spend a lot of money or time on."
Book your next facial with RosieGlow Skin Studio and see why Jenny's holistic approach to skin care gives her clients a special glow. RosieGlow Skin Studio is the presenting sponsor of "Glowing Review," so you can read all about Ali's experience getting a Microdermabrasion Facial before you book your own!
View this post on Instagram
Listen below for the full conversation between Ali and Jenny below, and tune in next Wednesday for the next WCW introduction to another amazing woman in our community!
---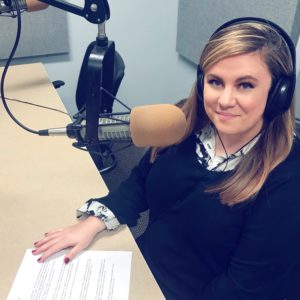 Join 97.9 The Hill's Ali Evans every Wednesday for another edition of "Woman Crush Wednesday," a three-minute weekly recurring segment made possible by Mosaic Comprehensive Care that highlights motivated women and their impact both in our community and beyond. If you'd like to nominate someone to be featured on WCW, email ali@wchl.com.
---
Chapelboro.com does not charge subscription fees. You can support local journalism and our mission to serve the community. Contribute today – every single dollar matters