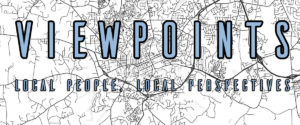 "Viewpoints" is a place on Chapelboro where local people are encouraged to share their unique perspectives on issues affecting our community. If you'd like to contribute a column on an issue you're concerned about, interesting happenings around town, reflections on local life — or anything else — send a submission to viewpoints@wchl.com.
Remembering Representative David Price's 35 Years as an International Humanitarian
A perspective from Pearl Teiko

After 35 years of serving the 4th district of North Carolina, Representative David Price is retiring from Congress. While much of his career has been devoted to domestic matters, Price has also been dedicated to the resolution of international issues, serving as a key member of the House State, Foreign Operations and Related Programs subcommittee of Appropriations. Time after time, Mr. Price has supported legislation to address the spread of infectious diseases, promote democracy abroad, and provide funding for international institutions and global humanitarian efforts. With his support of these initiatives, Representative Price has undoubtedly improved life for millions in the U.S. and abroad.
Congressman Price has repeatedly championed advances in health systems strengthening. His stewardship of primary health care domestically has improved the lives of millions, as the All America Act significantly expanded and reorganized the delivery of primary health care services. He wrote a letter to President Obama about the importance of the Global Fund to Fight AIDS, Tuberculosis, and Malaria organization, citing its "financing of critical health programs," as well as its insistence on setting measurable benchmarks. Internationally, he has supported numerous funding increases for USAID and global health programs to address these endemic diseases and co-sponsored the Comprehensive Tuberculosis Elimination Act of 2003. He also understands how important global health improvements are to North Carolina, having led a panel to discuss the nearly $37 billion the global health sector adds in value to the state's economy.
Many of Representative Price's greatest accomplishments come from his use of foreign aid to support international institutions and condemn injustice abroad. In 2001 and 2005, Price voted against restrictions on UN funding, and voted in favor of maintaining US World Bank funding in 2018. His support of foreign aid and democracy also applies to international conflicts. In 2009, Representative Price voted in favor of the Enhanced Partnership with Pakistan Act, which provided funding to health care, education, social services, and humanitarian aid in Pakistan. In 2018, Mr. Price co-sponsored a resolution reaffirming US support of a two-state solution to the Israel-Palestine conflict and sponsored a resolution expressing support for democracy and territorial integrity in Moldova.
More recently, he voted for 2022 legislation to appropriate 13.6 billion dollars in supplementary humanitarian aid to Ukraine. Congressman Price has supported the global and local community through various humanitarian aid efforts. A strong proponent for environmental health, Price played a key role in the passing of an $81 billion disaster relief appropriations package for communities on the Eastern coast of the United States. He also worked to ensure a provision in the package that allocated $63 million in funding to North Carolina following Hurricane Matthew. In 2021 Price helped pass a bill that would allocate $7.8 billion through Migration & Refugee Assistance, U.S Emergency Refugee & Migration Assistance, and International Disaster Assistance. The Congressman also supported the allocation of $225 million to help address the needs of the Palestinian people as they faced a humanitarian crisis in their homeland.
A true humanitarian, Price has worked tirelessly to foster wellness and security on both a national and global scale. Mr. Price's innovative career in the House of Representatives left a profound effect on the lives in the global community. The strides he made in global health legislation, diplomacy, and humanitarian aid during his 35 year career in Congress will continue to inspire future policymakers to continue his legacy. Representative Price has worked hard on behalf of all global citizens and we will be forever grateful for his service.
(featured image: Julia Wall/The News & Observer via AP)
---
"Viewpoints" on Chapelboro is a recurring series of community-submitted opinion columns. All thoughts, ideas, opinions and expressions in this series are those of the author, and do not reflect the work or reporting of 97.9 The Hill and Chapelboro.com.