By Casey Mann, Chatham News + Record Staff
Pittsboro's drinking water, drawn from the Haw River, has been the focus of study and concern for the town's board for years. At the Pittsboro Board of Commissioner's meeting on Monday, the issue was again discussed.
"Several weeks ago, some criticism came," Pittsboro Mayor Cindy Perry said, "that we had not done a great deal about the unregulated chemicals in our water."
Perry said that she and Commissioner John Bonitz created a timeline of the work the board has done on the subject. That same timeline, with supporting documentation was provided to News + Record as well by Perry.
"Based on that and based on several other concerns, I would like to discuss presenting something to the water customers," Perry said. "Our water meets or exceeds all state and federal guidelines. We're not wanting to unduly concern our water customers as there is not a limit set [for these unregulated chemicals], but I thought it might be appropriate to let people know."
Pittsboro Town Manager Bryan Gruesbeck noted that the town is not in any violation with its drinking water and has, in fact, won awards for water quality and standards for the past five years — so he was "not sure where the concern comes from," adding that the town has done "what we are required to do."
"While we are doing everything we can, there are chemicals in the water," Commissioner Bett Wilson Foley said. "My goal is to let people know they exist so people have a choice. We aren't required, but we're doing it because we care about it. We are within state guidelines, but because there has been alarm, we need to let people decide for themselves."
"We do not want alarm," Mayor Pro-Tem Pamela Baldwin said. "We need to say this is what a third party found, but we are still moving forward to address it even though it's not required by the state because we are concerned."
"The main thing is that we're not trying to hide any problem," Commissioner Jay Farrell added.
"This is a basic issue of trust," Perry said.
The board decided unanimously (Commissioners John Bonitz and Michael Fiocco were absent) to move forward to create a letter to send to all water customers. The letter will include the fact that the town has won numerous awards for its water quality and that it is in no way in violation of state or federal guidelines. But it will provide the information that it has learned over the past four years about the levels of unregulated chemicals in the water. The board also directed the staff to create a resource on the town website to provide information about studies, the chemicals identified, and the actions the board continues to make to improve water quality.
Timeline
Six years ago, a study by Detlef Knappe, the S. James Ellen Distinguished Professor of Civil, Construction and Environmental Engineering at N.C. State, discovered 1,4 Dioxane in the Haw River. Several years later, he studied PFAS in the water. Knappe, who's been conducting research on water treatment processes for more than 25 years, is perhaps best known for discovering GenX in Wilmington's drinking water which resulted in the N.C. Dept. of Environmental Quality levying fines and regulations on Chemours, a plant that was found to be the source of the contamination.
From the time the board learned of Knappe's study, it began working to address the issue. The timeline and corresponding minutes sent to the News + Record by Perry notes that in June of 2015, then Mayor Bill Terry addressed the board and asked if it wanted to have Knappe present his findings. He was originally asked to come in August 2015, but instead presented his findings to the board in September.
1,4 Dioxane is a solvent stabilizer used as an industrial solvent in the manufacturing of polyester, detergents, and cosmetics. At the time, Knappe noted that 1,4 Dioxane, an "unregulated contaminant" was "very difficult to remove from water." As such there is no federal or state drinking water standard for 1,4 Dioxane which is a likely human carcinogen "with a one in a million excess cancer risk associated with lifetime consumption." At the time, Knappe noted that there were likely multiple sources in the "uppermost regions of the watershed" or upstream. The board at the time requested Adam Pickett, Pittsboro's water treatment plant superintendent produce a report and the town begin corresponding with N.C. Dept. of Environmental Quality which was known at time as the N.C. Dept. Environment and Natural Resources.
In March 2016, the town board approved a contract with Chatham County for a long-term "master" planning analysis of drinking water infrastructure, including the discussion of unregulated contaminants in the water. Pickett also provided a list of contacts upstream who may have knowledge of the issue noting that there was "ongoing research to find out where it's coming from."
By June, Pittsboro and Knappe's research became national news with a substantial piece in The Washington Post. That coverage quoted Steve Drew, the director of Greensboro's water resources at the time, that without enforceable limits, "what is a water system to do?" Drew noted at the time that he had been able to identify at least a half a dozen businesses that could be discharging 1,4 Dioxane into the watershed. However, as they are unregulated, the companies would have to choose to voluntarily reduce those flows as there is no way to enforce it.
At the Pittsboro town board's next meeting in June, Perry discussed her progress in diplomatic efforts to work to reduce 1,4 Dioxane in the water. Perry had spoken with numerous contacts within the N.C. Dept. of Environmental Quality as well as researcher studying the issue. But with the lack of regulations, the town was at a loss of what to do. In July 2016, Pickett noted that the plant had been monitoring 1,4 Dioxane levels since directed to by the board with mixed results — sometimes recording noticeable levels and other times not. Pickett said he would continue to work with Knappe.
In November 2016, Knappe returned to the board with a presentation that included a refresher on 1,4 Dioxane in the watershed, but discussed his expanded research into Perfluoroalkyl substances, called PFAS for short, in the Haw River. PFAS are another group of mostly unregulated chemicals that are used to make heat-resistant coatings and firefighting foam.
In the opening months of 2017, Perry worked diligently to connect with mayors of other towns in the watershed, culminating in a conference call with Mayors of Fayetteville and Burlington, Drew of Greensboro, and representatives from the N.C. Dept. of Environmental Quality.
On February 22, 2017, the Division of Water Resources, a division within the N.C. Dept. of Environmental Quality, released a report from a two-year study on 1,4 Dioxane in the watershed. The report noted that while the waters of the Cape Fear River basin supply drinking water to many counties in North Carolina, it also exhibited "some of the highest measured concentrations of 1,4 Dioxane in finished drinking water in North Carolina and the United States."
The report also noted that the levels of 1,4 Dioxane identified were dramatically reduced in its second year of sampling which the report suggested may have been "due to actions taken by the municipalities (and/or their contributing industries) whose wastewater treatment facilities were receiving industrial effluent containing 1,4 Dioxane."
Following the release of the report, Perry's timeline indicates numerous discussions with representatives of N.C. Dept. of Environmental Quality noting an attempt to ascertain specific sources of the contaminants. In addition, Perry attended numerous summits with environmental and water quality groups including Triangle J, Council of Government Jordan Lake Watershed Summit, Jordan Lake One Water meetings, and Chatham Conservation Partnership in an attempt to build a coalition to work toward solutions. Perry also began having quarterly conference calls with N.C. Dept. of Environmental Quality and Knappe.
This continued well into last year when the board, in October 2018, decided to contract with CDM Smith, an engineering and construction company which provides solutions in water and other arenas for government and private clients to provide a synopsis of the unregulated chemicals in the town's drinking water and an initial review of potential treatment options. While still waiting for the full report, the town requested the contractors present a draft of their results of the unregulated contaminant clean-up portion of their report in April.
The challenges for the town in finding a solution are two-fold — cost and environmental impact. CDM Smith provided four different advanced treatment options for removal of the targeted chemicals. Company representatives noted that none of the options were necessarily perfect as the removal of these particular chemicals is still in the early stages of development. Each of the options also carry different capital costs to initialize. In addition, the company was unable to provide any operating costs as they were unsure how long the supplies required for each option to remove the chemicals will last considering the levels of chemicals in the Haw River and how much disposal costs for would be. The town is still waiting for the final recommendations to make a decision as to how to move forward.
Following the Chemours situation in Wilmington, DEQ has decided to expand its study of the Cape River basin, in which the Haw River lays, to see if it can better ascertain how the chemicals are getting into the waterways. In April, the N.C. Dept. of Environmental Quality sent letters to 25 communities in the Cape Fear watershed, including Siler City, requiring them to monitor both 1,4 Dioxane and PFAS in their water that comes into their treatment plants. The first round of towns were chosen because they had pre-treatment facilities located on their systems. Pre-treatment facilities are those privately built and owned by industrial users to pre-treat their wastewater prior to going to the municipal wastewater treatment plants.
Moving Forward
While some point to quick progress in Wilmington following the discovery of GenX, Pittsboro is in a decidedly different situation. In Wilmington, there was one company identified in the contamination while in Pittsboro, the number and identities of the companies are still unknown. Wilmington, with a population of about 119,000, dwarfs Pittsboro at approximately 5,000. Nonetheless, the town board is forging forward in an attempt to repair the ills caused by those upstream. Gruesbeck noted in the meeting on Monday that he anticipates the final report from CDM Smith including its recommendations for treatment options will be presented to the board at its August 26 meeting.
"The complexity of this issue has kept us from making a great deal of progress," Perry said. "It is the upstream discharges which contain these unregulated chemicals, but it is us downstream who are left to deal with it. Trying to organize across county boundaries was difficult, but now the State Department of Environmental Quality have now stepped in. The N.C. Dept. of Environmental Quality and the Triangle J Council of Government have made more headway by bringing the municipalities together for solutions across the watershed."
"We've taken this extremely seriously," Fiocco said at the time. "We've done a lot o work on this issue and we're waiting for recommendations from CDM to run a test program at our plant to find the efficient and cost effective system for our plant. We think we know of several sources upstream where industries are not being treated and/or sludge application. The mayor worked really hard to get communities upstream and has made progress, but there is more to do."
The quality of drinking water in Pittsboro and the costs to improve it will likely become a campaign issue in the upcoming municipal elections. With Pittsboro's wastewater system already in need of a nearly $22 million forcemain line to Sanford to handle its growing needs, the weight of the costs to improve the town's drinking water system and repair the damage caused upstream may add another burden on taxpayers.
"We need to continue our efforts to connecting communities environmentally and we need to continue pressing the State for funds to monitor and test these chemicals to broaden our understanding of their health effects," Perry said.
---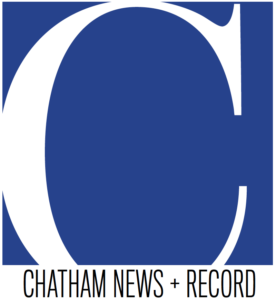 Chapelboro.com has partnered with the Chatham News + Record in order to bring more Chatham-focused stories to our audience. 
The Chatham News + Record is Chatham County's source for local news and journalism. The Chatham News, established in 1924, and the Chatham Record, founded in 1878, have come together to better serve the Chatham community as the Chatham News + Record. Covering news, business, sports and more, the News + Record is working to strengthen community ties through compelling coverage of life in Chatham County.