Last week, I tragically lost my brother, Beau.
We had just gotten back from a week-long vacation with my whole family.
All of our schedule's allowed us to be there the entire time (even my family, with a newborn starting daycare the Monday we returned and my wife going back to work the same day), which rarely, if ever, happens. 
It was a perfect week of weather, with high temperatures in the low-80s and lows in the mid-60s. We were oceanfront, with a pool and a hot tub, and eight bedrooms for us to spread out in (my mom really splurged for some reason). And we never left the house for dinner, mini golf, the movie theater, a playground, or anything. We just stayed there and spent every day swimming, eating, and laughing.
The wins kept on coming on the Sunday we left as he, my mom, and I "watched" our beloved Dallas Cowboys win against the undefeated Carolina Panthers via our group text. Beau couldn't watch the game on TV because he had to go straight back to work, catering a wedding that afternoon. He sent a picture to us later that night on the same text thread (as well as on Facebook) of his catering crew, announcing proudly that it was "The greatest team I have ever had. We served 250 people in 27 minutes!"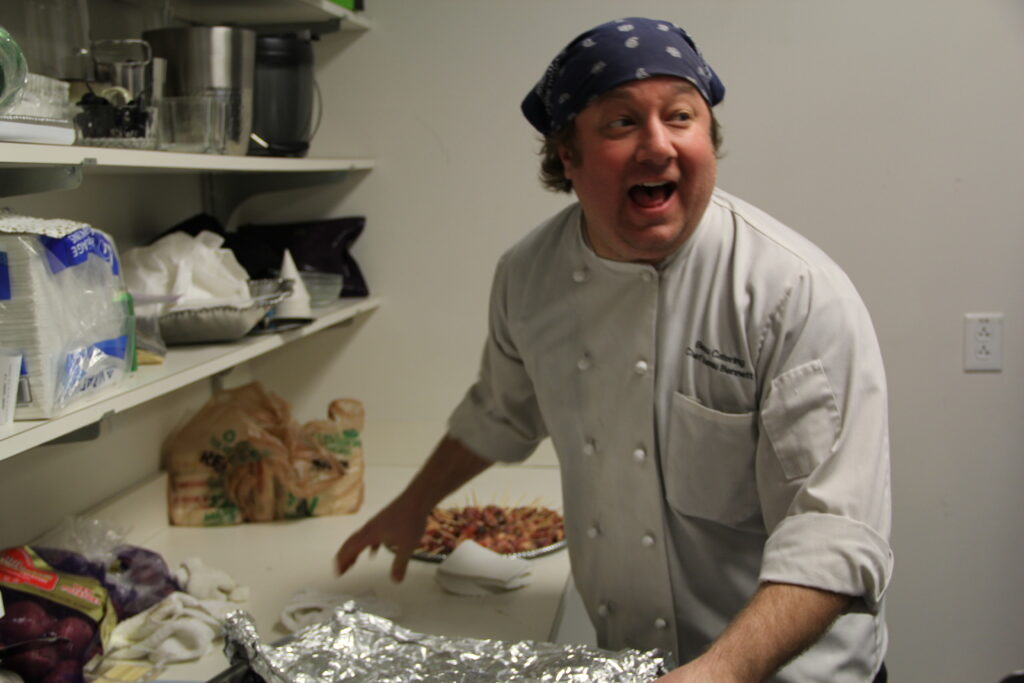 ~       ~       ~       ~       ~
When I was born in 1982, my mother brought me home to introduce me to my brother, Beau. He was 6 ½ years old and, as my mom is convinced, apparently thought I was a present especially for him. When she told him my name, he hollered, "We can grow up to be the RainBeau brothers!" And that name stuck.
He immediately put his face an inch from mine, marveling over this new baby in the house, and what it meant for his life. Thirty-nine years later, I'd still be an inch away from him as I watched him take his last breath through the rattle of death.
We grew up fast, having an abusive alcoholic as a father. Life was often dark and disturbing, but he always found a way to make it light and keep living through laughter. It made the relationship with him, my mother, and me a force to be reckoned with—forged on the field of battle with my father and unbreakable like the bond of war buddies. 
But he always had his focus on protecting me and helping me get to where I wanted to go, and where he knew I could reach. My earliest memory of that is when, preparing me in case my drunken father ever tried to attack me, he taught me how to escape someone chasing me by "using my football moves." I was a running back for my football team and "football moves" meant he wanted me to cut back and forth, instead of running in a straight line, where a faster person might be able to catch me.
We were inseparable. The RainBeau brothers. And even though I was much younger than him, he dragged me along to hang out with friends whom I'm sure must have been annoyed (yet they kept their thoughts to themselves). That included staying the weekend at his apartment in Greenville when I was just 12, and later when he moved to Chapel Hill when I was 16. 
We went through it all together: love and loss in relationships; him becoming a line cook and me graduating college; repairing our relationship with our father and later suffering from his death; starting a business together and then saving our relationship by ending it; me leaving our three-member family team when I moved to New York City, and reestablishing it when I returned a few years later; struggling with our own addictions and afflictions; running our own businesses; and, most recently, having children of my own and watching him slip into the role of proud Uncle seamlessly. 
Our yearly July 4th vacations hadn't been the same in a while with all of us owning our own businesses and life changing as it does. The last two years, specifically, have gone on without my family as I was moving in 2020 and having my second child that very week this year. 
But my mom had always wanted to get a beachfront cottage for us all. We'd never done that.
And at the end of the summer, we all needed a break and this one turned out to be the best family vacation we'd ever had. 
~       ~       ~       ~       ~
All of this elation, capping off a stressful summer of new baby problems and old business problems, turned to complete and utter devastation the next night as we got a call from his wife Lauren that she came home to find him passed out on the floor. 
He was immediately rushed to Duke University Hospital where the severity of the situation quickly revealed itself. He had experienced an intracranial hemorrhage ostensibly due to a sudden spike in blood pressure. 
We spent the next three days trying to revive him and encourage the reconnection of his brain to his body functions, weighing the options and fully comprehending the prognosis, while the Duke neurology team had been pretty certain of the inevitable outcome, medically referring to what happened as "a devastating event." 
And though we had remained as hopeful as possible the whole week, the grim outcome and our acceptance of it slowly grew clearer.
My father passed away in 2007. He had been sick for six months with lung cancer and an aortic aneurysm. But when he went, he went fast. 
But the pain of watching my brother still be alive and responding to some of the tests, but knowing the doom that was impending, was profound. 
On Friday, October 8th, we let life take its course.
And although I was forced to accept his certain death days before, I was not prepared for what followed.
Almost immediately there was an outpouring of grief from so many people I couldn't count. I knew my brother had touched many lives. He was a chef, almost always catering someone's wedding—one of their most memorable days—and it was his job to make people feel good through his food. And he inherited directly from my mother the ability to light up a room with his laughter and his bellowing voice, spilling over with a childlike enthusiasm. 
But what I didn't expect from his passing was what I learned, both about him as well as myself.
The stories that emerged were endless. And they weren't just sentiments shared. They were deeply impactful moments and memories that thousands of people had experienced with my brother. 
There were stories of him defending friends who were about to get jumped in an alley. Stories of him scouring miles of sand to find a friend who had moved to Salter Path, yet he had no idea where, only to actually find him and celebrate the friend's birthday (a birthday where that friend heard from no one else). Stories of him making people feel hopeful on their darkest days and even saving some of them from suicide. These stories didn't stop.
I can't quite grasp how he could have that deep of an impact on that many people. How can one reach such depths with such breadth? Only Beau could. 
As the Mayor of Hillsborough, Jennifer Weaver, said: 
"Beau was my friend. We were never close, but our circles of good friends overlapped closely. But the thing about Beau is – and if you've ever met Beau you know what I mean – because we had met, we were friends. I remember how every time I saw him from that spring up until the last time, he greeted me with the same enthusiasm and love you would with someone you'd call your best friend. Always taking time to give you a few moments of his full attention to ask how you are, and to encourage you forward. Every person's hype man, but it never came across as hype, just pure love and sincerity." 
I knew people loved Beau. Anyone that met him did. 
But I had no idea how many people depended on him and leaned on him in times where they struggled to see the light of life. No idea.
Even the weekend after his death, his catering crew continued on gallantly and solemnly. 
On the prep tables, they included two canvas prints of pictures I had taken of Beau while catering an event that perfectly captured his presence—in both the kitchen and in the crowd.
I sent a screenshot of that picture to my mom.
She responded, "OMG!! Bless them!! I love that photo. Best one ever. I want a copy."
And I hadn't yet put it into words like this, but I replied, "Yeah. That's my skill. Not photo or video per se, but capturing moments. I finally learned that… and I'm quite proud of capturing this moment."
I've struggled my whole life and career defining what it is I do, because it's a lot of different things. One of my family's favorite stories actually is when we were all at the beach talking about our work and after a moment of silence Beau blurted it out, "What IS IT that you do, exactly??" My mom burst out in laughter, because she also didn't know. 
I have multiple passions and multiple jobs. I'm a filmmaker, but also a writer, also a public speaker, and a storytelling coach. Very recently, I realized that the alignment between all those things was storytelling, and that has helped me gain clarity, as well as clients, in the work that I do in the world. 
But I've always always been interested in photography, though I'm not a great photographer in terms of technical skills. Nor am I technically gifted as a filmmaker or writer or speaker. 
But I am powerful because of my ability to capture the moment. And that has more meaning.
Just like with the featured image in this article. It's not in great focus. But it captured a moment so specifically that you can hear my brother's voice through it. And just now I learned that that is what I provide to the world. 
Here Beau was, even in the afterlife, still showing me the way and helping me find the angles. 
Beau made people's moments special; I help people capture them. And just because he is gone, does not mean that work stops. It only makes it that much more meaningful and needed.
Our world is a little bit dimmer with the loss of a light as bright as his. 
But our sky has a new star now. And it will guide us as we find our way.
---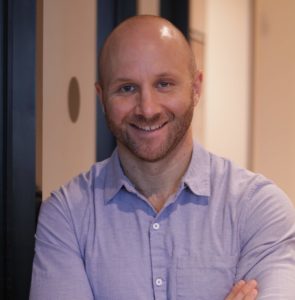 Rain Bennett is a two-time Emmy-nominated filmmaker, writer, and competitive storyteller with over a decade of experience producing documentary films that focus on health and wellness. His mission is simple: to make the world happier and healthier by sharing stories of change.
You can read the rest of "Right as Rain" here, and check back every Wednesday on Chapelboro for a new column! 
---