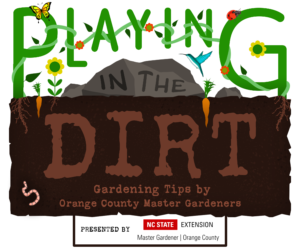 97.9 The Hill and Chapelboro.com have partnered with Orange County Master Gardeners for "Playing in the Dirt," a monthly column exploring the fertile ground of home gardening in our community and intended to provide the information and inspiration gardeners of all skills levels need to flourish! Check back on Chapelboro each month for a new subject – from our gardens to yours!
---
By Meg Molloy, Orange County Master Gardener volunteer
What do you do when it's just too hot to garden? Find a cool spot and chat with other gardeners! I spent some time recently with Carrboro's acclaimed gardener and community leader, Frances Shetley, a few of her friends and her daughter. Gardeners love to learn from each other, and I learned quite a bit from all of them!
In 1986, Frances, always an avid gardener, invited a small group of gardening friends to her home to talk about plants and share refreshments. This event turned out to be the founding meeting of the Carrboro Community Garden Club. For 36 years, members of the garden club have shared knowledge and tips with anyone interested in gardening, visited members' yards each month to discuss gardens in progress, and shared thousands of plants and seeds with each other. Still an active club, members also host a Pass-Along Plant Booth at Carrboro Day (the first Sunday of May), where they give away free plants and offer gardening advice, and they make holiday wreaths featuring native and edible plants to adorn Carrboro Town Hall each December.
Frances, her daughter Jo, and three long-time members of the Carrboro Community Garden Club, Aileen Randall, Sherry Jones and Marcia Mills, and Marcia's Australian Mini Labradoodle, Matey, sat down with me to discuss the early days of the club and how that early vision is still inspiring gardeners.
Frances, now 94 years old, recalls that she wanted to bring together a friendly group of gardeners to help each other grow flowers and vegetables:
At that first meeting, we decided we wanted an informal structure without too many rules, we wanted to have fun and we would open the club to anyone interested in gardening. We invited Ken Moore of the North Carolina Botanical Garden to join and provide expert advice. Ken taught us the difference between native wildflowers and weeds, and which non-natives are invasive and which are well behaved.*
Their plan for an informal garden club where members share their gardening experience and wisdom was successful. They never collected regular dues or elected officers; members volunteered to take care of necessary tasks and passed the hat when needed.
Frances' interest in gardening started early: She grew up on a farm on Dairyland Road, near Calvander, and always helped with the gardening.
My family grew flowers and vegetables and my father grew tobacco for his own use. Once, when I was very young, I thought that tobacco must be so good, so I pulled off a leaf and chewed it. I have never been so sick in my life! I'm so proud that all four of my own daughters are gardeners too and developed my strong interest in flowers and birds.
An environmentalist and conservationist, Frances was also a Carrboro town leader. After serving as chair of the Carrboro Transportation Advisory Board, she ran for Carrboro Town Alderman in 1987 (now the Carrboro Town Council) and received the highest number of votes. She served two terms, from 1987 to 1995. During her tenure, Frances was a strong advocate for listening to women's views and for women's rights. She supported environmental stewardship and helped stop a development near Hank Anderson Park that would have endangered the watershed. Frances was a champion of bike trails and worked with the Regional Transportation Board to bring funds to Carrboro to develop bike lanes and trails.
Frances remembers the hard work and rewards of her advocacy:
I spent many evenings attending meetings of the Regional Transportation Board. Even though Durham got many more votes than Carrboro, I was able to bring funds to Carrboro by being present and being persistent. At the end of my second term in 1995, the Board of Aldermen surprised me with the naming of the Frances Lloyd Shetley Bikeway to honor my service.
The Frances Lloyd Shetley Bikeway connects the Carrboro Elementary end of Shelton Street to the traffic circle at Greensboro Street and Estes Drive. It is a lovely tree-covered connector for walkers, bikers, runners and children on their scooters. There is even a small garden planted by the Carrboro Community Garden Club on the corner near Carrboro Elementary.
Frances' daughter, Jo, shared how her mother always inspired others to be interested in gardening: When I was young, the NC Botanical Garden held a daffodil growing contest, and my mother encouraged me to grow one. My daffodil was not very special, but I won fifth place, and the experience did inspire my lifetime interest in gardening. And daffodils last forever. Those over there [pointing to daffodils in Frances' yard] came from my grandmother's garden in Calvander.
Frances told me that her favorite plants include two natives and an edible: fireworks goldenrod (Solidago) and swamp sunflower (Helianthus angustifolius), and okra (Abelmoschus esculentus). The garden club used dried okra pods in the Town Hall holiday wreaths.
I asked Frances and this group of long-time gardeners what advice they would give beginning gardeners.
Frances Shetley: Just love flowers and don't worry if it doesn't work.
Sherry Jones: If something doesn't thrive, try something else. You have a hole there anyway.
Marcia Mills: Improve your soil. Improve soil with compost.
Aileen Randall: Connect with others because you learn so much from other people. You can get discouraged without help from others.
Marcia Mills has coordinated the Carrboro Community Garden Club since 1988 and maintains an email list of interested gardeners. Currently, there are 60 members. Members still rotate hosting tours of their own gardens with the dates and times depending on what's convenient for the host. Most months, about 15 people attend to talk plants and enjoy a potluck. Anyone interested in joining can sign up at the club's booth on Carrboro Day at Town Hall in May.
*Italicized text is paraphrase of conversations.
Check Us Out!
Have a plant or garden question? Email the Orange County Master Gardener Volunteers at ocmgardeners@gmail.com or phone 919-245-2061.
Subscribe to The Garden Buzz, the Orange County Master Gardeners' monthly newsletter, for local gardening news, events and tips. And visit our website, The Orange Gardener.
Dig Deeper talks are back: On Sept. 17 at 2 p.m. at the Orange County Library in Hillsborough, the Orange County Master Gardeners will resume their monthly Dig Deeper With Us talks about gardening. September's topic: "Biodiversity: Using Native Plants to Support Bees, Beneficial Insects, Butterflies and Birds." Our Community Seed Library team will have free seed packets. Hope you can join us! More information here.
Join us in October!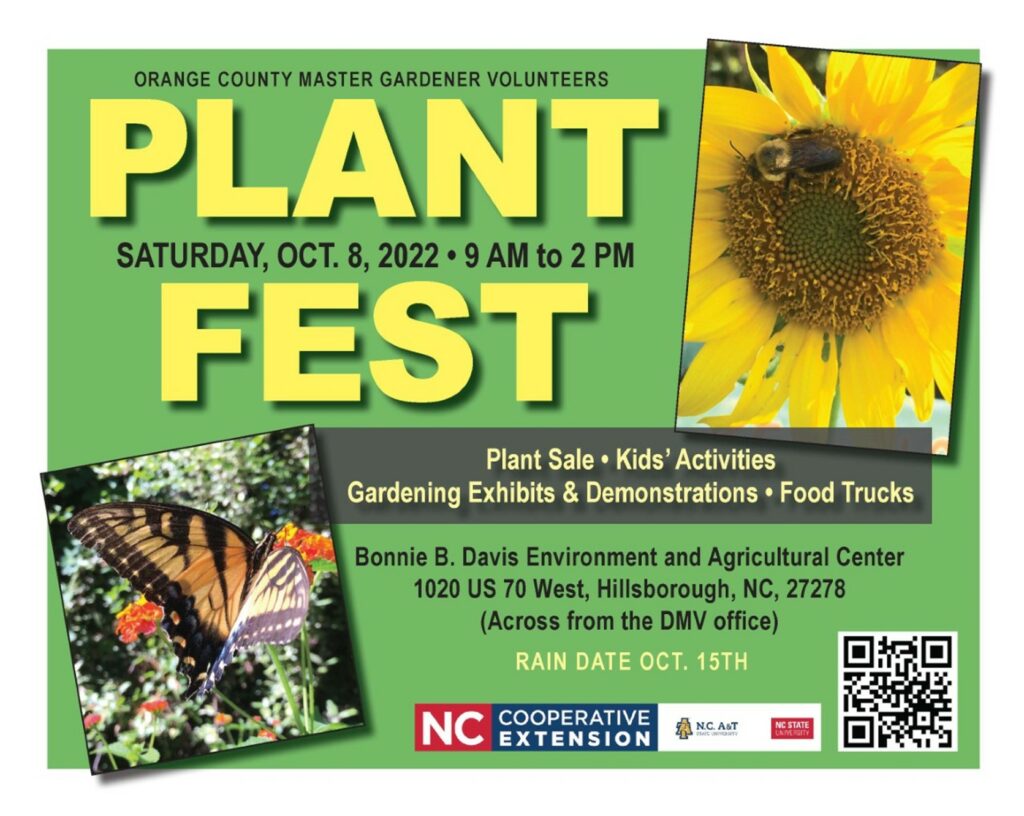 ---
Chapelboro.com does not charge subscription fees, and you can directly support our efforts in local journalism here. Want more of what you see on Chapelboro? Let us bring free local news and community information to you by signing up for our biweekly newsletter.