Story by Merritt Strodel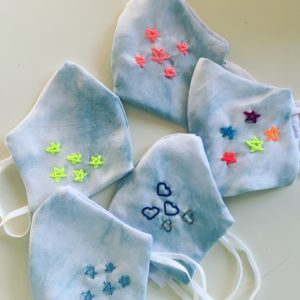 When the COVID-19 pandemic hit and face masks became essential, sisters Mary Mac and Katherine Collie decided to embrace their love for embroidery by creating handmade, stylish face masks.
The sisters are Raleigh residents and began selling their masks to local friends. Mary Mac, a senior at UNC-Chapel Hill, and her sister Katherine, a sophomore at Wake Forest University, are now bringing their Mary Kat masks to campuses.
"My sister has always been so talented with embroidery work and we found there were no cute masks on the market," Mary Mac said. "So, we went to the fabric store and started out with simple designs."
Katherine has been embroidering for more than a year, and Mary Mac just started this summer. Since the masks are handmade, each one takes about 45 minutes to make.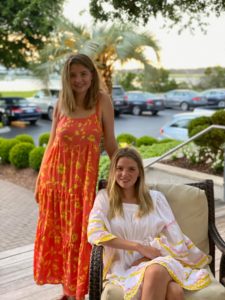 "We hand cut the outside fabric pieces as well as the lining pieces. After each mask is embroidered, we sew each piece together to make the mask," Mary Mac said. "Lastly, we attach the elastics and hand sew each mask closed. Each mask is ironed then packaged."
The embroidery on the masks with simple designs takes about 15 minutes, but custom orders can take anywhere from an hour to days.
The sisters carefully considered the CDC mask guidelines in the design of their masks, which state masks must cover your mouth and nose and fit securely without covering the neck. They chose a tightly woven lining fabric in addition to the external light denim material.
"Overall, our fabric, pattern, and designed fit of each mask follows national guidelines for cloth masks which proves homemade masks to be just as effective as masks bought from large brand companies," Mary Mac said.
The Collie sisters began making masks at the end of June. Since then, they have made approximately 350 masks.
Initially, they were just selling to their friends, but as the masks grew in popularity, they started an Instagram page and website to accommodate demand. As college students, they realized their peers would have to return to campuses with new preventative restrictions and have sold to a lot of students.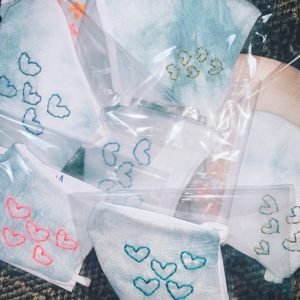 The future of their company is bright, according to the Collie sisters. Their masks are currently in high demand from previous and new customers, students and local businesses, and their business just became formally recognized as a Limited Liability Company from the state, according to Mary Mac.
"Since each mask is 100 percent handmade, the time requirement for each mask does restrict us in some aspects with growing in size," Mary Mac said. "However, we want to keep our business in NC and have a high quality of work so we don't mind putting in time."
Both sisters are currently moving back to their college campuses, Wake Forest University and UNC-Chapel Hill respectively, but once they are settled in at school they are hoping to work on a bigger selection and expand to stores by December.
"My favorite part is all the support for the business. We first started it as just a fun quarantine hobby. Now, people are asking every day when we will release new masks on our website," Mary Mac said. "It's exciting to see how people really want to purchase our masks which started from our own living room."