Singer-songwriter Dawn Landes joins Aaron on "Live & Local," with a show coming up this Thursday, April 21, at Local 506.
Originally from Louisville, Dawn Landes moved to the Triangle two years ago; the pandemic hit shortly thereafter, but now she's finally able to get back on stage for local shows. She's a veteran musician with six albums under her belt – most recently 2020's "ROW," the soundtrack of a stage musical about Louisville native Tori Murden McClure, the first woman to row solo across the Atlantic.
Landes will be opening for the Felice Brothers at Local 506 on Thursday; she also has a show Friday, April 29, at Schoolkids Records in Raleigh with Chessa Rich.
Dawn Landes joined Aaron on "Live & Local" to discuss her upcoming shows, the ROW musical, and the feeling of being back on stage again. She also played three songs: "Bluebird," "Oh Amelia," and "I'm Your Mama." Listen below: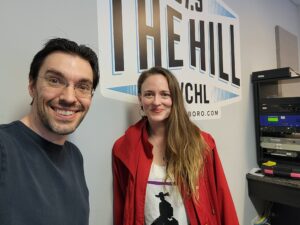 ---
Chapelboro.com does not charge subscription fees, and you can directly support our efforts in local journalism here. Want more of what you see on Chapelboro? Let us bring free local news and community information to you by signing up for our biweekly newsletter.