Join Aaron Keck Tuesday through Friday at 6:00 p.m. for "Live & Local," where you'll hear music from artists close to home, and even get the chance to listen in as local musicians talk about where they've been, where they're going, and what's happening in the local music scene.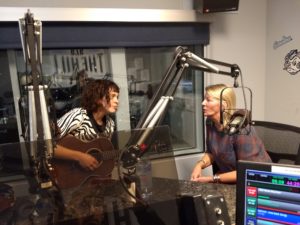 Featured in the PlayMakers Repertory Company production of "Songs of Light and Wonder," part of the "MusicMakers" concert series, are singer/songwriter Laurelyn Dossett and eight other terrific local performers. One of those addition performers is Mipso's Libby Rodenbough, and both joined WCHL's Aaron Keck on "Live & Local" to play some songs and discuss the concert they're playing together.
Mipso is an Americana quartet out of Chapel Hill that features a Rodenbough's fiddle skills — as well as mandolin, bass and guitar from Jacob Sharp, Wood Robinson and Joseph Terrell respectively. The group recently released their fifth studio album, "Edges Run," and has continued to refine their gospel/folk inspired Americana sound carried by string-band tradition and four-part vocal harmony.
Listen below to three selections from the musical collaboration between Dossett and Rodenbough, played live right in the WCHL studio!
Part 1: "River"
Part 2: "String of Pearls"
Part 3: "Hard Times (Come Again No More)"