I love to ride ferries. The longer the ride, the better. I will drive out of my way just to take a ride on a ferry, even if I have ridden that one before. I have ridden all but one of the North Carolina state ferries, as well as a couple of privately-owned ferries located in our state. I have even taken a road trip to ride a couple of ferries in Maryland that were close to some of my family. They think we were there to visit them; I was REALLY there to ride the ferries. Like I said, I love to ride ferries.
If you drive westward through Carrboro on Main Street, you will come to a stoplight at the PTA Thrift Shop. If you continue driving straight through the intersection, you will be on Jones Ferry Road. This road crosses University Lake and continues southwest into Chatham County. You will drive past the WUNC-TV towers and come to Frosty's, a country convenience store. The road continues on but the name changes to Hamlets Chapel Road. What happened to Jones Ferry Road?
I have been looking for documentation on Jones Ferry in Orange and Chatham counties and have come up virtually empty-handed. Was there really a ferry? If so, where was it? What water did it cross?
Was there a ferry that crossed University Lake? I don't think so. University Lake did not exist until 1932. Before that, there was a millpond that was fed by Morgan Creek, Phil's Creek and Price's Creek, which provided water to power Matthew McCauley's grist mill. McCauley petitioned Orange County to build a mill in 1793. It is not known exactly when it became a working mill. McCauley's millpond dam was located just below the University Lake dam. Remnants of the rock work can still be seen on the west side of Morgan Creek below the dam. The millpond would have backed up the creeks, and may have created the need for a small bridge or two to get across. My mother moved to Venable (now Carrboro) about 1912. She told me that there were cornfields on the banks of Morgan Creek before University Lake flooded the land. It is very doubtful that a ferry would be located here.
Jones Ferry Road appears by name on Sanborn Insurance maps that date to the early 1900s. In fact, these maps show the main street in Carrboro was first named Jones Ferry Road. When it continued east, it became Rosemary Street at the Chapel Hill boundary. Sanborn Maps as late as 1925 show that Carrboro's Main Street was also known as Jones Ferry Road.
On the 1890 George Tate map of Orange County, he shows a road named Jones Ferry Road in the approximate location of the present-day Crawford Dairy Road. This road crosses the Chatham County line and disappears off the Tate map (see map below). The 1870 Capt. Ramsey map of Chatham County shows this road and another road, though unnamed, converging on the northeast bank of the Haw River. This leads one to believe that Jones Ferry must have been on the Haw River.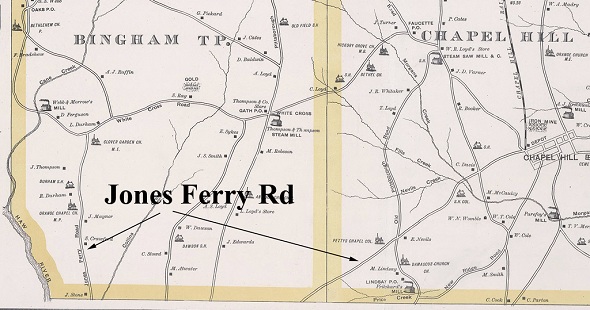 I have come to believe that is was indeed a ferry that crossed the Haw River. I know that a ferry location would need to be at a location where the river bank sloped gently down to the river. This is necessary to easily get vehicles into and out of the river crossing location. There are not very many of these locations on the Haw River in the approximate area of where Jones Ferry Road would meet the river.
I have talked with some other local history buffs about this. Elaine Chiosso, Haw River keeper and Executive Director of Haw River Assembly, told me the area around the Rock Rest community was one of the few areas she knew that met that description. This area is located between "Chicken Bridge" upstream and the Pace's Mill area downstream. I am hoping to get permission from landowners in the Rock Rest area to get into this location and hopefully find evidence of a river crossing.
Also, I have not been able to find any information that tells when Jones Ferry might have been in operation. Chatham County built a bridge across the Haw in the Pace's Mill area in the late 1800s. That bridge was destroyed in a storm but was soon replaced. The building of these bridges would likely have meant an end to any ferries in that area. Bridges are a lot more dependable than ferries – just not as much fun!
If there was a Jones Ferry, it must have been important. It may have been a major trade route to Pittsboro and points to the south and west. The road from Carrboro would be at least 10 miles to the most likely site of a ferry. I regret that I didn't get to ride this ferry.