Story by Cole Villena via UNC Media Hub
Professional soccer players aren't supposed to smile when they get subbed off.
They're supposed to fight for every minute of playing time, especially when they're on a team as competitive as the North Carolina Courage. They're supposed to savor every moment on the field, especially when they're about to win a game as big as the 2018 National Women's Soccer League Championship.
Then again, maybe Jessica McDonald's earned the right to smile today.
Her two goals are the reason the North Carolina Courage are cruising to a 3-0 victory over the Portland Thorns, who beat them in this same game a season ago. When she walks off the field in Portland in the 92nd minute, she hugs the player replacing her, then her coaches, then every teammate she can find. Her enormous grin never leaves her face.
The final whistle blows. The reality of the Courage's triumph begins to set in. McDonald takes one last swig of water and sprints toward her teammates. All the Thorns fans and players can do is watch as the most dominant team in league history celebrates its second title in three seasons.
McDonald is buried in the mob of Courage players. When she finally finds space to move, she thrusts her arm to the center.
"Let's break it down, N.C. on three," she yells. "One, two, three —"
"N.C.!" the champions shout back.
Jessica McDonald should never have become that champion.
She was supposed to have stopped playing soccer after she injured her left knee during her first professional start in 2012. It was a career-ending injury, the doctors told her, but she recovered in 18 months.
Jessica McDonald shouldn't be the one that teammates trust to lead their championship celebrations.
She's supposed to be the striker that joins a club, becomes its leading scorer and then gets traded away before she has time to get comfortable. She played for half of the teams in the NWSL before joining the Courage organization, sometimes not even getting a full season before being forced to relocate.
At the very least, Jessica McDonald shouldn't have to wait to celebrate her championship with her family. The love of her life is almost 3,000 miles away — 6-year-old Jeremiah McDonald is watching his mom from a living room in North Carolina, counting down the days until she gets home.
McDonald was supposed to have given up on a professional soccer career when Jeremiah was born 19 months after her knee injury. She started playing soccer again as soon as possible anyway, becoming the NWSL's first single mother and fighting to provide for her son on barely a five-figure salary.
Now 32 years old, McDonald is one of just seven mothers in the NWSL today. She's also the league's fourth all-time leading goal scorer.
By the time McDonald grabs the NWSL Championship MVP award, it's obvious to everyone watching that she doesn't really care about what she's supposed to do. Then again, maybe they figured that out when she picked up a yellow card for ripping off her jersey to celebrate her second goal.
"None of it makes sense," says Dave Cameron, McDonald's friend and former coach. "People coming from where she comes from don't make it… ever."
UNSTOPPABLE
Jessica McDonald was 7 years old the first time she did something she wasn't supposed to on an athletic field.
It was at an elementary school track "race" in Phoenix, Arizona, the kind where 50 kids line up on an asphalt track and wear themselves out before they can finish their 400-meter lap. Pigtailed Jess McDonald was one of the smallest kids there, and the family members who'd come to support her just hoped to see their girl cross the finish line.
When the starting gun fired, 50 kids tore down the track, huffing and puffing and running their hearts out. At the end of the first straightaway, about 25 of them stopped. One of them had already built a 50-meter lead.
"If they would have run a little further, Jess would have lapped some of those kids," Kevin McDonald, her uncle, laughs. "That moment, I was like, 'This little girl is going to be unstoppable. I don't care what she does.'"
Unstoppable kids are supposed to come from stable households with two loving parents. McDonald had none of those things. She barely had a relationship with her father, who was in and out of prison for most of her childhood. Her mother was around, McDonald says, but she was also a verbally abusive addict.
"I never really experienced much of a home growing up, because we were bouncing around a lot from place to place," McDonald says. The closest thing she had was at the home of her grandmother, Abbie McDonald — Jessica McDonald still calls her after every match she plays for a postgame report.
Abbie was the first person to suggest that her granddaughter play sports, partially as a way to keep her from tearing up the house with her cousins. She also saw that team sports could give her grandchildren something they might not get anywhere else: a community.
"Sports were the only consistency in my life," McDonald says. "No matter what was happening in my life, I was still able to go to basketball practice or go to soccer practice."
McDonald did more than just show up to practices. She won a state championship every season she played with Phoenix's elite Sereno Soccer Club from 2000 to 2007. She won state championships with Cactus High School's basketball team as a sophomore and a senior. She even got another crack at the 400 meter run when a track coach asked her to fill in for an injured runner on Cactus' 4×400 relay team.
All she was supposed to do was run a leg to prevent the team from forfeiting the race. She ran a 55.26 second split — an Arizona state record that still stands to this day.
While McDonald was bouncing from sport to sport and excelling at all of them, her older brother Brandon was getting call-ups to the United States' youth national soccer teams. When she got her own call-up to the U-16 squad and began traveling for games, it immediately became clear which sport she should be focusing on.
"Being able to be exposed to different parts of Earth was a very beautiful and eye-opening thing for me," she says. "Being able to do that and play the game that I love, it was somewhat of a no-brainer."
Kevin McDonald still thinks his niece should try out for a WNBA team during the Courage's offseason, "just to see what would happen." But he thinks the fact that basketball came so easily to her is exactly why she didn't pursue it.
"Soccer was more of a challenge," he said. "If she can do something and master that, she's not going to be happy."
By her senior year, McDonald had been scouted by colleges from all over the country. When Anson Dorrance and the 17-time NCAA champion Tar Heels came calling from the University of North Carolina, though, her choice was clear once again.
"It was a soccer powerhouse, and it still is," she said. "And it was far away from home. I didn't want to be anywhere near home."
A lackluster SAT score meant McDonald needed to spend two years in junior college before she was academically eligible for NCAA play. She enrolled at Phoenix College, where coaches agreed to only play her for one season of women's soccer to preserve her eligibility for UNC.
"We were basically hiding her for UNC," says Dave Cameron, Phoenix College's men's soccer coach.
McDonald was bad at hiding. She broke scoring records and became the National Junior College Player of the Year in her sole season on the soccer team, led the nation in rebounds on the basketball team and became a first team All-American running the 400-meter on the track team.
She started working out with Phoenix's men's soccer team to have any chance of training to her level. In her first practice, Cameron says, she scored on a bicycle kick.
"Yes, I did," McDonald says, seemingly embarrassed that Cameron still tells this particular story. "It just happened."
McDonald joined Dorrance's Tar Heels a quarter of the way through their 2008 season, but she still became the team's leading assister through their run to the 2008 NCAA Championship. In 2009, she scored the game-winning goal in the national championship game against Stanford.
Dorrance has coached some of the greatest women's soccer players in history during his four decade tenure as UNC's head coach, but he still tells his players stories about Jessica McDonald.
"Of all the players I've ever recruited, she was joyous when we subbed her out," Dorrance says. "Not because she was happy we subbed her out, just because she was such a great teammate."
McDonald entered the 2010 draft for the fledgling Women's Professional Soccer league and was selected 15th overall by the Chicago Red Stars. After playing in four games from off the bench, the unstoppable Jess McDonald got her first professional start on Aug. 19, 2010 against the Washington Freedom.
WANDER
Jessica McDonald wasn't smiling.
Just ten minutes into what was supposed to be the first of many starts as a professional, she was carried off the field on a stretcher. The doctors told her that it was a torn patellar tendon and that her chances of playing at an elite level again were slim to none.
"I was just running, and then my knee just ruptured," she says flatly. "No contact."
Her professional career was over before it began.
McDonald spent the next 18 months in rehab, watching as players her age broke into the U.S. Women's National Team without her. Ten months into her recovery, McDonald found out she was pregnant.
There was no template for a mother to begin the already difficult career as a professional soccer player. While players like Joy Fawcett and Christie Pearce had proven that mothers could play soccer at an elite level, both of them had already broken into the United States Women's National Team by the time they gave birth.
When Jeremiah Brandon Ellis McDonald was born on March 7, 2012, though, his mother realized that the only impossibility in her life was the idea of giving up on her dreams as an athlete.
"I have no choice but to be successful for that little boy," she says. "I want this to be an inspiration for him when he's older to be great at whatever it is that he wants to do with his future."
McDonald inched her way toward playing fitness, but two months after Jeremiah was born, Women's Professional Soccer ceased operations. With no American teams to play for, McDonald moved by herself to join the Melbourne Victory of Australia's W-League for the 2012-13 season. She became the league's 3rd leading scorer that season, regaining her scoring touch and taking the Victory to their first Grand Final in club history.
In 2013, the National Women's Soccer League formed as a successor to Women's Professional Soccer. McDonald got a call to join her former club, the Chicago Red Stars, signing with them soon after her return to the United States. During her time in Illinois, she and Jeremiah would live with a host family.
"It was just a weird, difficult situation," McDonald says. "They had some family issues going on, and me being there wasn't really helping."
McDonald made nine appearances and earned one assist for the resurrected Red Stars. At the end of June 2013, the family decided that hosting a soccer player was too much.
"They actually kicked Jeremiah and me out of their house," she says. "When they did, Chicago didn't know what to do with me."
McDonald, who had no way to pay for her own housing, was waived.
Seattle Reign FC claimed McDonald off of waivers almost immediately — McDonald says she and Jeremiah were on a plane to Seattle within 48 hours of leaving their host family. She scored on her debut against the Boston Breakers, then became the team's most efficient scorer that season with three goals in seven appearances.
In February 2014, McDonald was traded to the Portland Thorns. It was her fourth team in three seasons, and her third NWSL team in a little over a year.
McDonald scored twice in her third game for the Thorns, scored again the next game and then scored two game-winners in a row against the Houston Dash and the Western New York Flash. She spent the first half of her first season under coach Paul Riley as the frontrunner for the NWSL's Golden Boot award for top scorer.
Then USWNT superstar Alex Morgan returned to Portland's lineup after recovering from an injury. Just like that, the NWSL's leading scorer became a backup.
"That was a real heartbreaking season for me," McDonald says. "I was feeling good, I had this chance to win Golden Boot, I had this chance of getting my name out there. That was my chance — that season was — and then that was taken from me."
McDonald finished just five goals shy of being the 2014 Golden Boot winner despite the fact that she played the final 11 league matches as a backup. The two players who finished ahead of her missed a combined five starts.
Off the field, McDonald struggled to provide stability for herself and for two-year-old Jeremiah. While Jeremiah's father, Courtney Stuart, attempted to build his career from their home base in Phoenix, McDonald was left to care for Jeremiah on her own.
"Oh, it was a horrible experience," she said. "Whenever I got traded, I had to find a whole new babysitter, find someone else that I could trust with my child."
In 2014, the maximum salary for a NWSL player was $31,500. Like most players, McDonald says she made much closer to the league minimum of $6,600 and supplemented her income by coaching private soccer lessons. Her $1,000 a month NWSL paycheck wasn't even enough to cover childcare some months, forcing her to bring Jeremiah to team training grounds in a stroller and pray that he didn't need anything during a practice.
"I didn't know what I was doing at the time, and I didn't know if I was doing things right," she says. "I truly questioned myself, just simply as a human being."
FLASH
McDonald moved to Germany to train with Herforder SV during the NWSL's 2014 offseason. It was a dream move, she tweeted at the time: For once in her career, she and her family were all moving to the same place as she played the game she loved. She scored on her debut for the club in September 2014, enjoying herself while playing for a relatively low-tier team.
"It ended up being fun," she says. "That's exactly what I needed coming from Portland, because I wasn't in a good place mentally."
Three months later, McDonald was traded by the Thorns to the Houston Dash. She'd done everything she was supposed to do, but she was traded. Again.
"At least there was always a team or a coach out there who has wanted me in this league," she says. "That's been the most humbling part about my career so far."
McDonald was the Dash's leading scorer in 2015. The February after the season ended, she got a call from Dash managing director Brian Ching. She'd been traded again, this time to FC Kansas City.
"I was like, 'That's sweet,'" she says. "They had just come off of winning two NWSL Championships, so this is a sick team at the time.'"
Minutes later, she got another call from Kansas City manager Vlatko Andonovski. Ching had left out a key detail: the deal between the Dash and FC Kansas City was actually a three-team deal designed to bring USWNT regular Sydney Leroux to Kansas City from the Western New York Flash. McDonald was effectively being shipped out by the Dash for a second-round draft pick.
"There were all these different excuses from these coaches and GMs to trade me," McDonald says. "It was like a slap in my face, because I felt like I was doing what I could for every team that I've been on."
McDonald said she "hadn't heard anything good" about playing in Buffalo, projected that season to finish last in the NWSL. The move also coincided with a low point for her financially — the money she made from playing and coaching private lessons was no longer enough to live on, and she took a "nightmare" job packing boxes at an Amazon factory during the 2015-16 offseason.
"I told my agent I was going to retire, because I didn't want to go to Buffalo," she says. "I was actually really done in my career."
The only thing that kept her around, she says, was hearing that Paul Riley would be leading the Flash once she got there. She stuck around, if only to get one last season under the manager that had helped her become the NWSL's most dangerous goal scorer.
McDonald scored a goal and an assist in her return to Houston with the Flash. The following day, Anson Dorrance got a call from UNC alumna Kealia Ohai. Ohai had scored two goals for the Dash that game, but all she could talk about was the way Dash manager Randy Waldrum spent the entire pregame meeting discussing how to contain the mercurial Jessica McDonald.
"I can't believe it," Ohai "raved" to him. "If he really felt that she was the player that had all these incredible qualities, why the hell did he ever trade her?"
Riley, meanwhile, was immediately drawn to McDonald, the only player on the Flash's 20-person roster whom he'd coached before. The Flash had been wracked by roster turnover, and in the absence of a known superstar, McDonald was the clear leader.
"You can rely on her. You know exactly what you're going to get," he says. "She's not just a goal scorer, she's an assister, she's a provider for the group, she's a leader in the group."
McDonald scored ten goals for the Flash. Riley's team of misfits finished fourth in the league, eking into the playoffs. They ground out a semifinal win against the Portland Thorns, earning the right to play in the club's first NWSL Championship.
Then on Oct. 9, 2016, Jessica McDonald became an NWSL Champion. She didn't get on the scoresheet that game — but she did assist Lynn Williams' game-tying goal in the final minute of extra time.
"It was a really good feeling to be a part of a program that was kind of overlooked, a program that wasn't this winning dynasty or anything like that," she says. "It was just this fresh new feel with the girls on the team. It was amazing."
Two weeks after the Flash captured the NWSL title, McDonald made a two-hour drive from Buffalo to see the Tar Heels women's soccer team take on the Syracuse Orange. She had fun catching up with her UNC coaches after the game, even if she couldn't quite figure out an out-of-nowhere comment from her former head coach.
"Anson (Dorrance) made some weird comment about me living in North Carolina again," she says. "I'm just looking at him like, 'Okay…?'"
A month later, she dropped by the Flash's equipment room to return gear before heading back to Arizona for the offseason. She had another strange conversation there, this time with Flash general manager Rich Randall.
Randall asked her if she'd "heard anything about what's happening next year." She hadn't.
McDonald brushed off the two conversations once she got back to Phoenix, where she kept busy thinking through the next phase of her career. Although the Flash wanted to re-sign her — a first for her career — she was receiving contract offers that would let her and Jeremiah dive into entirely new cultures in Europe or even China.
Paul Riley encouraged her to do whatever she thought was best, even if it meant leaving New York. Then, seemingly out of nowhere once more, he gave her a call.
"I need for you to hold off on your decision to go overseas, just for right now," he told her.
"You're going to have to give me more than that," she said back. "I have my kid, I'm trying to make more money, it's a cool opportunity…"
"Just hold off."
The back and forth continued for a few minutes. McDonald trusted Riley, but she refused to make commitments for herself and for Jeremiah without more information. Riley told her that he was on the way to a meeting but that he'd call her as soon as it was over.
The meeting was in Raleigh, N.C. Suddenly, the weird conversations she'd had looked more like clues.
"If I guess, right now, what you're about to do and what's happening, will you tell me?" she asked her coach.
Riley agreed.
"Is North Carolina buying our team in Western New York?"
Riley paused for a moment.
"How the hell did you know?"
COURAGE
Jessica McDonald loves the fact that North Carolina has four seasons. She loves the fact that she has friends just down the road from her in Chapel Hill. She loves the fact that her son has friends here, too, and that they've had time to figure out their favorite spots together.
"It really doesn't get any better than being in Carolina for me," she says. "This is second home, and it always has been, and now I'm making it my primary home."
Of course, she also loves playing for the most dominant professional sports team in the United States.
The Courage have held the best regular season record every season they've played since moving to Cary in 2017. They came one goal short of winning the postseason title their first season. Then they won the next two NWSL Championship games by a combined margin of 7-0. In 2018, they staked a claim as the best women's club soccer team in the world by defeating Olympique Lyonnais in the Women's International Champions Cup Final.
Jessica McDonald hasn't been the leading goal scorer in any of the Courage's three seasons. She's content being the player that's scored a game-winning goal against the entire NWSL, helping her team grind out wins from 3-2 to 1-0 and everything in between.
"If there's ever a moment that you're in doubt, and you're like, 'Oh, my God, we might lose this game,' I'm like, 'You need Jessica in the game,'" says Kevin McDonald. "That's her time, when she pulls her cape out."
Dan and Martha Rockaway, who own four child education centers around the Triangle, first purchased Courage season tickets so their teenage daughter, Isabel, could see "powerful women" every week. None seemed more powerful than McDonald.
"When Jess plays, we look at her as a beast," Dan says, laughing as he remembers their first meeting at a Courage fan event in April 2018. When Isabel asked to go get a picture with McDonald, her parents warned her that the ripped, tattooed, dreadlocked person across the room was probably "scary and mean."
As soon as they spoke to the "scary and mean" McDonald, they realized that she had the "biggest heart" of anyone they'd ever met. She started giving Isabel private lessons soon after their first meeting — Dan says that Jeremiah gave them his mom's phone number to help set it up. Unlike the families of the other players she'd coached, however, the Rockaways made a point to get to know McDonald. They invited the McDonalds to stick around for coffee after training sessions, then to family dinners and then to family outings. Before long, Jeremiah had a seat next to the Rockaways during the Courage's home games.
"I'd never built that type of relationship before," McDonald says. "It was really nice to get to know people other than just my teammates."
Leading the line at the best club team in the country earned McDonald her first call up to the full U.S. Women's National Team in 2016. She'd seen player after player make the team since turning pro in 2010, watching from home as they'd made consecutive World Cup finals and won in 2015. Now, just three years out from the 2019 World Cup, she was getting another shot at a dream she thought had passed.
"The reason that I stuck with being a pro and continued to play in the NWSL is because I wanted to make the national team," she says. "There was a certain point of time in my career where I accepted the fact that I would probably never be on the team."
The call ups stopped after the 2017 SheBelieves Cup, and the United States gave attacking roster spots to World Cup veterans like Alex Morgan, Christen Press and Tobin Heath. Midway through the 2018 season, McDonald sat down with Paul Riley.
"Have I got any chance of getting on the national team?" she asked her coach point-blank.
Riley knew better than anyone that McDonald was one of the most elite scorers the NWSL had ever seen. But he also knew that the United States was full of elite scorers — ones who'd been playing in World Cups since before Jeremiah was even born.
"To be perfectly honest with you, I don't see it," he told her. "Unless you do something absolutely fantastic in the league."
For the first time in her career, 30-year-old Jessica McDonald did what she was supposed to do: She accepted the fact that her national team dream was dead.
Then she did something absolutely fantastic in the league anyway by scoring three goals in the 2018 NWSL Playoffs and winning the Championship MVP trophy.
USWNT manager Jill Ellis invited her to the team's training camp a month after the NWSL Championship game. Then she invited her to the next one, and the next one and the next one.
"I had two NWSL Championships in my back pocket, I won two NCAA championships, that's satisfying enough," McDonald says. "But then it hit me, and I was like, 'Wow, there actually might be a chance.'"
The Courage only provided housing for players during the season, meaning that McDonald was essentially preparing to enter the most important training camp of her career homeless. The timing also complicated things for Jeremiah — although the USWNT provides childcare to its players at camps, McDonald knew there was no way she could take her son out of school for weeks at a time whenever the national team came calling.
The McDonalds had stayed with the Rockaways during Hurricane Florence that September. A few weeks later, Jeremiah stayed with them when his mom took her business trip to Portland and came home with an NWSL Championship MVP trophy.
When McDonald mentioned her housing situation to the Rockaways, they knew exactly what they were supposed to do.
"This kid needs somebody," Martha told her husband. "Let's bring her home."
HOME
On June 26, 2019, Jessica McDonald saw her oldest athletic record broken. Maybe she should have been upset.
She wasn't.
Just ten days earlier, McDonald had made history by becoming the first single mother and the first junior college player to ever play in a World Cup game for the United States. Eight days after that, the United States defeated Spain 2-1 to punch a ticket to the 2019 World Cup semi-finals.
Jeremiah watched those games from the Rockaways' house in Chapel Hill, where the McDonalds have lived since her first World Cup training camp. When the United States made the semifinal, the family flew to France to watch the final two games in person. It's impossible to know for sure, but the footage taken by Dan Rockaway makes things pretty clear:
The moment he saw his mother in France, Jeremiah McDonald broke his mother's old record of fastest six-year-old in the world by sprinting into her arms.
On July 7, 2019, the player who should have given up 1,000 times became a World Cup champion. This time, her son was right by her side to celebrate — as were the people she introduces as her mom, her dad and her sister.
"It's been truly a blessing to have such an incredible support system," McDonald says of the Rockaways. "If I didn't have them in my life, I'm not sure, as a single parent, what I truly would have done with my son."
McDonald hasn't stopped fighting for mothers. She's pushed for the NWSL to provide childcare to every player by default, something she says will immediately increase the number of mothers in the league.
"We want to show the little girls out there who want to be moms in the future that these things are possible," she says. "I've had more friends retire from the game of soccer by the age of 25 or 26 because they wanted children, and you can't afford children on this salary. I know that. I've been there, done that."
She hasn't stopped banging in goals, either. McDonald scored five goals for the Courage following her return from the World Cup, including one during their 2019 NWSL Championship win over the Chicago Red Stars, her first professional club. She called Abbie and Kevin McDonald right after the game, just like always.
"People work their entire lives and work super hard to get there, and some people are cut short," Kevin says. "Jessica was supposed to be one of those people."
For the first time in her life, though, Jessica McDonald knows exactly where she'll be once the season ends. Her son knows exactly what to expect when he gets back from school, even if his mom is away on a business trip scoring game-winners and serving up assists.
"As an athlete, you always want that 'home' feeling, that comforting feeling," she says. "For us to just have the core of our team together still since 2016, that's the cherry on top. I'm with my girls, too."
For the first time in her life, Jessica McDonald is comfortable. That's not going to stop her from charging forward.
"I would say, 'What a great end to a career,' but I don't want to say she's going to end her career any time soon," Riley says. "I have a feeling that Jess Mac's getting stronger and quicker and better than ever."
For now, though, she's exactly where she's supposed to be: With her teammates. With her family. With her son.
Home.
---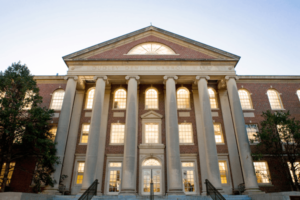 Stories from the UNC Media Hub are written by senior students from various concentrations in the Hussman School of Journalism and Media working together to find, produce and market unique stories — all designed to capture multiple angles and perspectives from across North Carolina.