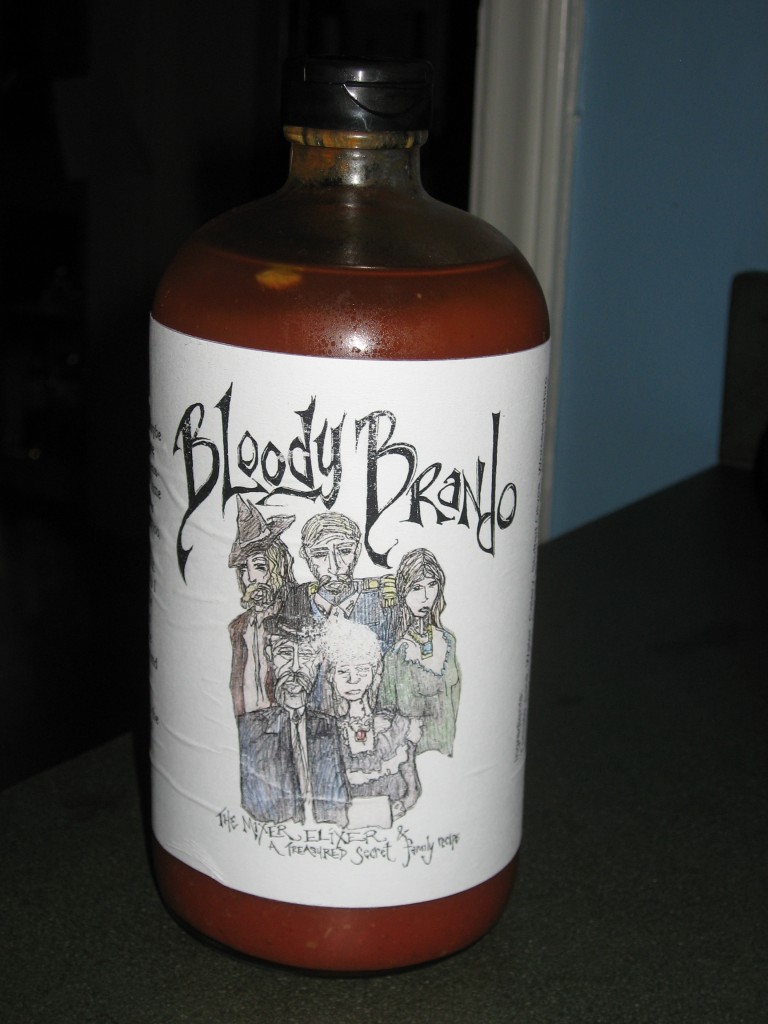 Brandon Herndon grew up in Chatham Country. He left North Carolina and tended bar for a while in Charleston, but has been back in the area since 1993. He has family here and plays guitar/sings for Twilighter (here is their Facebook page), a local band that does all original music. He also works at Backstreet Magazine, a quarterly print magazine devoted to Bruce Springsteen, which is located here in Chapel Hill. But Brandon has other talents than music and writing – he's also the mix-master of his own tasty Bloody Brando mix. It is similar to — but better than — your average Bloody Mary mix.
During Brandon's time bartending in Charleston, he started learning the bar owner's family recipe for their special Bloody Mary mix. That bar owner was a member of the Argonne family which has a long history in South Carolina. He was a descendant of Gustav Argonne, who was born just outside of Charleston in 1838, the eldest of six children. The family business was cotton, rice and tomatoes. According to family legend, he used those tomatoes to come up with what is now called the Bloody Brando.
Brandon's mix is thicker than most, and he attributes this to the blended celery and green olives in the mix. Naturally, this also gives it a more interesting taste than your typical Bloody Mary. And of course, the name of his mix is a play on his name.
Brandon grows tomatoes but unfortunately can't grow enough to satisfy demand. He also hopes to start growing the horseradish that they use soon.
The mix is spicy, but if you're not a fan of spicy drinks, he suggests cutting it with tomato juice. Brandon prefers to drink his virgin style, or with gin instead of the usual vodka. He likes the hint of juniper that this combination gives it.
A Bloody Brando and a grilled cheese on the side is pretty much the perfect combination. I also think adding a little to tomato based soups or pasta sauces would give them a little lift and more zing.
And if you feel like getting international with it, add some clam juice and vodka and call it a Bloody Caesar like our neighbors to the north do (my Canadian husband loves these). Or head to the other border and make a Bloody Bull – use the Bloody Brando mix, add some tequila, beef bouillon, lime and lemon juice over ice and stir.
The mix is going to be available at Southern Season starting in August or September. Brandon and his wife, Michelle Maclary, have started bottling it for them, and are just working out the logistics. They are hoping that it will be available at other places soon too, but right now it is just the two of them making the mix so they aren't sure they are ready to meet higher demand.
Want to try one while out with friends? Bloody Brandos are available at The Station (in fact he uses The Station's kitchen to make the mix!), The Cave, Dead Mule Society, and Slim's in Raleigh.
Whether at home or out, this is a fun way to try something good, different and local!