Ever have a food tradition growing up? In my household Saturdays meant pancakes for breakfast and homemade pizza for dinner. Some traditions tend to stick. Like pizza on a Saturday night. Since I've fallen hard for a Hillsborough restaurant that opened in late March, I thought I'd invite a couple of Chapelboro Insiders along to experience pizza and so much more.
Ready for a comfortable setting with a creative twist? From the local art on the walls to the tasty pizza on your plate you'll find it at Radius. Once a former bank, the edifice now houses Radius Pizzeria & Pub at 112 North Churton Street.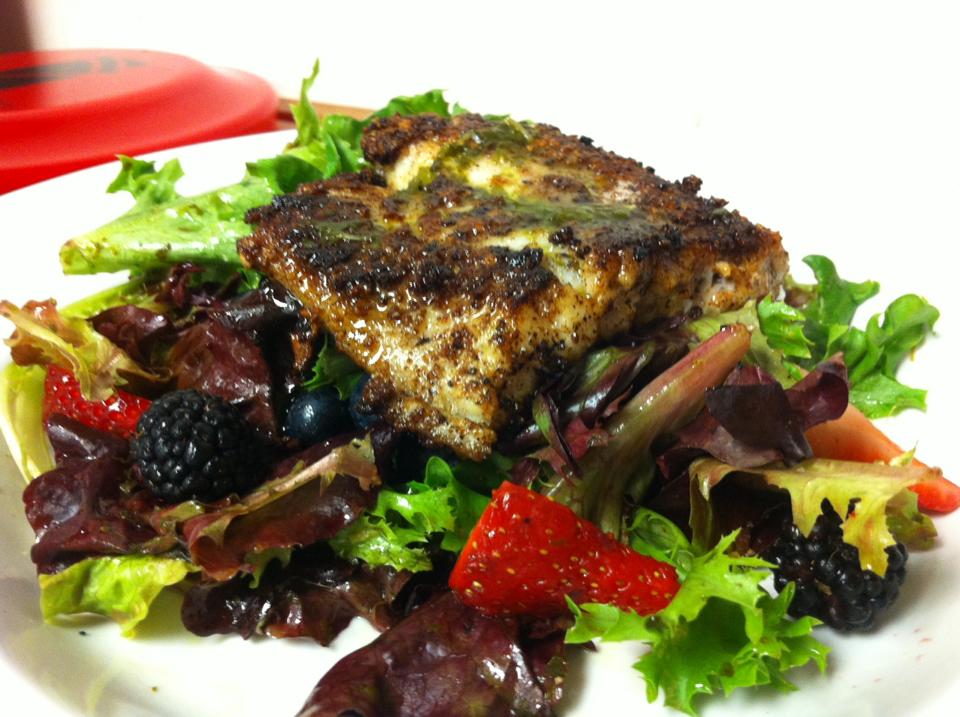 You know what really piqued my taste buds and drew me in Saturday night? A picture I saw on their Facebook page of the weekend special. Pan-seared and almond encrusted grouper on mixed greens with strawberries, blackberries and blueberries in a lime cilantro vinaigrette. Talk about a healthy salad full of flavor! We picked a winner. Our other shared orders included Lemon Herb Cheese Spread which is a blend of goat and cream cheese with fresh basil, chives, garlic and lemon zest served with sliced pear and flatbread. The accompanying greens tasted amazing due to a dusting of sherry truffle vinaigrette.
And we scored again! The signature pizza picked was called the 'Cyclist' — topped with onion marmalade, chicken, green onion, mushroom, mozzarella and Parmesan. I told you this place is creative, whether it's in the kitchen with the ingredient combinations or the signature pizza names! On a former visit I stepped outside of the traditional pizza comfort zone and into the creative pizza box with a 'Hold The Bagel' pizza — combining smoked salmon, fried caper, micro-shaved red onion, creme fraiche, fresh squeezed lemon and fried egg. My stomach and I were pleasantly surprised. To wrap up our dining experience we listened to the decadent desserts of the day. Chocolate mint creme brulee, mixed berry crisp and gluten free chocolate cake with orange butter creme. We were full, but thanks to server Melanie for the vicarious fulfillment!
Owners Kate and Mick Carroll moved from San Francisco to Hillsborough to be closer to family and to pour their creative energy into Radius. Mick, an experienced chef and Ireland native, orchestrates the kitchen while wife Kate, a North Carolina native, mans the front of the house.

At the back of the house.the private Fireside Room awaits your next event or meeting. Equipped with state of the art technology (like an Internet ready 60″ TV screen) and a wall fireplace, this unique room is functional and comfortable.
I asked Kate to describe the many meanings of the restaurant name, Radius. Hillsborough reminded Mick of his Ireland homeland with resources like produce, seafood and beef, all found in a local radius. The goal is to source as much as possible locally while keeping the menu affordable. They also wanted Radius to appeal to many different radii from parents to foodies to date night couples to folks who just want a comfortable place to eat and relax. Mick is a big mountain biker who thinks of pizza when he thinks of cycling due to a pizza place that rejuvenated him after biking expeditions. A pizza pie wedge is also like the radius of a circle. Radius Pizzeria & Pub equals reaching out to the community like the spokes of a wheel but in a myriad of ways.
The interior space appeals to many tastes on many levels. Art work changes every two to three months. Currently, abstracts by Maxine Mintz fill the walls. Previously Eduardo Lapetina of Chapel Hill was featured. TVs in the bar and dining room are unobtrusive and present for the prerequisite sporting events. On our visit country music played in the background, but the genre changed toward the end of our meal. The attention to detail continues with hooks under the bar counters to hang a purse or bag. Art, music, television and conversation to accompany delicious food and beverage cover most of the senses.
Expect globally inspired comfort entrees! In addition to 12″ signature pizzas from their Old-World Italian wood-burning oven (which can be baked with gluten free dough) your options include starters (I've heard the mussels are delicious!) salads, paninis and sides. Whether you choose The Pub (bar area), The Front Dining Room (also called the living room) or outside on the garden patio with lighted umbrellas, you will be taken care of by "family" staff and leave well sated.
Hungry yet? Time to try Radius! Get your spokes on and check it out. Visit www.radiuspizzeria.net for daily specials, menus, "Kids Make A Pizza Summer Session" and more.
All pictures from radiuspizzeria.net