Story by Merritt Strodel
Located right on Franklin Street in the Blue Dogwood Public Market, QueenWa Cafe brings healthy vegan and vegetarian options to downtown Chapel Hill.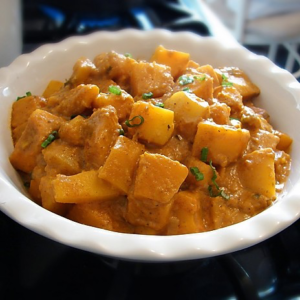 For Tonya Del Soldato, the owner of QueenWa Cafe, the restaurant had been a vision of hers for quite some time – she even created the menu years ago. When the COVID-19 pandemic hit, Del Soldato was given an opportunity to fully focus on QueenWa Cafe and opened the restaurant in August.
Del Soldato became a vegetarian during her sophomore year of college and has now been a vegetarian for more than 20 years. Her family also mainly eats a plant-based diet, so Del Soldato brings her household cooking skills to the restaurant in hopes of making it easier for all people and families to eat healthy.
"I want QueenWa Cafe to stand out because most vegetarians and/or vegans usually don't have many options to choose from, when going to a standard restaurant," Del Soldato said. "I want vegetarians and vegans to feel comfortable coming to QueenWa Cafe."
Not only does Del Soldato want QueenWa Cafe to appeal to vegetarians and vegans, but she also wants it to appeal to any person considering alternative dietary options.
"I want people that are starting to venture into vegetarianism or having a Meatless Monday to know that my menu will satisfy their hunger and taste buds," Del Soldato said.
When creating her meals, Del Soldato focuses on including an adequate amount of protein. The meals QueenWa Cafe offers vary, but Del Soldato's specialties are her vegan meatballs and pecan crusted tofu.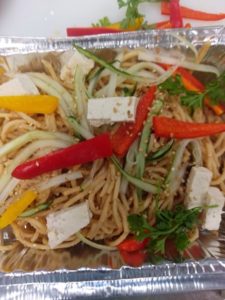 "I follow a FODMAP (Fermentable Oligo-, Di-, Mono-saccharides And Polyols) diet while being vegetarian," Del Soldato said. "I understand the frustrations and body's reactions. Therefore, I am sensitive to other people's allergic reactions and dietary needs."
Del Soldato works to customize each meal according to a variety of dietary restrictions. On QueenWa Cafe's website, customers can note any such restrictions when ordering a meal and Del Soldato will work to accommodate them.
"I make all of my meals with love and care," Del Soldato said.
In the future, Del Soldato hopes QueenWa Cafe will become a go-to restaurant for healthy, delicious food set in a decorative atmosphere. She also hopes to expand the use and knowledge of her cooking in specialty sessions, where she offers custom dietary advice.
Currently, the female-owned and operated restaurant is offering contactless delivery and pickup. Check out QueenWa Cafe at the Blue Dogwood Public Market.