Comfort clothing came into focus in the past years as workers across the world adopted a lax home office dress code. That said, the 2020/1/2 wardrobe is in dire need of a refresh.
Pajamas, couch wear, leggings, athletic and ath-leisure wear, all of these categories of clothing have seen a significant rise in prominence as people see less need to wear professional – or even professional-casual – clothing for work, since work is at home. The compromise of the waist-up Zoom call glow-up doesn't exactly work as everyone heads back to the office, however. Once the call was over, you could put back on (or take off) whatever you were most comfortable in… but that's changing, and fast.
Most workplaces are back open, and most people don't have the cushy type of job where you get to work 100 percent remote from anywhere in the world you want. The fashion world has changed since COVID, so maybe it's time to change with it – just a little bit.
In theory, what we wear can change our moods. The right clothing can make you feel happy, attractive, confident, courageous, An outfit can brighten your mood, and contribute to a great first (or second, or third) impression, but the bigger question is one of perception. How do you want to be perceived in the workplace, and how do you want to perceive yourself? How we choose to dress communicates who we are, and while judging books by their covers isn't always the best advice that hasn't stopped clients and bosses and customers and colleagues from doing just that. If you work in a lab, you might wear a lab coat to work – but would you wear one to an interview? If you're interviewing for a fully remote position, should you show up in sweats, a suit or somewhere in between? Clothing is a connection between emotions and behaviors, presentation is often representation. Clothing is a conversation you're having with yourself, and also the people around you, so it's worth figuring out what you're trying to say.
The pandemic might have temporarily halted the professional who takes their wardrobe seriously, but it has also given more opportunity to people who want to take their office style – home or otherwise – to the next level. Dress codes and guidelines are sometimes still enforced, but the extra freedom of dress allows for creativity and expression in entirely new ways. Some workplaces may implement more conservative rules to attempt to compensate, some may entirely relax former rules, and business casual will almost always be a safe option – but never be afraid to shine your personality through your wardrobe.
(all images via Trevor Holman Photography)
---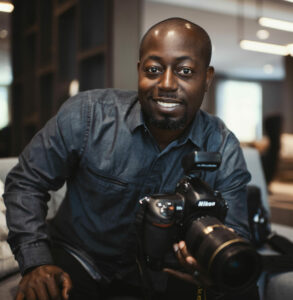 "Best Foot Forward" is a regular column on Chapelboro written by local photography expert Trevor Holman. Each issue, expect tips to help put your best foot forward in the office, on the street and beyond. Born and raised in Chapel Hill, Holman has been a local headshot photographer for more than a decade, putting his talent as a visual storyteller to use providing professional headshots for individuals, businesses and industry leaders in the Triangle.
---
Chapelboro.com does not charge subscription fees, and you can directly support our efforts in local journalism here. Want more of what you see on Chapelboro? Let us bring free local news and community information to you by signing up for our biweekly newsletter.