The year 2020, just one year following the release of Reese McHenry's "No Dados," saw growing excitement for the music of McHenry. But it has left the individual in a painful – yet hopeful – situation.
"A new normal might have [been] necessary for us all, but COVID might have gilded the lily there," said McHenry in an interview via email. "I mean: that'll do, COVID."
Pandemic aside, the thunderous and overwhelmingly heartfelt nature of "No Dados" dwells in a positive zone. In fact, since the album was released, she feels "great" about it.
According to McHenry, the album "began as a 45" with her and Stephen Gardener that eventually morphed into a full-length record with an entirely new band.
"The sound of the songs became something different than I could have imagined and that's still really exciting, when I hear it," said McHenry. "We went into the studio having practiced those songs very little. They came into the studio (Thomas McNeely on bass and Chip Steiner on drums, Trevor Reece and Mike Wallace playing guitars), with their collective good natures and sharp instincts, and just killed it."
In McHenry's words, making the record in 2019 was "quick," "fun" and "a lot of work in a little over a week." According to her website, "No Dados" was recorded in six days at Mitch Easter's Fidelitorium with producer/engineer Missy Thangs in control.
Fast-forwarding to 2020, a year later the world was ensnared in an ongoing pandemic and McHenry was one among many who encountered difficulty. According to McHenry, she has been "scrambling" for work, and trying her best to "deflect despair." Nevertheless, McHenry is "always" happily occupied – turning to reading, writing, painting and other creative pursuits to avoid boredom and loneliness. She did say, however, that the pandemic has shown her just how "necessary" her friendships and playing music are to her mental health.
"My plans for the future are to find ways of enjoying myself, to keep my relationships strong and tour again when we're all able," said McHenry. "I'd really love to spend my life traveling and playing all around the world."
Branching into the band, she said COVID-19 has put the band on an "inconsistent start and stop cycle." She struggles to feel "any openness" to make anything, she added, which she described as "pretty awful, honestly." Hopefully, touring can happen sooner rather than later as watching her live – even if it's in a recorded format – is quite the experience.
For evidence of just how engaging a Reese McHenry performance can be, just view one of these two performances, available on YouTube: one from 2019's SXSW and the other from local musical festival Hopscotch.
You can also find McHenry on her website here, as well as on Facebook and Instagram.
---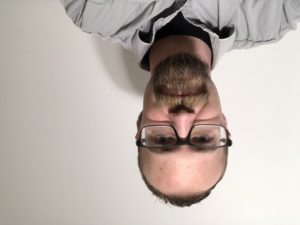 Writer and artist Miles Bates became infatuated with the arts at an early age. A former student of The Kubert School, a sequential art school in Dover, N.J., his entertainment loves include television, film, video games, books and comic books. Since having been introduced to Metallica in middle school, music has remained a key conversation starter and puzzle piece in his life. His joy is to expose others to all things art related, particularly music.  
---
Chapelboro.com does not charge subscription fees. You can support local journalism and our mission to serve the community. Contribute today – every single dollar matters.