97.9 The Hill WCHL and Chapelboro.com are your headquarters for local news and local voices in Chapel Hill-Carrboro. Every weekday morning, 97.9 The Hill's Aaron Keck chats with government officials, UNC scholars, business and nonprofit leaders, area musicians, and others in our community as they share their thoughts, their experience, and their expertise on the central issues of today. Click here to listen back to all of Aaron's conversations – and tune in to "This Morning with Aaron Keck" at 7:30 a.m. on 97.9 The Hill to hear those conversations live.
---
The Orange County Historical Museum is holding a weekend-long "Collecto-Con" to celebrate their new exhibit, "Treasure Hunters"! Friday and Saturday, September 29-30, everyone's invited to the museum for a treasure hunt, a fashion show, lectures, home tours, a Saturday evening reception, and more. (The exhibit itself runs through December 31, featuring the interesting and eclectic collections of Orange County residents.)
Aaron discussed the exhibit and with Courtney Smith and Catie Atkinson of the Orange County Historical Museum. Visit OrangeHistoryNC.org for details on the exhibit and the event.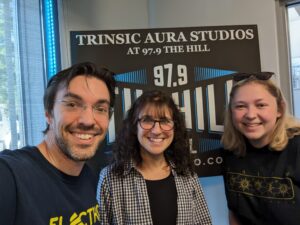 Listen:
Podcast: Play in new window | Download
Subscribe: RSS